Atlanta Dream signs French star Céline Dumerc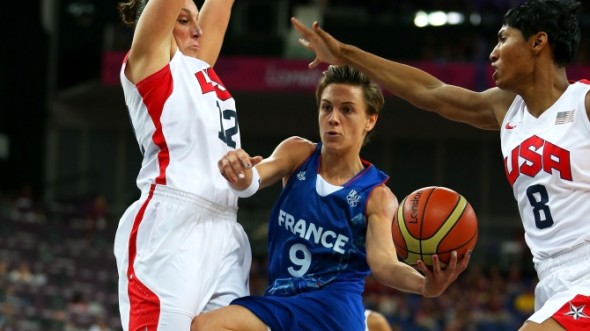 From the Dream:
The WNBA Atlanta Dream announced today that the team has signed French star Céline Dumerc to a multi-year deal. Per team policy, contract terms were not disclosed.
The 31-year-old point guard is the captain of the French national team and led her team in scoring while guiding France to the silver medal at the 2012 London Olympics. She was named the 2012 FIBA Europe Women's Player of the Year following her Olympic performance.
"We're thrilled to add Céline Dumerc, one of the best point guards in the world, to the Atlanta Dream roster," said Dream Executive Vice President and General Manager Angela Taylor. "She has competed at the highest levels, in the Olympics and internationally, and is excited to compete with the best in the WNBA. She is a great leader, and a prototypical point guard who makes players around her better. She's a dynamic playmaker in the open floor, a veteran leader, excels in up-tempo systems like Coach Cooper's and will be a nice compliment to the players on our roster."
Dumerc averaged 14.3 points and 3.4 assists during the 2012 Olympics, making 15-of-31 shots (48.4 percent) from three-point range. The five-foot, seven-inch lefty continued her knack for making big plays, sinking the winning three-pointer in the closing seconds of overtime during an 80-77 victory over Great Britain, and hitting numerous big shots down the stretch while scoring a game-high 23 points in a 71-68 come-from-behind victory over the Czech Republic in the quarterfinals.
Following her Olympic performance, Team USA head coach Geno Auriemma called Dumerc "the most important player and the most impactful player in the tournament."
Dumerc was named France's Sportsman of the Year in 2012 by Radio France, becoming the first female to ever receive the award. She also earned the prestigious La Gazzetta dello Sport Female European Basketball player of the year award for 2012.
Dumerc, who led France to the gold medal at the 2009 European Championships, the bronze in 2011 and the silver in 2013, has twice been named to the All-Tournament team at EuroBasket competitions, earning the honors in 2013 and 2009.
A two-time EuroLeague all-star, Dumerc has helped current club team in France, Bourges Basket, advance to the EuroLeague Top Eight which begins April 7 in Ekaterinburg, Russia. During the current EuroLeague season, she has averaged 9.8 points, 5.1 assists and 4.8 rebounds per game. Bourges is also leading the French league with a record of 23-1, with Dumerc averaging 8.8 points, 6.2 assists and 4.5 rebounds per contest.
The three-time Eastern Conference Champion Atlanta Dream tips off its seventh season on May 16 against the San Antonio Stars in Philips Arena.