Dishin & Swishin 04/03/14 Podcast: Breaking down the Final Four with coaches Doug Bruno, Lindsay Gottlieb & Coquese Washington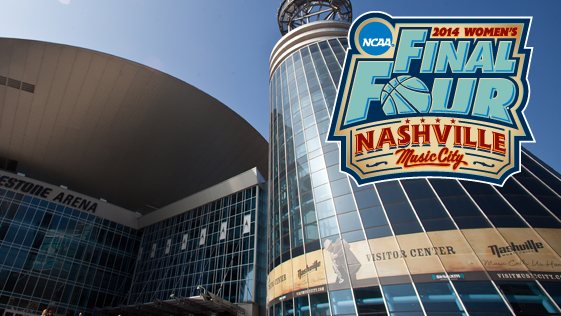 [display_podcast]
The eyes of the women's basketball world are focused on Nashville this week as the Final Four descends on Music City.
Top seeds Connecticut and Notre Dame, second-seeded Stanford, and the party crasher, fourth seeded Maryland will tip-off on Sunday evening in the semifinals, with the finals on Tuesday.
By this time next week, it will be all about the WNBA and the upcoming draft, but this week, we have a great podcast for you!
We have a different type of roundtable on this week's Dishin & Swishin; not the journalists you have come to respect, but instead three of the very best coaches in the country break down each of the four teams, their strengths and weaknesses, and their prospects to win on Sunday and cut down the nets on Tuesday.
The roundtable coaches (and some of the podcast highlights) are:
Doug Bruno, DePaul
It is hard to find a more respected coach out there than coach Bruno. His Blue Demons had a tremendous season and tournament run, finally falling in the Sweet 16 to Texas AM. Bruno is close friend and served as an assistant coach to Connecticut's Geno Auriemma for USA Basketball. One of the highlights of the podcast comes from the fact that DePaul lost to Notre Dame in November, when Natalie Achonwa was just returning from injury at that time. So, Bruno's knows first hand how the Irish can compensate for the loss of Achonwa with Taya Reimer in the post and star guards Kayla McBride and Jewell Loyd.
Lindsay Gottlieb, Cal
A Final Four participant last season, Gottlieb certainly can talk about Sunday night's late game between Stanford and Connecticut, having played both this season. For the Huskies Breanna Stewart scored 29 points against Cal, and in two games for the Cardinal, Chiney Ogwumike totaled 52 points and 20 rebounds against the Golden Bears. Gottlieb expounds on these two incredible stars as part of the roundtable, as well as Alyssa Thomas of Maryland and the Notre Dame guards.
Coquese Washington, Penn State
Coach Washington's Lady Lions actually played three of the final four teams this season, falling to Notre Dame and Connecticut during the regular season before being eliminated in the Sweet 16 by Stanford. A former star for Notre Dame, Washington was an assistant to coach Muffet McGraw when the Irish won their 2001 national championship. During the podcast Washington delves into the psyche of McGraw and what she is most likely telling her team to overcome the loss of Achonwa.
A fast paced breakdown of the Final Four from the coaches that know the teams and atmosphere well.
Enjoy the podcast!