San Antonio Stars announce local broadcast schedule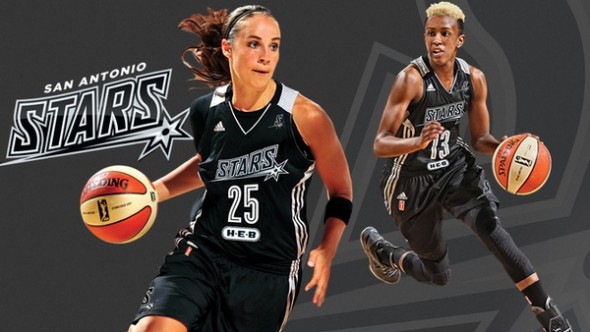 The San Antonio Stars will broadcast eight games on FOX Sports Southwest (FSSW) during the 2014 season. The local broadcast schedule includes coverage of four home games and four road contests.
FOX Sports Southwest's coverage of the season begins on the road against the Phoenix Mercury on May 23 at 9 p.m.  Additionally, road games on May 30 and July 25 at defending WNBA champions Minnesota Lynx and August 3 at Seattle Storm will be featured on FSSW.
Home coverage begins on June 7 against Phoenix at the AT&T Center at 7 p.m. FSSW will also feature the Stars on June 13 vs. Seattle, Aug. 7 vs. Phoenix and on Aug. 15 for the final home game of 2014 against Minnesota.
Andrew Monaco, returns as the play-by-play announcer and will once again be joined by analyst Dan Weiss. Games can also be heard locally on Ticket 760-AM with Andy Everett.
The Stars will also give fans the opportunity to "Watch and Win" during their broadcasts this season on FSSW. Fans can watch the game and look for a keyword that will be given out during each broadcast. Viewers can then enter the keyword on SAStars.com to be eligible for prizes, including a chance to win a trip to the 2014 WNBA All-Star Game in Phoenix.
2014 Local Broadcast Schedule
Friday, May 23, at Phoenix , 9 p.m. CT, FSSW
Friday, May 30, at Minnesota, 7 p.m. CT, FSSW
Saturday, June 7, vs. Phoenix, 7 p.m. CT, FSSW
Friday, June 13, vs. Seattle, 7 p.m. CT, FSSW
Friday, July 25, at Minnesota, 7 p.m CT., FSSW
Sunday, Aug. 3, at Seattle, 8 p.m. CT, FSSW
Thursday, Aug. 7, vs. Phoenix, 7 p.m CT., FSSW
Friday, Aug. 15, vs. Minnesota, 7 p.m. CT, FSSW
The Stars open the 2014 season on May 16 in Atlanta against the Dream at 6:30 p.m. Their home opener at the AT&T Center is the following evening on May 17 against the Tulsa Shock at 7 p.m.