Texas senior forward Nneka Enemkpali tears ACL, out for rest of season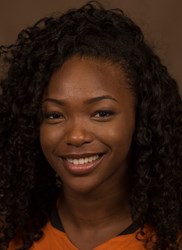 Texas senior forward Nneka Enemkpali tore her anterior cruciate ligament during Monday's 75-58 loss at No. 3 Baylor (17-1, 6-0 Big 12), ending her season.
"My heart goes out to Nneka because she has grown so much during her career at the University of Texas — as a player, as a leader and as a person," said head coach Karen Aston in a statement. "It is never easy to see a student-athlete's career cut short like this. Nneka has been the heart of our program for quite some time, and as we move forward she will continue to play a vital role on this team from the sidelines."
Before the injury, Enemkpali led the Big 12 in rebounding (10.6 rpg) and double-doubles (9). In addition, the All-American candidate has recorded a program-record seven consecutive double-doubles this season.
Under Aston, the eight-ranked Longhorns (14-3, 3-3) have climbed back into the national spotlight after years of floundering and early exits in the NCAA tournament. With Enemkpali and a host of other talented players, Texas is enjoying a 13-game win streak. They started the season with a 13-0 record, the third-best start in program history. The Longhorns return to the court on Sunday for an afternoon matchup against Iowa State in Austin.