South Florida welcomes challenge of top-ranked Connecticut in American Athletic Conference final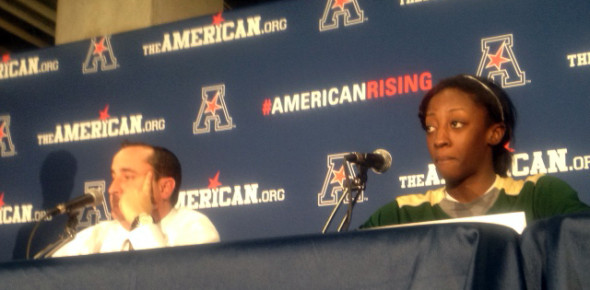 UNCASVILLE, Conn. – "I've told the kids this week, it's not every day you get to play for a conference championship," South Florida coach Jose Fernandez said to media after his Bulls defeated Tulane in the American Athletic Conference semifinals to earn a berth in the title game tonight versus top ranked Connecticut.
That said, the Huskies handed the Bulls their two worst losses of the season; beating them 92-50 in January at Connecticut, and again in the season finale last week, 88-65 in Tampa. Fernandez's team played a strong second half last game though, and hopes they have an idea on what to do tonight.
"In the second half (of the March 2nd game) we got in the flow and we defended a lot better," Fernandez explained. "We made shots. They're just too good offensively, you've got five, six guys shooting over 50-percent, and they're too good to get wide-open looks. So we have to make sure that every shot they take is challenged and if they make those shots and there is a solid, good contest of it, we have to inbound it and go answer."
The Bulls averaged over 71 points per game during the regular season, and scored 78 and 79 in their two games in the tournament. Dynamic guard Courtney Williams can score in bunches, and scored 26 points against UConn in the last matchup. However, the star of the tournament has been forward Alesia Jenkins, who has put up back-to-back double-doubles of 23 points and 14 rebounds in the quarterfinals followed by 22 and 15 in the semi-finals. Jenkins this game, however, will face the challenge of the Husky size up front, featuring two 6-4 posts in Breanna Stewart and Kiah Stokes.
"Great rebounders are greedy," said Fernandez with a smile. "And that's something that we stress every day in practice, and she [Jenkins] feels that every shot that comes off that backboard is hers. I mean, sometimes she's tackling teammates for the
ball. So for great rebounders, greed is good, and she has a really good knack and a really good feel for the ball coming off of it."
The soft-spoken junior exudes a quiet confidence when asked about the task ahead.
"Truthfully I'm going to have to believe in myself and hit hard and fight for rebounds like I normally do. Just do all the small things."
One thing that is different for Fernandez though, is the comforting knowledge that their season will not end tonight should UConn defeat them. After being one of the final teams left out last year, the 26-6 Bulls have earned their spot in the NCAA tournament. Still, the prior omissions have fueled the Bulls this year.
"I think all year our team hasn't gotten the national attention that they definitely deserve, with eight top-100 wins." said Fernandez. "We beat Oklahoma on a neutral floor by 18. Beat Chattanooga-we were the ones that ended their home winning streak and a week later, they beat two good basketball teams at home. I think this team has played all year with a chip on their shoulders."
To his point, South Florida is still not in this week's AP Top 25 poll; they are number 26.
They will need all of that attitude, strong defense and timely offense if they hope to add the American Athletic Conference championship to their resume tonight.