Stanford outlasts Cal 61-60 to win the Pac-12 tournament championship for the 11th time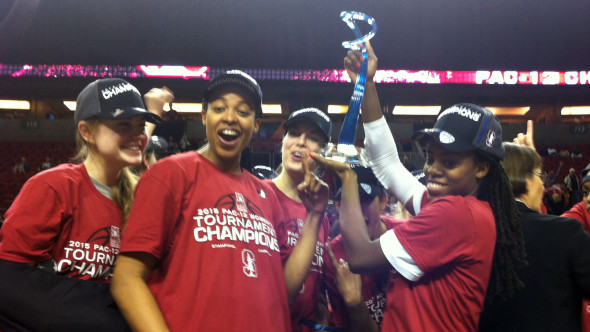 SEATTLE – After coming into the Pac-12 tournament as the underdogs, No. 4 seed Cal and No. 3 seed Stanford put the other conference teams on notice that they are still forces to be reckoned with as league power programs. The teams split their regular season series but when it came down to earning the conference tournament championship, No. 19 Stanford (24-9, 13-5) prevailed, beating Cal 61-60, fueled by a standout performance from senior forward Taylor Greenfield, named the tournament's Most Outstanding Player.
"Our theme this year has kind of been to crash some parties, and I think that's exactly what we did here," said Greenfield about the win.
With the win, the Cardinal earned an automatic bid to the NCAA tournament and took the conference championship title for the 11th time in 13 title game appearances.
Cal vs. Stanford By the Numbers

Even though the teams stayed within ten points of each other during the half, Cal (23-9, 13-5) was in control of the contest for the first twenty minutes, keeping the lead for all but the first few minutes of the game, stifling Stanford's output with defensive pressure.
At 7:45 the Bears were up by 10, but after a jumper by Greenfield, Stanford began to whittle away at the deficit. At the break, Cal had a slim lead, 25-23.
The Bears managed to stay ahead even after their starting point guard, senior Brittany Boyd, left the game at 15:27 after suffering a cut under her right eye. She returned to the floor at 2:22 with Cal leading 24-20.
The Bears began the contest earning more field goal opportunities than Stanford but their shots were not falling.
"We talked about being the aggressor, kind of punch?first mentality, and I thought we came out great," said Bears head coach Lindsay Gottlieb when asked about her team's start. "The shots didn't, like you said, they didn't fall right away, but they were good looks. I felt we were in a good rhythm early. Like our flow was good. I thought we controlled the first half, it's just unfortunate that we had a two-point lead instead of a 10-point lead, which is what it felt like. You know, second half we thought we were playing catch up a little bit, and couldn't get over the hump."
The teams continued their back and forth play in the second half but Stanford managed to pull away late in the game and keep the Bears at Bay, surviving a three-point shot at the buzzer by Cal sophomore guard Mercedes Jefflo.
Stanford's reserves were more productive than Cal's outscoring the Bears 27-17. Greenfield came off the bench and finished with a career-high 20 points. She became the first non-starter to win the MOP award in the tournament's 14-year history and the sixth Cardinal overall to take home the accolade.
"I hate to say I imagined it, but I knew it was possible," Greenfield said about her honor. "That's not what I was looking for, but if that's what it took, I'll take it."
Her teammates were not surprised by her output.
"Well, we've kind of coined the nickname 'Tournament Taylor,' so I guess she's just living up to that," said freshman forward Kaylee Johnson. "But I think (coach Tara VanDerveer) is always emphasizing how sometimes different people need to step up in different games, and I think Taylor really showed that this weekend."
Head coach VanDerveer was impressed by her team's grit down the stretch.
We got down, I don't know how many we were down in the first half, but we started a little bit slow, and people dug in," she said. "I thought Lili and Taylor really carried us in the first half, and we got more contributions in the second half. I thought different people stepped up. We didn't play necessarily a pretty game, but a gritty game. I'm really proud of our team."
Stanford sophomore guard Lili Thompson scored 13 points and pulled down four rebounds while senior guard Amber Orrange contributed 12 points, four rebounds and six steals. Her steals tied her for the most in a tournament championship game. The first-year Johnson had 12 rebounds to go along with seven points.
Sophomore forward Courtney Range led Cal with 17 points and nine rebounds. Sophomore guard Mercedes Jefflo added 16 points and four rebounds while freshman Mikayla Cowling finished with 14 points and five rebounds.
The Bears are a shoo-in for the NCAA tournament and will look to host a sub-regional on their campus.
The attendance of 4,864 for the final raised the total tournament attendance to 26,898. The six-session total is the most during the
three years the Tournament has been in Seattle and second only to the 27,415 who attended the 2002 tournament in Eugene,
Oregon. Only the 2002 championship game had better attendance (5,349).
All-Tournament Team
Lexy Kresl, Colorado
Sophie Brunner, Arizona State
Brittany Boyd, Cal
Reshanda Gray, Cal
Taylor Greenfield, Stanford
Most Outstanding Player