Brittney Griner and Glory Johnson arrested for suspicion of assault, teams release statements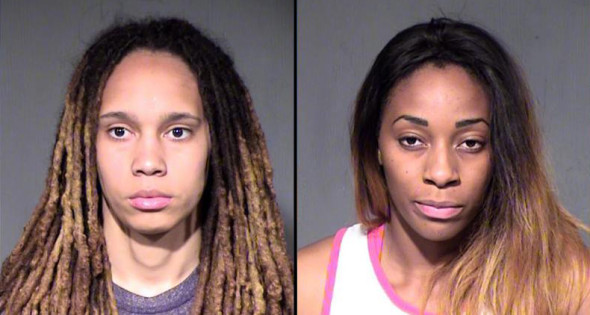 Team statements || Statement from Brittney Griner's lawyer || Instagram update from Glory Johnson
Phoenix Mercury center Brittney Griner and Tulsa Shock forward Glory Johnson were arrested for assault and disorderly conduct on Wednesday according to the Maricopa County Sheriff's Office. The pair, who are engaged to be married next month, had "minor physical injuries" according to law enforcement officials who were called to Griner's home in Goodyear, Ariz.  They allegedly attacked each other.
According to the Arizona Republic, Johnson's sister Judy called the police because the couple was throwing things at each other in the living room.
"We couldn't get them pulled apart," said the sister.
Griner indicated that the couple were having serious relationship problems and recently bought a house together.
"It turned into a fight. Broke up. We kept arguing, mouthing back and forth, clashed again, separated us, clashed again, separated us and here we are now," said Griner to police officers.
Just a few days ago Griner and Johnson, both 24, were posting romantic pictures of each other and talking about their impending nuptials on social media.
Phoenix Mercury executive vice president and general manager Jim Pitman released the following statement about the incident:
"The Mercury organization is aware of an alleged incident involving Brittney Griner. We are in the process of gathering additional information, and will have no further comment at this time."

Tulsa Shock president Steve Swetoha also released a statement:
"We are aware of the reports out of Phoenix regarding our player Glory Johnson. We are in the process of gathering information at this time. Of course our first concern is for Glory's well-being and health. We are looking into the matter further and have no other comment to make at this time."
WNBA spokesperson Dina Skokos said that the league is working with both teams " to obtain more information" about the incident.

Thursday afternoon Brittney Griner's lawyer David Michael Cantor released the following statement:
"The last few months have been an extremely stressful time for Brittney and Glory. They will continue to work through these hardships together and ask that the media respect their privacy as they handle this family matter. Glory and Brittney sincerely apologize for the distraction this has caused their families, respective teams, the WNBA, sponsors and fans."
Glory Johnson chimed in with her own reply to the incident via Instagram Friday evening:
"WE'RE OK! @brittneygriner and I are home, injury-free, and still wedding planning! We know we must set better examples, even during the most trying times, and we are EXTREMELY sorry for all the negative attention we brought to ourselves, our family, and the league. We are actively seeking help in order to do BETTER. Thanks for all the Love, Support, and Prayers that were sent our way. #LoveLife #StillBlessed #WorkInProgress #NobodysPerfect"