Dishin & Swishin 4/23/15 Podcast: Stephanie White takes the helm in Indiana, previews the season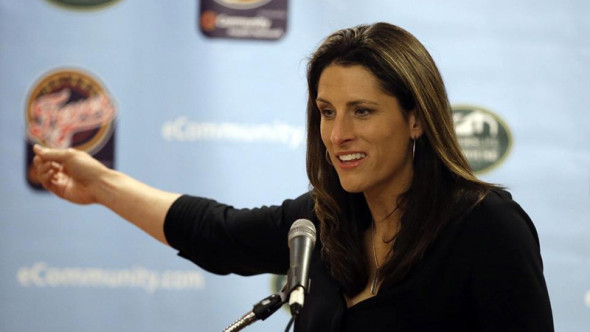 [display_podcast]
In many ways, head coach of the Indiana Fever is the job Stephanie White was always meant to have.
White was a former Miss Basketball in Indiana, before moving on to Purdue, where she was the national player of the year. She played four years for the Fever, and after coaching stints with a few college programs and the Chicago Sky, she eventually returned to the Fever as a member of former coach Lin Dunn's staff.
Now, the native daughter of the Hoosier State takes over a Fever team that is in a state of flux. Even though they made the playoffs last year and won their conference semifinal series with Washington 2-0, there is no denying the team was somewhat tired, both physically and mentally, by the end of the year.
It will be White's challenge to keep veteran star Tamika Catchings, as well as their other vets playing healthy and strong through the entire season and potential playoffs. Under White, while still being a defensive and rebounding team, the Fever will no doubt be looking to improve their offense. An infusion of youth will help achieve both goals.
First, the Fever traded their first and third-round draft picks to San Antonio for guard Shenise Johnson and a second-round pick. With that pick, the Fever selected Kansas forward Chelsea Gardner, who many thought was a first-round talent. Add to those two, last year's two first round picks, Natasha Howard and Natalie Achonwa (who sat out the season injured), plus Maggie Lucas, another rookie from last season. That is potentially five players with one year of experience or less.
Catchings remains the cornerstone of the franchise, a do-all, high energy force of nature, wreaking havoc on the basketball court to opponents. Erlana Larkins and Briann January are back, as is Marissa Coleman, and their leadership cannot be overlooked in forging ahead with a new coach and new players.
Depth will be key for the team, as not only is rest needed for the veterans, but wing Shavonte Zellous, who emerged as an All-Star, is now a Croatian national, and will miss time to play in international competitions. Achonwa, the rookie post heavily counted on to support Larkins, will also miss time as she plays for the Canadian national team.
White has always been visible both in the community and nationally, speaking at conferences, and broadcasting college games on multiple networks. She has been outspoken on current events in Indiana, and does not shy away from controversy. Now, the pressure is on her shoulders to keep one of the WNBA's most stable and successful on court franchises rolling in the right direction.
For some, it might be a daunting task. For White, it seems like it is where she was meant to be.
Enjoy the podcast!