Fans show love for Sun as franchise ends injury-plagued season with win over playoff-bound Sky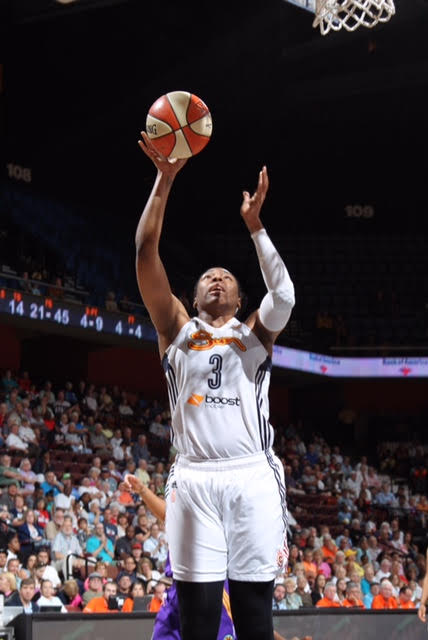 UNCASVILLE, Conn. – Kelsey Bone did not let the Connecticut Sun (15-19) regular season end in a disappointing loss. Before their largest home crowd of the season, a season high 8,049 fans, Bone, the brightest spot in an injury-riddled Connecticut season, scored 31 points to lead the Sun to an 85-76 victory over playoff-bound Chicago (21-13).
"When you've lost as many in a row as we have and have gone through a season like we have," said Bone, "it's tough but you look up and see this arena filled knowing we aren't going to the playoffs and that was my mentality, go out and end with a bang."
A season that started with the losses of Chiney Ogwumike, Allison Hightower and Kelsey Griffin to injury and Katie Douglas to retirement, showed promise early, as Connecticut jumped out to a 7-1 start. With the additional playing time the injuries helped Bone and Alex Bentley became All-stars. As the season progressed though, Elizabeth Williams, Alyssa Thomas, and Bentley were all bitten by the injury bug, and the winning streaks turned to losing streaks. In the end, the Sun failed to make the playoffs for the third consecutive year under coach Anne Donovan.
Donovan, whose contract ended with the season finale, would not discuss her future with the team, but did say she was extremely proud of the nucleus of the Sun, and what the organization put together over her years. Whoever coaches the team next season will enter with a core of talented players in Ogwumike, Bone, Bentley, Thomas, Shekinna Stricklen and rookies Williams and Chelsea Gray. Add in a lottery pick in a talented 2016 draft, and veterans like Camille Little and Jasmine Thomas, and the playoffs are a legitimate possibility.
The 6-4 Bone, in her second year with the team after a rookie season in New York, was the brightest spot for the Sun for sure. A candidate for most improved player, Bone led the team in scoring and rebounding and posted career highs in virtually every category.
On this night she outdueled probable Most Valuable Player Elena Delle Donne of the Sky, as Delle Donne dropped in 28 points to clinch the league scoring title. No other player on the Sky scored in double figures however.
Chicago added veteran Erika de Souza prior to the trade deadline to better defend big post players like Bone, but they were unable to control her. Chicago knows that entering the playoffs, their defense needs to improve.
"New season," Delle Donne commented about their upcoming playoff matchup with the Indiana Fever. "Obviously we need to pick up our defense, be there for each other, and be there help side. If a player is going off, like Bone for example, we need to pay more attention to her. Our defense is something we need to clean up quickly."
Despite having secured the second spot in the Eastern Conference and first round home court in the playoffs, coach Pokey Chatman said she thought about resting her starters "for about a second," before instead deciding to try and build momentum for the playoffs. With All-star guard Cappie Pondexter still being monitored as part of the league's concussion protocol, they needed to get their lineups adjusted as well. Chatman was clearly not happy with her team's defense in this game.
"We have to man up, we have to play some defense and we have to do the dirty work," she said. "If we do not do those things we will be out of the playoffs like that."
Veterans Camille Little and Jasmine Thomas, singled out by Donovan all season for their veteran leadership and intangibles filled the box score as well on Sunday. Little scored 15, hitting three three-pointers, while Thomas swiped four steals and dished seven assists for the Sun.
Little received another assist from one of the ball girls postgame, as she not only signed and threw the game sneakers she wore during the game into an appreciative crowd, but she also retrieved two more pairs from her locker that she threw into the crowd.
That small act is just a small part of why over 8,000 people, on the first Sunday of the football season, came to a game that was meaningless in terms of WNBA standings. It was fan appreciation night, but the fans showed their appreciation for the Connecticut Sun as well.