Pac-12 Players of the Week for Nov. 23-30: Stanford's Lili Thompson and California's Kristine Anigwe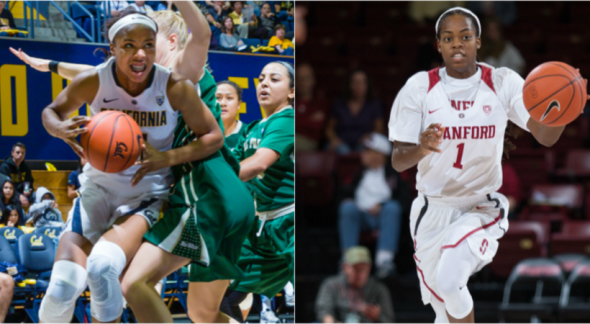 Hoopfeed's ballot: Player of the Week: Temi Fagbenle (USC) || Freshman of the Week: Kristine Anigwe (Cal)
Cheryl Coward, founding editor of Hoopfeed, participates in the weekly Pac-12 voting.
The Pac-12 women's basketball honors for the week of Nov. 23-30 include Stanford's Lili Thompson, voted the Pac-12 Player of the Week, and California's Kristine Anigwe, selected as the Pac-12 Freshman of the Week for the second time this season.
Junior guard Thompson (Mansfield, Texas) helped Stanford to a 4-1 record, including a Gulf Coast Showcase title where she was named the Most Valuable Player. Posting averages of 20.8 points, 6.0 assists and 1.8 steals per game, she shot 42.2 percent from the floor (27-for-64) and was even better from long distance, knocking down 44.1 percent of her three-point attempts (15-for-34). She missed just one free throw all week, going 14-for-15 from the line for a 93.3 shooting percentage. She netted 21 points in the 61-58 setback to Santa Clara and 26 in the 82-65 win over Missouri for her fourth-straight 20-point effort, making her the first guard since four-time All-American Candice Wiggins to achieve the feat. She also had 19 points and seven assists in the 74-66 win over Dayton, after recording back-to-back six-assist outings in the opening games of the Showcase. She closed out the tournament with 17 points, nine of which were from a perfect outing from the charity stripe, to lift the Cardinal to a 71-65 victory over Purdue.
Freshman post player Anigwe (Phoenix, Ariz.) averaged a double-double at the South Point Shootout in Las Vegas last week, leading the team with 19.5 points and 10.5 rebounds per game, while shooting 52.2 percent from the floor. She recorded her first-career double-double in a 75-58 loss to then-No. 10 Texas A&M, chipping in 23 points on 8-for-15 shooting, while grabbing 12 rebounds. She was a perfect 8-for-8 from the free throw line in a 77-72 win over Liberty, scoring 16 points with nine boards and three steals.
It is Thompson's second-career player of the week honor and Stanford's 102nd all-time. Anigwe was named Freshman of the Week on Nov. 16 after the opening week of the season. It is the sixth weekly rookie nod for the Golden Bears all-time.
A player of the week has been selected every week since 1986-87, the first year the Conference sponsored women's sports. A freshman of the week was first selected in 2012-13. The Pac-12 Player and Freshman of the Week are voted on by a panel of media that regularly cover Pac-12 women's basketball.
The Cardinal has just one game this week, traveling to Austin, Texas, to play top-10 foe Texas on Sunday, Dec. 13. That game will be televised on ESPN.  The Bears stay home to host the Cal Tournament Saturday-Sunday, Dec. 5-6.
Also Nominated:
PLAYER: JaLea Bennett, ARIZ; Quinn Dornstauder, ASU; Kristine Anigwe, CAL; Jamee Swann, COLO; Jillian Alleyne, ORE; Sydney Wiese, OSU; Monique Billings, UCLA; Temi Fagbenle, USC; Emily Potter, UTAH; Talia Walton, WASH; Borislava Hristova, WSU.
FRESHMAN: Alexis Robinson, COLO; Kennedy Bruke, UCLA; Erika Bean, UTAH; Borislava Hristova, WSU.
2015-16 Pac-12 Women's Basketball Players of the Week
| | | |
| --- | --- | --- |
| Date | Player | Freshman |
| Nov. 16 | Courtney Range, CAL | Kristine Anigwe, CAL |
| Nov. 23 | Jordin Canada, UCLA | Borislava Hristova, WSU |
| Nov. 30 | Lili Thompson, STAN | Kristine Anigwe, CAL |