UConn and Notre Dame prove once again why they have the best active rivalry in women's basketball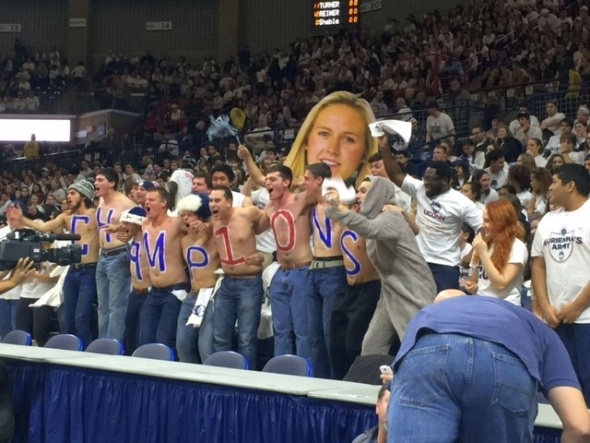 STORRS, Conn. – Down two starting post players, No. 3 Notre Dame walked into a sold out, mostly white-clad Gampel Pavilion and showed top ranked Connecticut that the Irish can take the best the Huskies have to give. In the end, however, the three-pronged attack of Moriah Jefferson, Morgan Tuck, and Breanna Stewart overcame Notre Dame's impressive three-point shooting and the Huskies escaped with a 91-81 victory.
Irish freshman Marina Mabrey showed she could be the next in a line of Notre Dame guards like Skylar Diggins and Kayla McBride that thrive in the environment of big games. She entered the game at the 6:42 mark of the first quarter; all she did from there was connect on 9-of-11 first half shots including all three three-point attempts for a total of 21 points in the half.
Mabrey's post game comments about her first half performance: "It was just another game to me. Our team was looking for someone to step up and I was able to do that in the first half," she said.
That is some Jersey girl swagger. Unfortunately for Notre Dame, some Texas lasso-ing took Mabrey out of the game in the second half, as Jefferson
took over on defense, face guarding and denying Mabrey the ball. The result was only two shot attempts, three turnovers and two offensive fouls in the second half. Jefferson knew after the first offensive foul, she had things under control.
"It started with that and then she just stood (around), so I knew then I got you," Jefferson explained, "because you're not going to do anything (standing around). Once you get frustrated, and it gets in your head you get out of it mentally, so she didn't get the ball or get any shots off."
For UConn, the game started quickly, jumping to a 10-2 lead with Tuck and Stewart scoring the first six points in the paint. In fact, the Huskies scored 18 points in the paint that quarter, 11 on second-chance points. Notre Dame's zone seemed to get the Huskies out of sync after that, and as the Irish came back in the second quarter, UConn only managed six points inside.
Meanwhile, led by the Mabrey sisters, Marina and Michaela, Notre Dame was shooting the lights out, hitting 7-of-10 three pointers in the half and outscoring UConn 25-18 in the second quarter to go into the half down only two, 45-43.
Notre Dame head coach Muffett McGraw was very happy with her team's execution and performance from the perimeter.
"The way we shot the ball from the 3-point line I thought was really good. That's what we have to become now that we are not as post oriented as we wanted to be. I thought we did a lot of good things execution wise."
In what appears to be a pattern for UConn so far this season, the Huskies came out in the third quarter with a renewed commitment to defense and desire to pound the ball inside. They forced the Irish into seven turnovers in the third quarter alone, and Tuck in particular asserted herself, drawing fouls in the paint to score 10 points.
McGraw said that Tuck was key.
"I think she was the x factor for them and I felt like she really played well. I've always admired her game."
Notre Dame did not go quietly, outscoring UConn 25-19 in the fourth, but the third quarter damage was too much to overcome, leaving the Huskies with the ten point margin of victory.
Stewart led the Huskies with 28 points (nine in the fourth quarter) and 10 rebounds. Tuck added 21 points, seven rebounds, and eight assists against the injury-plagued front court of the Irish. Jefferson contributed not only the shut down defense on Marina Mabrey but had 14 points and six assists of her own, while playing all 40 minutes. Freshman Katie Lou Samuelson had 13 points in her first game at Gampel Pavilion.
For Notre Dame, the three-point bombers led the way, with Marina Mabrey scoring 23, Madison Cable had 17, 12 from the Irish's other impressive freshman Arike Ogunbowale, and 11 from both Lindsay Allen and Michaela Mabrey. Overall, Notre Dame hit 13 three-pointers, tying the school record for most in a single game.
While McGraw said she thought this year's UConn team was better than last season's champion, Huskies head coach Geno Auriemma disputed that, commenting that replacing two seniors (Kaleena Mosqueda-Lewis and Kiah Stokes) in his rotation with two freshmen (Katie Lou Samuelson and Napheesa Collier) made that impossible at this point. Auriemma had high praise, however, for redshirt junior forward Tuck postgame.
"Morgan is a player that we can always count on. She is nothing flashy; she just does all of the little things that help you win games," Auriemma said. "She's good at everything, and she's good at winning games."
In perhaps this year's version of "We have Diana and you don't," when asked about the difficulties in facing DePaul (last game) and then Notre Dame, Auriemma responded, "Sometimes you just have to outscore people. Pass the ball to Stewie more. That would be my answer to most of this crap."
Next for Notre Dame is another challenging opponent in DePaul, who gave UConn fits last week, on Wednesday at home.
UConn travels to upstate New York to play at Colgate in what is Stewart's "homecoming" game on Wednesday as well.