Oregon's Jillian Alleyne becomes Pac-12 all-time rebounding leader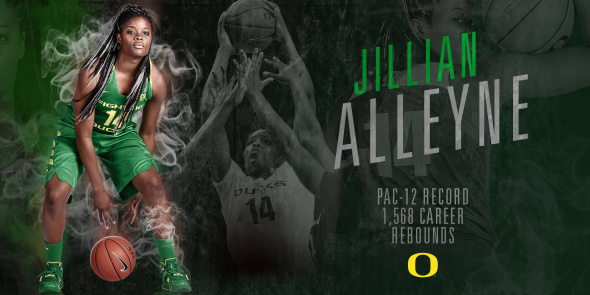 Oregon senior forward Jillian Alleyne had 25 points and 15 boards in a 69-59 home win against California (10-7, 1-5 Pac-12) Sunday as she became the all-time rebounding leader in the Pac-12. It was the first conference victory for Oregon (12-5, 1-5) this season.
Alleyne now has 1,573 career rebounds passing Stanford's Chiney Ogwumike. She also owns Oregon's and the Pac-12's single-game records for rebounds (27) plus her team's and the conference's single-season records for rebounds (519 as a sophomore). The 519 rebounds are now the sixth most in NCAA history.
Alleyne on breaking Chiney Ogwumike's record:
"It's pretty amazing. Chiney Ogwumike is an amazing player, so I've been talking to her and she's just like 'You gotta break my record, you gotta break my record'  so she was very supportive, and honestly I couldn't do it without my teammates…definitely all credit to them for getting me there."
The fact that she was on the brink of breaking the record slipped her mind before the game.
"I wasn't aware coming into the game, and after the loudspeaker and the gym went off, I was like. 'Oh my gosh,' I kind of forgot about it. It's really humbling. It's definitely taking me back and making me realize how much harder I have to work. The team success is more important."
Oregon head coach Kelly Graves had nothing but praise for Alleyne:
"I'm really happy that she got a record," he said. "I didn't pay that much attention to it. All I remember in the huddle is saying 'Hey, focus, it doesn't matter. We want to win this game.'"
"She was born to rebound, she really was. She's got an amazing nose for the ball and sometimes the rebounds don't mean as much, but tonight every rebound meant something.  I'm happy for her."