No. 13 Stanford downs No. 7 Oregon State in historic victory, 76-54, program reaches 1,000 wins
STANFORD, Calif. – No. 13 Stanford (23-6, 13-4 Pac-12) earned a significant victory over No. 7 Oregon State, 76-54, Friday night. It was the 1,000th win in Cardinal women's basketball history since the team's first varsity season in 1975.
Stanford became the seventh program to accomplish that feat.
"It's historic, and it wasn't just an ordinary win for us either," Stanford head coach Tara VanDerveer said. "It was a big game, and it was fun that 1,000 wins was this game."
Led by junior forward Erica McCall's career-high 25 points and five rebounds plus a double-double from junior guard Karlie Samuelson, Stanford fought off the Beavers early on and never trailed after the last minute of the first period. OSU (24-4, 15-2) has never won a game at Maples Pavilion in 29 tries.
"This was a really big game for us to prove to ourselves how much we've improved and asking different people to step up," VanDerveer said. "It was a great team effort."
Stanford was without leading scorer, junior guard Lili Thompson who missed the contest due to a death in her family.
In beating one of the top defensive teams in the country, Stanford led the Beavers in rebounding, field goal percentage, three-point field goal percentage, points in the paint and fast break points. In fact, OSU had zero fast break points compared to Stanford's 12. Overall, the Cardinal shot 57.7 percent (30-of-52), a season-best. They held OSU well below its season averages for points (68.2), field goal percentage (.444) and rebounds (44.4).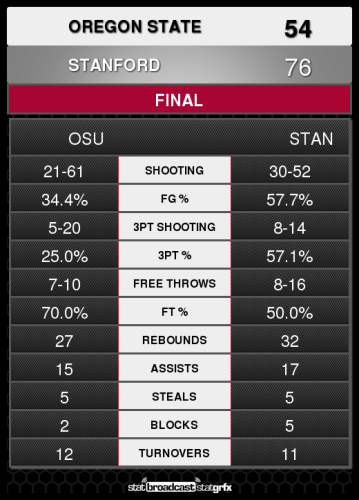 "I was really impressed by Stanford," Oregon State head coach Scott Rueck said. "They executed their scheme well, and shot the ball at an unbelievable rate. You have to take this for what it is. The thing that I know about our team is that this group handles adversity well. We're a mature team, and we're going to learn and get better from tonight."
In the first quarter, OSU jumped out to a six-point lead propelled by three-point shots from junior guard Gabriella Hanson and senior forward Deven Hunter.
Stanford countered with treys of its own, the first from Samuelson. The team's younger players were the catalyst in the Cardinal overtaking the Beavers in the latter part of the period.
"We have young group, and we've been working hard," VanDerveer said. "What I'm most excited about is, like yesterday at practice, after practice is over, there's still nine people out there shooting. They're putting in the time, they're putting in the effort, and I think it bodes really well for this year's team and the future."
Sophomore guard Brittany McPhee had six points in the first quarter, while sophomore forward Kaylee Johnson had four. At the end of the period, Stanford led 21-19.
Stanford delivered a blowout in the second quarter, outscoring OSU 20-8. McCall began the onslaught with a three-point shot. She scored the first seven points of the second quarter for the Cardinal. Three other players scored for Stanford in the second period, but the quarter belonged to McCall who dominated with 10 points in those ten minutes.
At halftime, Stanford had a comfortable14-point lead, 41-27. McCall finished the first half with 14 points and four rebounds. She maintained her prolific pace in the third quarter, scoring nine points including a trey to end the period. McPhee and Samuelson contributed six points each in the third quarter as well.
At the beginning of the last quarter, Stanford had a 23-point lead after outscoring OSU 22-13 in the third period. The Beavers managed to outscore the Cardinal 14-13 in the fourth, an output that was not nearly enough to overcome their deficit. Overall, no OSU player scored in double digits in the second half while McCall had 11 points and McPhee added 10.
McCall, who was 3-of-5 from three-point land, was happy about showing her versatility. Previously, she had only attempted one trey in her college career.
"I was pretty excited [to hit the first three]," she said. "I was supposed to act like I've made one before. I knew once the first one went in, I had the go-ahead to shoot the rest, and I think that kept me going for the rest of the game."
Samuelson finished with a 13 points and a career-high 12 rebounds. McPhee, starting in place of Thompson, contributed 15 points on 6-of-7 shooting, plus four rebounds and a career-high four assists.
OSU's leading scorer, senior guard Jamie Weisner, was held to just four points, far below her average of 17.7 points per game. VanDerveer credited McPhee's defense for keeping Weisner in check.
"[McPhee] did a great job defensively," VanDerveer said. "I was really proud of her grit, how hard she played. To hold arguably the best player in the Pac-12, Jamie Weisner, to 1-for-8, it was awesome. She had a lot of help from different teammates, but Britt really stepped up for us tonight."
McPhee put in several hours studying Weisner's game before Friday.
"Going into the game, I had watched a lot of film on [Weisner] with the coaches, so I knew what she liked to do. They told me to have a 'pit bull' mentality, and so I just zoned in, locked in."
After hitting the first basket of the contest, Weisner did not score again until late in the fourth quarter.
Senior center Ruth Hamblin led the Beavers with 14 points and four rebounds. This season she has averaged 8.8 rebounds per game.
Stanford hosts Oregon on Sunday at 11 a.m. PT (TV: Pac-12 Bay Area) in its last home contest. The Beavers head across the Bay to California (TV: Pac-12 Oregon) for a game on the same day and at the same time, ending their regular season on the road.
Notes
With the loss, OSU dropped to second in the Pac-12, trailing No. 9 Arizona State. Stanford remains in third place. The Pac-12 tournament begins next Thursday in Seattle. The top four teams receive a first-round bye.
The game was the first defeat for OSU first since January 4 against UCLA, ending their 14-game winning streak. OSU remains winless in Maples Pavilion all-time (0-29).
Stanford is the seventh Division I institution to reach the 1000-win plateau, joining Tennessee, Louisiana Tech, James Madison, Old Dominion, Texas and Stephen F. Austin.
The Cardinal's overall record since its first varsity season in 1975 is 1,000-310 (.763), and 824-172 (.827) with VanDerveer at the helm.
The Beavers came into the game leading the country in field goal percentage defense at 30.9 percent. Stanford's previous high this season was 51.7 percent against Arizona on February 12.
Tweets
#7 Oregon State at #13 Stanford tonight, about to tip. Oregon State has never won at Maples Pavilion. #ncaaw pic.twitter.com/5aTEdkA6k6

— Hoopfeed.com ? (@hoopfeed) February 27, 2016
Starting for Oregon State: Gabriella Hanson, Jamie Weisner, Sydney Wiese, Deven Hunter, Ruth Hamblin #ncaaw

— Hoopfeed.com ? (@hoopfeed) February 27, 2016
Starting for Stanford: Kaylee Johnson, Bri Roberson, Brittany McPhee, Erica McCall, Karlie Samuelson #ncaaw

— Hoopfeed.com ? (@hoopfeed) February 27, 2016
Karlie Samuelson and Brittany McPhee put Stanford in tie with Beavers halfway thru 1Q, 10 all, about 5 minutes to go in quarter #ncaaw

— Hoopfeed.com ? (@hoopfeed) February 27, 2016
Nice fast-paced game here @ Maples, both teams shooting well, Stanford young'uns Kaylee Johnson, Brittany McPhee & Alanna Smith working hard

— Hoopfeed.com ? (@hoopfeed) February 27, 2016
Stanford's last 11pts have come from underclassmen, Cardinal lead Beavers 18-17, 1:03 1Q #ncaaw

— Hoopfeed.com ? (@hoopfeed) February 27, 2016
Beavers tie it up and Stanford freshman Alanna Smith on cue, drains a trey #ncaaw

— Hoopfeed.com ? (@hoopfeed) February 27, 2016
OK, we see you Erica McCall, knocking 'em down from beyond the arc! Stanford 24, Oregon State 21, 8:56 2Q #ncaaw

— Hoopfeed.com ? (@hoopfeed) February 27, 2016
So far 2nd quarter dominated by Erica McCall, 7pts in the period for the junior with 5:37 left in half. 31-21 Stanford. #ncaaw

— Hoopfeed.com ? (@hoopfeed) February 27, 2016
Stanford extends its double-digit lead over Oregon State with a layup from Brittany McPhee, 33-21, 5:14 2Q #ncaaw

— Hoopfeed.com ? (@hoopfeed) February 27, 2016
Nice to see @OregonStateWBB fans at Maples, making a trek to support their team #ncaaw pic.twitter.com/ED3HXGmygb

— Hoopfeed.com ? (@hoopfeed) February 27, 2016
Stanford defense too much for Beavers in 1st half, Kailee Johnson just blocked a pass for a steal, dished to Brittany McPhee for easy layup.

— Hoopfeed.com ? (@hoopfeed) February 27, 2016
BIRD! With another trey for Stanford, Cardinal lead 39-25, 2:18 to go in 2Q #ncaaw #EricaMcCall

— Hoopfeed.com ? (@hoopfeed) February 27, 2016
Brittany McPhee heating up in 3Q, has 6pts for Stanford in the period, 15 total. Stanford 54, Oregon State 33, 2:57 #ncaaw

— Hoopfeed.com ? (@hoopfeed) February 27, 2016
Stanford scores 4 quick points to start 4th quarter & Oregon State has seen enough, timeout for Beavers. 67-40 Stanford 8:03 to go #ncaaw

— Hoopfeed.com ? (@hoopfeed) February 27, 2016
Erica McCall just added a nasty block to her 25pts/5rebs. Stanford continuing to draw from the can of whoop-you-know-what, 72-42 5:40 4Q

— Hoopfeed.com ? (@hoopfeed) February 27, 2016
She's good at that. @_mediumE #GoStanford pic.twitter.com/tg5vtgDuZV

— Stanford Women's Basketball (@StanfordWBB) February 27, 2016
Stanford reserves in the game with a minute to go….and scoring. Kiran Lakhian, a senior from Texas, gets her 1st points tonight. #ncaaw

— Hoopfeed.com ? (@hoopfeed) February 27, 2016
Tonight's victory marks 1,000 wins in @StanfordWBB history, since the 1st WBB varsity season in 1975. pic.twitter.com/OMoqvrkj98

— Hoopfeed.com ? (@hoopfeed) February 27, 2016
Erica McCall on making treys tonight: "I was trying to be like my big sister [DeWanna Bonner], she can shoot it from way out there" #wnba

— Hoopfeed.com ? (@hoopfeed) February 27, 2016
Squad goals. #GoStanford pic.twitter.com/EId6MWyjhd

— Stanford Women's Basketball (@StanfordWBB) February 27, 2016