Stewart, Jefferson and Tuck: Always together in UConn lore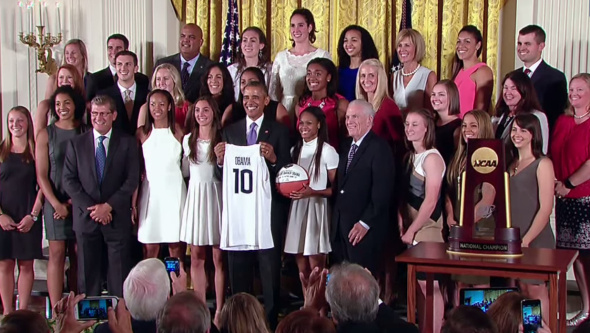 STORRS, Conn. – Breanna Stewart and Moriah Jefferson came to Connecticut together, won three championships (to date), and today will go up on the wall of Gampel Pavilion. Along with Morgan Tuck, they are on the verge of becoming the most successful class in UConn history.
According to head coach Geno Auriemma, they would not have done it without each other; Stewart the star performer, the consensus national player of the year, Jefferson, the engine driving the train with speed and guile, and Tuck, the conductor of that train, the consummate leader on and off the court.
All three will be honored along with Briana Pulido, the former walk on who earned a scholarship this year with her dedication and improvement.
Stewart and Jefferson are already All-Americans, ready to go on the Huskies of Honor wall. Stewart is the one that garners most of the national attention. Her size and ability to stuff the stats sheet make her the headline grabber.
"Anytime you have a big kid that plays a lot and they rebound, they block shots, they score in the lane, they contribute in so many ways, they dominate the attention," Auriemma said, "because they are all over the box score So was Maya [Moore] and Tina [Charles] to a certain extent. That happens a lot."
Jefferson does not mind taking the backseat, she said on this week's Dishin & Swishin podcast.
"Guards, they don't put up the kind of numbers that makes everyone say wow, but if she was on the team by herself, without Stewie, her numbers might be greater, but she wouldn't have as many wins," Auriemma said. "I think Moriah has struck a pretty good balance."
He has long said that Tuck is the glue, the most important piece of the puzzle that makes this group of Huskies the champions they are. Off the court and on the court, they are important to their teammates.
"They've helped me tremendously," freshman starter Katie Lou Samuelson said. "Mo just being on the court probably one of our best leaders, her and Morgan. No matter how crazy the game gets, and how if everyone loses their head she is always calm. Which is amazing because of how intense she is and she is everywhere on the court, but she really can calm everyone down. It's been amazing being able to play with a point guard like that. I've never gotten that opportunity before, so it's been really good."
"Stewie is just amazing to play with," Samuelson continued, "not much you can say that everyone doesn't already know, but not only that, but she has really helped me individually, she's taken me aside a couple of times, and talked to me when I was feeling down about things. I really look up to Stewie and try to learn from her. Overall, off and on the court they are really connected with everyone and it's cool to be on a team like that. I'm from far away [from home] and it's nice to know they have my back about anything, not just basketball."
Jefferson laughed about Samuelson's comments, but acknowledged the trio realizes the importance of their off the court role.
"We are the old guys now, it's weird," she said. "The reality is we are the seniors and they look up to us, so we have to make sure we do a good job. I think it's important to be there for the younger players, I know it was something I needed as a freshmen, and it's hard when you have coach yelling at you all the time and it's good to have that positive reinforcement. When she does something wrong, I'll let her know, but as soon as she does something right I'm the first person over there giving her a high-five."
As they conclude their Huskies careers, do they look at the accomplishments? Do they realize the significance while playing in the moment still?
Jefferson summarized it best.
"When you're finished I think you go back and say that's cool that I did that, while I'm here, I came here because I knew I would take that backseat I didn't need to be that star player all the time. I wanted to make a difference, for my team and as a point guard, I think you are going to take a backseat but you make a difference because you have to get the ball to your teammates."
No denying it, they all made a difference.