No. 1 UConn celebrates their seniors, takes care of Tulane, 80-40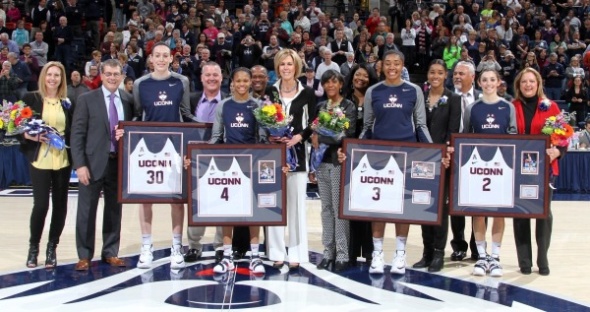 STORRS, Conn. – It was the best of times and the worst of times for the UConn Huskies Saturday afternoon at Gampel Pavilion.
They started the day honoring their four seniors: Breanna Stewart, Moriah Jefferson, Morgan Tuck, and Briana Pulido. They immortalized Stewart and Jefferson's number and the name of associate head coach Chris Dailey on the Husky of Honors wall. Then they went out and laid an egg; playing probably their worst quarter of basketball in the season before righting the ship and rolling to an 80-40 victory.
"You watch it for three years [senior day] and then you get to participate and it's great, but the game?" Tuck said. "It's hard to explain. We were trying to run offense and it just wasn't working. Sometimes it's just a lot going on, and that's what it looks like."
Tulane scored the first five points of the game and led by as many as eleven at 13-2, the largest deficit the Huskies faced this season. UConn shot 1-for-16 for the period, with Jefferson's layup the one basket. Combined the seniors shot 1-for-12 during the period.
"Maybe it was emotions, it felt like everyone that shot the ball could not get it to go in," Jefferson said. "I know we shot a crazy low percentage, I don't even want to know what it was."
Momentum shifted when Auriemma went to his bench and inserted Katie Lou Samuelson and then Gabby Williams. After missing her first three shots, the freshman Samuelson buried her next four, all from three-point territory as the Huskies rolled to a 28-7 second quarter and a 16-point halftime lead. The three-point prowess runs in the family as last night on the West Coast Samuelson's older sister, Stanford junior Karlie, drained 3-of-4 from beyond the arc in the No. 13 Cardinal's home win over No. 7 Oregon State and finished with a double-double (12 points, career-high 13 rebounds).
UConn head coach Geno Auriemma said that it could have been the emotions of senior festivities, or it could just be one of those days for his team at the start of the game, but Williams came in and impacted the game with her energy and hustle. Williams, he said, won the game for UConn without putting a lot of points on the board (she scored eight points on 2-for-2 shooting and 4-for-4 from the foul line).
Williams said she was not going to let the Huskies lose on senior day.
"With the sold out crowd just for them, I didn't want them to have 'that feeling' sometimes when we win it feels like we lost because we didn't play the way we should have. I didn't want them to have that feeling, especially not on their senior night. I just came in and did what I could."
The third quarter was more UConn dominance, as Samuelson and Stewart scored the first seventeen points of the half and UConn went on a 17-2 run, holding Tulane to four third quarter points.
Samuelson finished with 21 points. Stewart earned a double-double of 20 points and 12 rebounds.
Tulane, 19-10 on the season and 10-7 in conference, were led by sophomore guard Kolby Morgan, a strong candidate for All-Conference honors, with 19 points and seven rebounds, hitting 8-of-16 shots. Point guard Leslie Vorpahl had nine points and five assists, but committed seven turnovers, as UConn forced 22 on the game.
It might not have been the best of games for Stewart, Tuck and Jefferson, but the day itself was special, and they appreciated doing senior day together, before a sell-out crowd of 10,167.
"I think one thing that make it so special is we are really close outside of basketball, so I think that's why we get along so well," Tuck said. "When we play, we kind of know where each other is going to be, and things like that. We have great friendship, it's kind of weird to think we could be one of the greatest classes [in UConn history], when you look at all the great players, I don't know if we're that good compared to them, but it's really cool to do this with some of your best friends."