UConn opens season 20-0 after 83-40 defeat of Memphis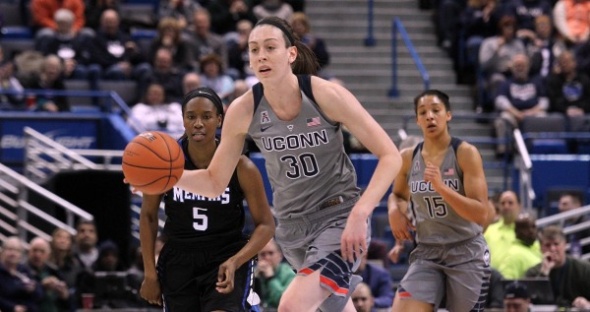 HARTFORD, Conn. – For the ninth time since they won their first national championship in 1995, the Connecticut Huskies and coach head Geno Auriemma are 20-0 to start the season. The Huskies forced 34 turnovers and produced 45 points off those turnovers en route to an 83-40 conference win over Memphis before 12,047 fans in a noon tipoff at the XL Center in Hartford on Saturday.
UConn focused on patience and ball movement throughout the game, and the result was 25 assists on 32 field goals plus 34 points in the paint. After exchanging baskets to start the game, UConn took the lead and led for the remaining nearly 39 minutes of the contest.
Seniors Breanna Stewart and Moriah Jefferson again led Connecticut. Stewart scored 19 points, pulled down seven rebounds and dished out five assists. Jefferson had 11 points and seven assists. Five Huskies finished in double figures in scoring, with Katie Lou Samuelson (13 points), Gabby Williams (10) and Natalie Butler (10), joining Stewart and Jefferson. Overall, UConn shot 58 percent for the game, and a ridiculous 71 percent in the second half. They were also a perfect 10-for-10 from the free throw line.
"I normally don't do too much yelling, but I did a little bit at halftime saying our energy wasn't there," said Jeffersond. "We were definitely low energy and we can't have that in any game we play."
With her seven assists, Jefferson reached 100 assists for the third consecutive season, and tied Bria Hartley for fifth on UConn's all-time assist list. Stewart is now 16 points from second place on UConn's all-time scoring, trailing Tina Charles. Leader Maya Moore appears to be out of reach.
This was the second time these two teams played this season. On January 13 UConn won 86-46 at Memphis. It has been a bizarre schedule for UConn, with the Huskies playing games not only on the road vs. opponents, but also home games at Gampel Pavilion in Storrs, Mohegan Sun Arena in Uncasville and the XL Center in Hartford. This was the final game at XL Center, and Auriemma, who has frequently mentioned his dissatisfaction with the Hartford facilities, was thrilled with the crowd."It was great, wasn't it? I mentioned that to the coaches." he said. "That's when you like playing here, when you get that type of crowd, it makes a big difference."
Stewart was nostalgic, commenting this was her last game ever on the XL Center floor.
"It's crazy to think I'm a senior, crazy to think I'm going to be done soon and that kind of stuff, but I've played here since I was a freshman and you appreciate this area," she said. "It's a home away from home so to speak." When asked if there were any moments from Hartford she would like to forget, without hesitating she mentioned losses to Baylor and Notre Dame her freshman year.
Mooriah Rowser led Memphis with eight points, followed by Taylor Williams and Brea Elmore with six, and senior Ariel Hearn with five. After struggling with 30 percent shooting and two eight point quarters in the first half, the Tigers shot 40 percent in the second half and scored twelve in both the third and fourth quarters for their finally tally.
UConn will visit Tulane on Wednesday and host East Carolina on Saturday before heading to Columbia, South Carolina and their No. 1 vs. No. 2 matchup with Dawn Staley's Gamecocks on Monday, Feb. 8. Memphis heads home to host Cincinnati on Feb. 6