Special Dishin & Swishin 4/01/16 Podcast: "Ambassador" Tamika Catchings welcomes the women's basketball world to her city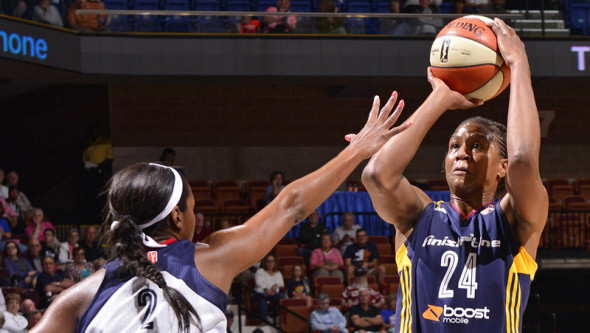 [display_podcast]
Click here to subscribe to the podcast with your feed reader or podcast app: j.mp/dishinpodcast. Available on iTunes, Google Play Music Podcasts, Player FM, Acast (iOS, Android) and Podcast Addict (Android).
If ever there was a person that represented a city, it would be Tamika Catchings. The philanthropic star of the Indiana Fever embraced Indianapolis long ago, and the city adores their "Ambassador."
So as the eyes of the women's basketball world focus on Indianapolis at the host of the women's basketball Final Four, it is only fitting we give you a special Dishin & Swishin podcast with Catchings today.
Even more than usual, Catchings will be visible this weekend, especially because the weekend encompasses all of the things that Catchings loves: basketball, giving back to the community, basketball, meeting new people, and of course, basketball.
Catchings is sponsoring a youth basketball tournament for the first time this year, the "TC Shoot Out" for youth teams in 7th/8th grade, 9th/10 grade and 11th/12th grade divisions. The teams will not only get to play top competition, they can show their talents and meet coaches and players from around the country.
With the book "Catch A Star: Shining Through Adversity to Become a Champion," out about her life, Catchings will add a book signing at Bankers' Life Fieldhouse on Saturday April 2nd from 3:30 to 4:30 p.m. ET, so her fans can go visit and get a signed copy.
Most important though, is the work Catchings is doing this weekend with the Allstate WBCA Good Works Team on a special visit to Indiana University Health Simon Cancer Center, as part of the fourth annual Allstate WBCA Good Works Day. In partnership with the Kay Yow Cancer Fund, Catchings and the players, selected as part of the "team" from numerous nominations, will assemble and distribute inspirational care journals to patients and families, and participate in a music and art therapy session.
It should be a fun-filled weekend for Ambassador Catchings!
On the podcast Catchings discusses:
Why these events are all so important to her
Her love for the Final Four and why it is such a great event,
What she finds so special about being a part of Indianapolis' hosting
Playing alongside Breanna Stewart with USA Basketball and her development over the last few years
A look at the Final Four games
Her thoughts on the Tennessee Lady Vols season and coach Holly Warlick
Here's to a great Final Four weekend, a celebration of the game of women's basketball, and some wonderful basketball!
Enjoy the weekend, and enjoy the podcast!