USA fends off feisty Select Team, 88-84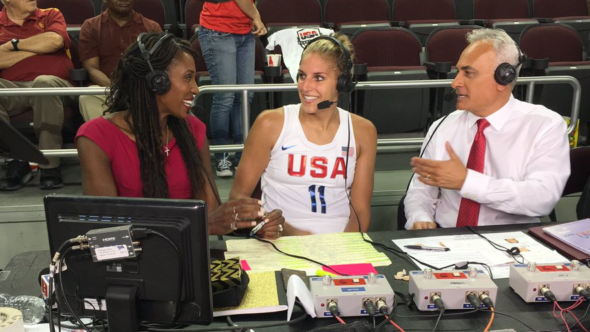 In their first real test before the Summer Olympics next month in Rio, the U.S. women's basketball team fought off a feisty squad of young stars and future Olympians Monday night in Los Angeles, 88-84.
USA head coach Geno Auriemma was impressed by the Select Team.
"Well, I thought the way the Select Team played was really cool. They played as if they play against these guys all the time, which they do. There wasn't going to be any sense of intimidation of who they are, which is why we play these games. We need the challenges. We need to look at different combinations and figure out what works for us and what doesn't. For us, in the two days we've been together, we did a lot of really good things and we're going to get better and better every day. And for the future of USA Basketball, there were some unbelievably positive signs out there of what the next group could potentially look like. It was a good day, I think, all the way around."
Every player on the U.S. national team scored. Maya Moore and Elena Delle Donne led the squad with 11 points and three rebounds each.
Minnesota Lynx forward Natasha Howard had an outstanding outing for the Select Team versus the Olympians with 24 points plus four rebounds. Seattle Storm guard Jewell Loyd finished with 20 points and seven assists. Dallas Wings guard Odyssey Sims contributed 17 points, six rebounds and six assists. National team assistant coaches Doug Bruno and Dawn Staley coached the Select Team.
USA and Seattle Storm guard Sue Bird  enjoyed seeing her teammate Loyd perform for the opposition.
"Jewell is fun to watch. Today was one of those games that you could tell, right from the start, that she was feeling it. We've seen that in Seattle, and you know it's going to be a long night for the other team. Unfortunately, I was on the other side of that tonight."
The national team heads to the East Coast to face France on July 27 at the University of Delaware. The remaining exhibition schedule also includes games against Canada on July 29 and Australia on July 31.
While the games are simply exhibitions, they are important to win according to Auriemma.
"These next three games – of course it's important to win. I'm not one of these that this game or that game doesn't mean anything. Any time they're keeping score it means something. We really want to win the next three games, but at the same time, we need to find out before we get on that plane to go to Rio, what we have. I know who we have. I know what they look like; I know their names. But we've got to find out what we have. What can we count on? What's going to be our strength? What are the things that we're going to build on that are going to sustain us down there? And that's what these next three games are going to be all about."
Diana Taurasi echoed Auriemma's thoughts.
"They're three really big games for us against three teams that are going to be at the Olympics that we've played before. We know what kind of team they are, what kind of quality they have. It's going to challenge us to go out there and play hard and play really well to win. When you put this jersey on, as coach said, there are no moral victories. At the same time, these games are there to prepare you, to get you in a position where when we get to Rio, we know what we're going with and the things that we're really good at. It'll be a tough and competitive three games."
USA center Sylvia Fowles looked ahead to the USA's opponents in Rio.
"There is a lot of talent out there….A lot of teams will be gunning for the USA. We have to be ready from the start to go out there and get it done."
USA Basketball Pre-Olympic Schedule
July 27
5 pm
7:30 pm
Australia – Canada
USA – France
Bob Carpenter Center, University of Delaware
July 28
12 pm
USA Practice
TBD
July 29
4:30 pm
7 pm
Australia – France
USA – Canada
Webster Bank Arena, Bridgeport, Connecticut
July 30
11 am
USA Practice
NY Liberty Practice Facility, Tarrytown, New York
July 31
1:30 pm
4 pm
Canada – France
USA – Australia
Madison Square Garden, New York, New York
Aug. 2
TBD
USA Practice
TBD, Houston, Texas
The Olympic women's basketball competition features 12 national teams competing Aug. 6-20. The U.S. has earned a record seven gold medals, one silver medal and one bronze medal. The senior national team is 58-3 all-time in Olympic competition. The 2016 U.S. team will enter Rio riding a 41-game Olympic winning streak that dates back to the 1992 Barcelona Olympics bronze medal game.