2016 Rio Olympic Games: Group Phase Day 2 Notes: USA sets records; Spain, Australia and France fight for wins
By Cheryl Coward and Lee Michaelson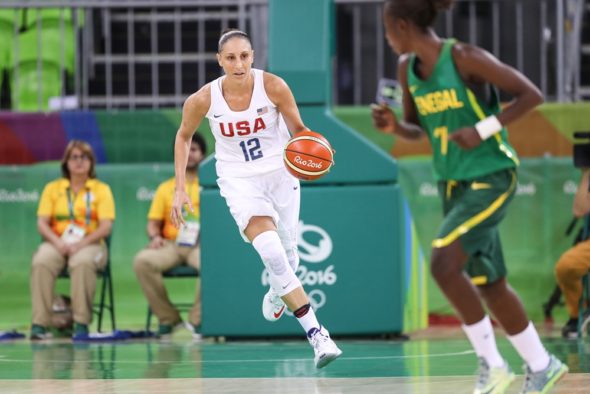 Full Schedule and Group Standings
USA 121, Senegal 56 || Game Quotes || Photo Gallery
RIO DE JANEIRO –  With a record-setting performance, the USA began its quest for a sixth consecutive gold medal with a 121-56 rout of Senegal. The 65-point margin of victory was the largest in U.S. Olympic women's basketball history.
By the end of the first quarter the U.S. had a 26-point lead, 35-9. Diana Taurasi was hot from three-point land in the first ten minutes knocking down three in a row at one point. She led the team with 12 points by the beginning of the second period from four treys.
At the break, the U.S. led by 43 points, 64-21. Senegal shot 27 percent from the field in the first half compared to 70 percent by the U.S. Senegal looked better in the third quarter, playing better defense and getting more looks at the basket.
"There's just no quit in them," said Taurasi about the opponent's drive and effort even in the face of a large deficit."
Seven U.S. players finished in double figures and every player scored.
Sylvia Fowles 15 points, 7 rebounds
Breanna Stewart 15 points, 3 rebounds
Diana Taurasi 15 points
Brittney Griner 14 points, 7 rebounds
Angel McCoughtry 11 points, 5 rebounds, 4 assists
Elena Delle Donne 11 points
Tina Charles 10 points
Sue Bird led the team in assists with 8. The U.S. dished out more assists (36) than any other team in U.S. Olympic history.
Fatou Dieng was the only player from Senegal in double figures with 10 points.
In the 2004 Games in Athens, Brazil beat Japan by a margin of 66 (128-62) and the former Soviet Union defeated Italy by the same amount (119-53) in the 1980 Games in Moscow. The U.S. beat the Democratic Republic of Congo (then Zaire) 107-47, a 60-point margin, during the 1996 Atlanta Games.
"I think it's really cool to know that history went that far back, and we were able to break it today in our first game," Stewart said. "And we hope to play even better in our next one. Obviously, we know we're going for number six (gold medals), and a team of that caliber in '96 started it all off, won the gold medal and now here we are in 2016 trying to keep that going."
Spain managed to escape with a victory over Serbia, the EuroBasket Women 2015 champions. The Spaniards barely edged Serbia in the first quarter ending the period with a 19-18 lead.
At the half the teams were tied 31 all. The second half belonged to Spain as they outscored Serbia 15-13 in the third quarter and 19-15 in the fourth.
Marta Xargay led Spain with 15 points. Anna Cruz and Astou Ndour both finished with a double-double. Cruz scored 13 points and 11 rebounds while Ndour contributed 11 points and 12 rebounds.
"We play as a team, we share the ball and we play hard defense," said Cruz. "It was tough, Serbia is a good team."
Jelena Milovanovic paced Serbia with 17 points plus five rebounds. Danielle Page added 14 pints and five rebounds.
Australia again with a late game resurgence, looking like a 2nd half team so far in Rio. #AUS 52, #TUR 45, 6:23 4Q https://t.co/RoSlwsJV8o

— Hoopfeed.com ? (@hoopfeed) August 7, 2016
For the second day in a row, Australia had to overcome a double-digit deficit to eek out a victory. A day after surviving their opener against Brazil the Opals found themselves entering the second half with a deficit.
It took the Opals nearly the entire game to bypass Turkey and pull out a victory. Turkey led Australia 15-12 after the first quarter and maintained the advantage into the half, 29-26.
Turkey continued the momentum in the third quarter until Australia went on a 9-0 run to earn a 36-31 lead. Turkey never strayed far behind but was unable to overtake the Aussies again.
Liz Cambage led the Opals with 22 points and 11 rebounds. She has notched doubles-doubles in her first two games. Leilani Mitchell and Katie Rae Ebzery added 11 points each.
Australia is now 2-0 in the Rio Games and Turkey falls to 0-2.
France waited until second half of the game to show that it was the better team against Belarus. The dominant team in the first ten minutes was Belarus, outscoring France 22-14 in the first quarter. The French team turned it up in the second half outscoring Belarus 18-11 in the third quarter. However, Belarus still held a one-point edge heading into the last quarter, 53-52.
It was a back and forth contest that went down to the wire. Endy Miyem made a buzzer-beating shot to give France the win.
Isabelle Yacoubou and Valeriane Ayayi led France with 13 points and five rebounds each. Miyem added 10 points plus six rebounds.
France is now 2-0 in the Rio Games.
Monday's Games
Spain vs. USA, 11 a.m. ET
Canada vs. Serbia, 1:15 p.m. ET
Japan vs. Brazil, 4:30 p.m. ET
Senegal vs. China, 6:45 p.m. ET
Tuesday's Games
Australia vs. France, 11:15 a.m. ET
Brazil vs. Belarus, 2:30 p.m. ET
Turkey vs. Japan, 4:45 p.m. ET
The group phase ends August 14. The quarterfinals begin August 16. The top four finishing teams from each preliminary round group advance to the quarterfinals on Aug. 16. The semifinals will be played on Aug. 18, and the finals are on Aug. 20.