2016 Rio Olympic Games: Group Phase Day 3 Notes: USA hits 100 again
By Cheryl Coward and Lee Michaelson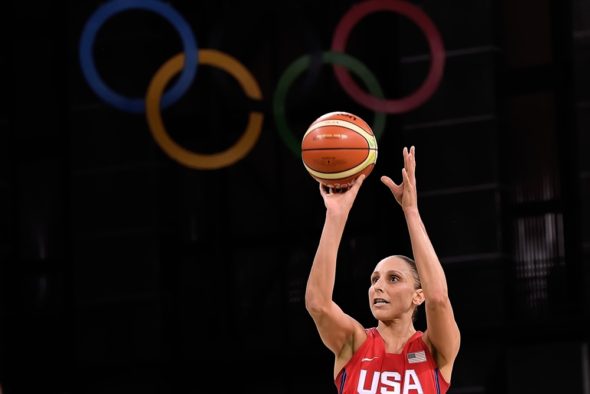 Full Schedule and Group Standings
USA 103, Spain 63 || Game Quotes || Photo Gallery
RIO DE JANEIRO – The USA followed up its record-breaking performance on Sunday against Senegal with another 100-point plus outing Monday morning with a 103-63 victory in the Group B preliminary round over Spain.
The Spanish team made it a competitive matchup in the first ten minutes by jumping out to an 8-6 lead. However, after a layup from Brittney Griner tied the game up, the USA went on a scoring spree to end the quarter leading 29-14.
Spain never recovered and by the half, the U.S. had a 54-37 advantage.
Five USA players were in double figures led by Diana Taurasi with 13 points. Elena Delle Donne and Sylvia Fowles finished with 12 points and four rebounds each. Griner contributed 10 points.
Spain's Alba Torrens was the game's leading scorer with 20 points. Astou Ndour added 13 points and eight rebounds.
"Each game we play is going to get progressively harder," said head coach Geno Auriemma. "We have to keep getting better and it took us a little bit. Spain's a really good team, but I think when you look at our depth and all the people that we have that can keep the pressure going, after a while it starts to take its toll on the other team. You could see as we got into the middle of the third quarter and the fourth quarter, it really started to have an effect. I was really happy with it. It's the third day that we practiced or played, so it's never easy. So I thought it was good, I thought we did a great job."
The USA's 40-point win was the first time since 2004 that the U.S. women recorded consecutive 100-point games in Olympic play after setting a U.S. women's Olympic scoring record with a 121-56 blowout of Senegal on Aug. 7.
The USA defense forced seven turnovers out of Spain in the third quarter, and Fowles contributed six of the USA's 20 points to help the USA go ahead 74-51 heading into the final stanza.
Other Monday Scores
Group A
Japan 82, Brazil 66
China 101, Senegal 64
Group B
The group phase ends August 14. The quarterfinals begin August 16. The top four finishing teams from each preliminary round group advance to the quarterfinals on Aug. 16. The semifinals will be played on Aug. 18, and the finals are on Aug. 20.
Quotes
USA head coach Geno Auriemma (Connecticut)
What are your thoughts on another win today?
We talked about it yesterday. Each game we play is going to get progressively harder. We have to keep getting better and it took us a little bit. Spain's a really good team, but I think when you look our depth and all the people that we have that can keep the pressure going, after a while it starts to take its toll on the other team.  You could see as we got into the middle of the third quarter and the fourth quarter, it really starts to have an effect. I was really happy with, it's the third day that we practiced or played, so it's never easy. So I thought it was good, I thought we did a great job.
You have had teams with a lot of offensive weapons, but one to 12 on this team can put a lot of points on the board. As a coach does it make your life easier knowing there are so many options out there.
Yeah, yeah it certainly is a comfort level that you have that maybe you don't have otherwise. But we talk about it all the time. We know we can score points, we know we've got a lot of good offensive players, but I think it's the work that we're going to do at the other end that's really going to determine…because I think as you get into the medal games, all the teams you play are pretty good offensively.  But that's the pressure we can put on teams is that everybody we bring in off the bench can score and can make a play. It's fun to watch. For as little time as we've had together we do a lot of really nice things out there which is nice to see.
You said it isn't easy, which I understand, but what do you think it is like for the other teams playing you guys?
I know a lot of times we don't talk about that. As coaches we're always fixated on what are they going to do. How are we going to stop them? How are we going to guard them? And we're obsessed with that. Then when you bring it up, or somebody brings it up, then you kind of step back and go, yeah, well they have to guard us, they have to handle us. That makes you feel a little bit better. We're not easy to deal with obviously. We give you a lot of different looks. Sometime its BG (Brittney Griner), sometimes its Syl (Sylvia Fowles), so you have those options, sometimes its Elena (Delle Donne), sometimes it's Seimone (Augustus), kind of like Dee is the constant, you know kind of everything revolved around her and Sue it seems like.  It's a good place we're in right now.
Sue Bird
What do you think it's like for the other guys to play you guys?
I'm sure it's tough.  I just got interviewed out there and the way the reporter phrased the question was "I just finished talking to one of the Spanish players who said it's impossible to beat the U.S."  I haven't been on very many underdog teams in my career, in Seattle a little bit the last couple of years, so I do have an awareness of what it's like to feel like no matter what you do you have no chance and it's not a good feeling. But on the flip side, there's also that opportunity to upset, there's also that opportunity to make history, that I'm sure is in the back of all their minds and that's what we're guarding against.  So would I want to be in their shoes? Probably not. I mean they're trying to make history too by beating us, so there is a plus side to it.
Back-to-Back games over 100 points hasn't been done in three Olympics. Are you all doing something really not as easy as it looks.
I don't know. I think it would probably just be our depth that's making that happen.  I think a lot of Olympic teams that I've been on have had offensive power, but now we go all the way down to the 12th player and the minute you sub there's no let off, that person who comes in can do just as much offensively as the next. And also, we have our foot on the gas pedal. We're trying to get better with every single game and you can't relax. I know the score, it is what it is, but we don't relax regardless.
This might be your last time in the Olympics, but there's lots of girls in their first Olympic.  How do you see the new generation?
Very strong, I mean God, they could be starting on this team, there's no question about it.  Their youth and I guess theirnlack of international experience is the one area but that will come with time.  They're playing so well and that's why. I just got asked about scoring 100 points and that's why. When Stewie (Breanna Stewart) and Elena (Delle Donne) come in, they're like top five in the WNBA in scoring.  When they come in it just keeps rolling.
Thoughts on the game?
Spain is good.  I know people, they see these scores and really what this score is saying is we have a lot of depth. Generally speaking, we wear teams down. We wear them down and they get tired and then we bring in the next five and then we bring in another five – a rested five.  The score doesn't speak to the talent level of Spain.  I mean, they're good.  It's not easy to play against them.
What do you take from this game into the next game?
We've got to rebound.  We gave them a lot of offensive rebounds.  That's kind of what kept them in the game for a while.  We couldn't get rebounds.  I'm sure rebounding will be a topic of conversation for us.
Tamika Catchings
Is it tough to focus when you have such leads?
It's tough but it's not.  Because if you want to be the best, you realize that in being the best, you have to be really good in every game.  Right now, we're doing a really good job on offense in being able to put up points but defensively we're getting broken down in times, people are getting layups, people are getting offensive rebounds on us.  Loose balls, we're not getting enough of them.  It's not really about pool play right now because we have to focus on what happens when our shots aren't falling.  We have to do a much better job of focusing on those little things:  rebounding is a big part.  And then continue to make sure we keep our man in front of us.
Anything about Brazil you like?  Anything special compared to other Olympic cities you've been to?
I have not been out yet.  We literally haven't been outside the street in front but today we're hoping to get out and go to Olympic Park and eventually get to some of the other events out here then I'll be able to tell you.
On taking a new role and coming off the bench:
For me, it's not an easy role for anybody when you look at it, especially coming from your individual respective team where you're that go-to person. That's the one thing about playing on the Olympic team, everybody setting aside their pride or egos and being able to put those aside to come together as a team and really focus on what needs to be done. My role is to motivate, inspire and do whatever I can do, and when I'm on the court just give 100 percent with everything that I do.
Has it been hard to accept this new role?
For the ultimate goal in being able to win gold and know that you have to be a selfless person to be in that situation. It's one of those things that as a player, this is clearly one of the first times I've ever been in this role, but it's one of those things. You just accept it and ultimately I know that it's all for the common good. I want to be a team player. I want to win, and if I have to do that, then I'll do whatever it takes.
Elena Delle Donne
On playing with Brittney Griner:
It's so fun – endless opportunities with her on the floor, whether it be her ducking in and getting a layup, or her just causing them to put two-to-three defenders on her, which makes everybody else open up. Or, if someone beats you and goes by you, and then you have her behind you for help. It's the ultimate rim protector, so it's so fun playing with Brittney.
On the game against Spain:
I feel like we are just clicking, especially offensively but defensively as well. There are a lot of things we do need to clean up, like 50-50 balls, offensive rebounding. In the first half, I feel like they got a lot of O (offensive) boards. But, we are clicking on all cylindars, and our chemistry has been really magnificent for only being together for, what, a week-and-a-half now.
How has the Olympic experience been?
It's just been a lot of fun spending time with my teammates. I feel like we've been together a lot, and I think tomorrow, we might try to do something and go out and see Rio a little bit. So, I'm really excigted to explore some other things, not just the basketball arena.
Sylvia Fowles
Were you hoping for more rebounds?
With the big bodies that we have in there, we definitely were hoping for more. We got them pretty late within the game, but just starting off early, being aggressive and crashing the boards will help us a lot.
On the USA's depth and bringing WNBA MVP and All-Stars off the bench:
We definitely have good depth on that team, from one through 12. But with that said, everybody has a cool head on their shoulders and everybody has to go out there and play. You can't worry about if you're starting, if you're not starting. You just have to go out there and do your job when your number's called.
Brittney Griner
On playing Serbia:
Each game is going to get tougher and tougher, so we are going to go into the next one knowing that we are going to get a better fight.
On her hot start:
I was just able to get deep and my teammates were able to get me the ball in a position to score. I have to give credit to my teammates for finding me. Us post players, we rely on our teammates to find us. But, it was good. Whatever is going. D (Diana) in the first game had three quick 3s. So, whatever is doing, we are going for it. Today I was able to jump start us.
On the game against Spain:
We played really well over. In that third quarter, we gave up some shots, we gave up some offensive boards, defensive boards, but we were able to switch that around and change it up and stop it.
Angel McCoughtry
Thoughts on the game?
Every game is a tough matchup even though the score may look like they just blew them out.  Every game is tough.  Every team plays hard.  Every team is trying to win.  It's always tough.  Spain has a good team.  They have great players.  We just pulled it through, played together, aggressive, got transition buckets.  We just have to work on a couple things on defense and rebounding and we'll be better.
What did you learn from today's game as a player and as a team?
You can't worry about the score.  You have to play like you're down all the time.  I think because we were up by 30, we're still playing, because if you continue to play like you're down, it keeps it's exciting.  That's something I learned.
Diana Taurasi
On playing Serbia:
We know them really well. We know a lot of their players. We played them in Turkey in 2014 – probably our toughest game. The way they play, makes it hard for you offensively. With the Dabovics (Milica and Ana) and (Jelena) Milovanovic, they just have a lot of weapons. One thing we know about the Serbs is they can shoot; they can score. So, it's always a tough game against them.
On the game against Spain:
We did a good job today. We got off to a nice start. We know Spain is a tough team. They have top-flight quality on their team, some of the best players in the world. Defensively, there are some things I think we have to get better at communication-wise. But, overall, I think it was a good step.
On the look of the team over the first two games:
We just found a way to play that really highlights how good everyone is. Sometimes on teams like this, you can't do that for whatever reason. But in these first two games we found a way to do that. But it's still a long way to go. There are a lot of things to get better at, to tighten up to get to where we want to go. It's a good start, these last two.
On the depth of this team:
When you play on this team, if you think you're going to get 20 shots, you're out of your mind. So you have to be efficient, you have to take good shots, you have to make sure you share the ball. And that's something that coach Auriemma preaches every day. That's his makeup and we take after him and we've been playing team-oriented basketball, which makes it easy for you as an individual out there.
Lindsay Whalen
How easy is your life knowing that you have so many choices offensively?
It's a good balance because you've got to stay aggressive, you've got to stay involved, but yeah you know that there are a lots of people that do a lot of really good things so you have to kind of feel out the game and see how it will be tonight. When I go in there, I kind of want to be aggressive, want to turn up the temp, kind of get the wings going with Angel (McCoughtry) and Seimone (Augustus), (that's) usually who I'm out there with, so kind of getting those guys going. And then also looking for opportunities for myself to get into the lane are important as well. So you just got to kind of read it each night.
There was the Minnesota four together on the court for the first time today…is there a comfort level, there was only about a minute and half two minutes having you four out there?
Yeah, definitely. It's happened a couple of times in practice too, so it's definitely comfortable. When Maya goes to the four she can really spread the floor so it makes it easy for everybody else.  If it works out like couple of times we have the familiarity. That's pretty much are starting lineup at home, including Brunson obviously at home, but it's fun when it happens and if it works out and that happens for the best of our team we'll just keep working hard and playing with it.