Minnesota Lynx re-signed free agent guard Anna Cruz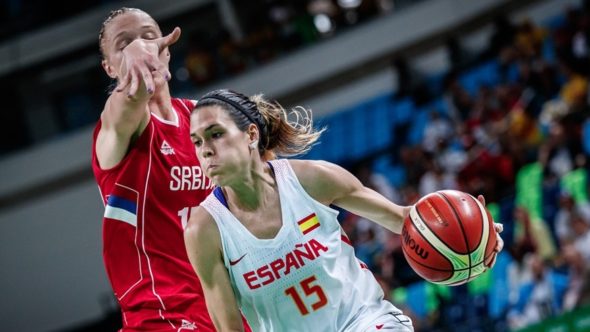 The Minnesota Lynx  re-signed free agent guard Anna Cruz. Per team policy, terms of the contract were not disclosed.  She will wear No. 51.
"We are excited to have Anna return to the Lynx for the rest of the 2016 season," said Executive Vice President Roger Griffith. "Anna added a spark off our bench last season and played a major role in us winning our third WNBA Championship. We look forward to her providing that spark during the final stretch and into the playoffs."
From the Lynx:
Cruz was acquired from New York on Apr. 16, 2015 in a trade where the Lynx dealt the 11th, 23rd and 28th overall picks in the 2015 WNBA Draft in exchange for Cruz and the Liberty's 16th and 35th overall picks.
Most recently, Cruz earned silver at the 2016 Olympic Games with the Spanish Women's National Team where she averaged 8.5 points, 4.1 rebounds and 3.1 assists while starting all eight games. She scored a team-high 14 points – sinking the game-winning basket as time expired – in Spain's quarterfinal victory over Turkey on Aug. 16, and notched nine points, four rebounds and four assists in the gold medal game vs. Team USA on Aug. 20.
A native of Barcelona, Cruz played in 22 games for the Lynx in the 2015 regular season, averaging 8.0 points, 3.6 rebounds and 3.0 assists. In the postseason, Cruz helped the Lynx to their third WNBA championship title in the last five years, averaging 5.2 points, 2.1 rebounds and 2.7 assists while appearing in all 10 games.
Cruz spent her third season with Nadezhda Orenburg last winter, averaging 9.6 points, 4.1 rebounds and 3.6 assists in 22 Premier League contests while tacking on 9.1 points, 4.7 rebounds and 3.9 assists in 16 EuroLeague starts as Orenburg finished runners-up to Russian rival UMMC Ekaterinburg in both competitions.
Additionally, Cruz competed in the Spanish League for nine seasons, including the previous four with Rivas Ecopolis. She also played for Olesa, Burgoes and Barcelona. She has represented Spain as member of the national team since 2009, earning bronze medals at the 2009 Women European Championships and 2010 World Championships, the silver medal at the 2014 World Championships and silver at the 2016 Olympic Games in Rio de Janeiro, Brazil.