#Rio2016: Serbia beats France 70-63 to win bronze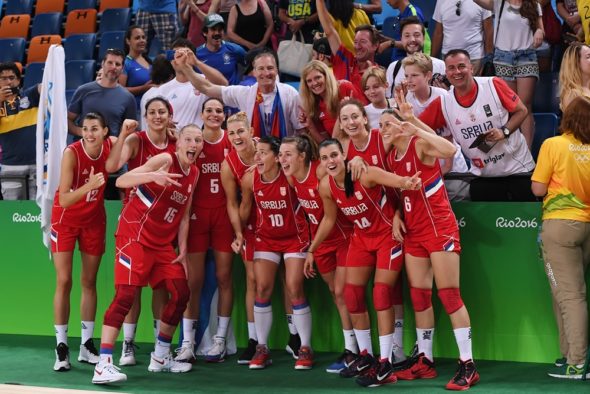 RIO DE JANEIRO – In their first-ever Olympic games, the Serbian women's national team came away with the bronze medal after defeating France early Saturday afternoon, 70-63, in the Rio Games.
"For Serbia to win a bronze medal at the Olympic Games, I was trying to think of what it was (like) at the end of the game, but I came to this one: I think it's like climbing Mount Everest without oxygen," said head coach Marina Maljkovic.
"We're a country of basketball, and Serbia is known for that. In women's basketball, we just didn't have the results. The best result was ex-Yugoslavia which is like a six times bigger country. Before 2011, the women's national team couldn't pass qualifications for 11 years to play at the European Championship. This group, these girls, these amazing girls did it in six months. In such a small country, without a league, it was so hard for us to do this. Just try to understand that a poor country, a small country with many difficulties, this is all to this generation; it's theirs. It was theirs one year ago, and it will be theirs for years to come. It's all their award, and people are going to talk about it."
The game actually began in the morning and for the first ten minutes the  French seemed to be still half asleep.There was also a paucity of French fans in the audience. Les Bleues are a team who typically travel well. Not so much today, as French fans had either taken a sudden new interest in badminton, the main other medal event on the morning's schedule, or were enjoying croissants and lattes somewhere in Copacabana.
For whatever reason, France trailed Serbia 12-3 early first quarter, and continued to play quite lethargically throughout the remainder of the opening period, closing the quarter out down eight, 18-10. The only thing keeping things even that close was a gross rebounding mismatch. Apparently, French bigs Isabelle Yacoubou and Valeriane Ayayi are quite capable of hauling down rebounds in their sleep, helping France take a 15-5 first-quarter advantage on the backboards to stay in the game. Regrettably, though, the somnolence affected French shooting far more severely, as they managed to knock down only three of their 16 attempts from the field (19 percent) in that span.
Somewhere around the middle of the second stanza, the French alarm clocks went off. French shooting picked up to a far more respectable 6-of-14 (43 percent) from the field, including two much needed 3-balls. France also awoke on the defensive side of the ball, and suddenly it was Serbia, who had gone 7-14 in the opening period, now struggling to score. Digging themselves out of the hole, France finally knotted the score at 25 in the final minute of the opening half, and traded buckets with Serbia to make it 27-all at the half.
The early minutes of the third period looked like the more evenly balanced game one might have expected, but though France was now at least fully engaged, the Serbs once again took control midway through the period. This time, the problems for France were poor ball handling and turnovers (seven of them in the third quarter alone), but the quick-handed and pesky Serbian defense must be given credit for a good part of that. By the end of three quarters, the European champions had taken a 55-42 lead over France, and were now even holding their own on the boards, with a 9-6 edge on the glass for the period.
France carved the deficit to single digits (51-60) at the halfway point of the final frame on a fast break by Sarah Michel. Out of a timeout, Michel followed that up with a steal, and a foul by Danielle Page put Sandrine Gruda at the line, where she made one of two free throws to cut it to eight.
But it would prove to be just too little, too late for France, as Serbia held on for the 70-63 win.
The hero for Serbia was Jelena Milovanovic. The 27-year-old's game-high 18 points led Serbia to bronze in its first-ever Olympic appearance. Milovanovic also pulled down seven rebounds to help Serbia stop the hemorrhaging on the backboards. Los Angeles Sparks Ana Dabovic added 11 points while dishing out five assists (her sister, and team captain, Milica Dabovic finished with nine). Phoenix Mercury forward Sonja Petrovic tacked on 10 points.
"I am proud of my team," said the team captain. "This is amazing: a small country with so many medals. The most important thing for us was to get an Olympic medal."
She explained why her team came out strong in the third quarter.
"You know when the coach comes in the locker room and say that you play like [expletive], you don't want to play like that. You want to show her that you're not that. We were just mad because she talked with us in a bad way, and we didn't like that; we hated that. We just came together, and we started to cry, and we said, 'OK, we are going to show her that we are not fake and we are not that'."
Throughout this tournament, Serbia has gotten more than its money's worth from American transplant Danielle Page (University of Nebraska) and today was no different as Page put up 10 points and pulled down a team-high eight rebounds.
Endy Miyem carried the bulk of the scoring load for France, matching the game-high with 18 points. Ayayi was France's only other double-digit scorer, finishing with 10 points, but France got contributions from everyone but Helena Ciak, who did not take the floor in today's game. Yacoubou led the assault on the backboards with 10 rebounds, to which tiny (5-5) guard Olivia Epoupa added an impressive seven.
France managed to reach a medal game even without the services of starter, guard Céline Dumerc. She suffered an ankle injury in the week leading up the Olympics during practice.
Quotes from Serbia
Ana Dabovic
On what Serbia's players will do to celebrate their bronze medal:
"We'll go now to the water polo game. They (Serbia) will play the final; that's our plan for the beginning. Then in the night we'll probably celebrate with the water polo guys and with volleyball girls (Serbia will also play the women's volleyball final), I hope. And with all people who are there from Serbia, except for our guys from basketball, because they have the final tomorrow.
"I don't know who is drinking, probably we'll drink all night and tomorrow (we'll spend) all day at the beach and we're just happy we did it. But I think the biggest moment will be when we come to Serbia.
"We have a balcony that is our tradition, that all athletes go to the balcony and people wait for us. That's the best moment of my career, that happened last year (when Serbia won women's EuroBasket 2015) and I'm happy that I'll be part of that this year.
"There are many teams and individual sports that we will medal – I mean many – it's eight now, but it's so big for Serbia as a country."
On where that balcony is:
"(The balcony) is in capital city (Belgrade), and all people will be there and we are happy that again we will have it because that's the best feeling in the world.
"Winning this medal is the biggest because we know our country is so great in cheering and is happy for us. But when we see them on their balconies or when we go to our balcony and there's 10, 20, 30,000 people (that) are celebrating with us, I can't explain my happiness. I'm happy that I can make them happy."
On playing for Serbia:
"I like to say that here with the national team, they're not really my teammates. They're my sisters and friends and that's the way we play. And I'm always happy to come back and that's why we won the medal, because we're a team and we are together."
Milica Dabovic
On her pride at winning the bronze medal:
"I don't know what to say, but this is it. This is amazing. This is a miracle. Even more fun than last year (when Serbia won the EuroBasket 2015)."
Sonja Petrovic
On having the support of her teammates to bounce back from her frustration after losing the semifinal against Spain on 18 August:
"The second half was a completely different story for us, especially for me struggling with some issues since the quarterfinals.
"It was tough to get my rhythm but we had an eye-opening moment in the locker room at half-time and I think that got us together. And the strength they gave me and (how) they emphasised what they said to me, how much they need me, basically pushed me to go maybe even over my possibilities at this time.
"That's what we have: the will that everybody wants to win on this team and is willing to do whatever the team needs."
On what happened at half-time to allow Serbia to attain a good lead in the third quarter:
"Our coach wasn't happy with us, with the way we allowed France to come back in the second quarter. So she said some things that were tough. I think she was basically looking for us to react.
On what they will do to celebrate winning the bronze medal:
"We just want to finally kind of relax, because the weight it is off our shoulders, we've accomplished what we came for and finally you can enjoy it for at least one, two days more.'
Danielle Page
On whether she thought she would ever play in the Olympic Games and win a bronze medal:
"No. When you're a little kid, that's always the dream, but eventually you grow up a little bit and you figure out that's probably not realistic. To get this opportunity to play with these girls and represent Serbia and actually pull out a medal is indescribable. There are no words."
On winning the bronze medal game:
"Defensively for 40 minutes we played all five girls on the court, working towards one goal. We were helping each other, we were communicating well. I really think that was the key to this game, our defensive chemistry on that end."
On bouncing back from the team's semifinal loss to Spain:
"That loss to Spain was ugly, it was embarrassing. That wasn't us and we were very disappointed with how that game went down and our performance. To bounce back after something like that, it was tough. I feel like it speaks to the mental toughness and the character of these girls."
Marina Maljkovic
On coming back after their loss to Spain in the semifinals:
"It was very hard. Mentally we were so happy for our men, for our volleyball players, for water polo, they were in the finals, they were coming into the building all carrying medals around their necks. It was so hard because we didn't win."