#Rio2016: Spain reaches medal round for first time, women's basketball heydays are back for the Spaniards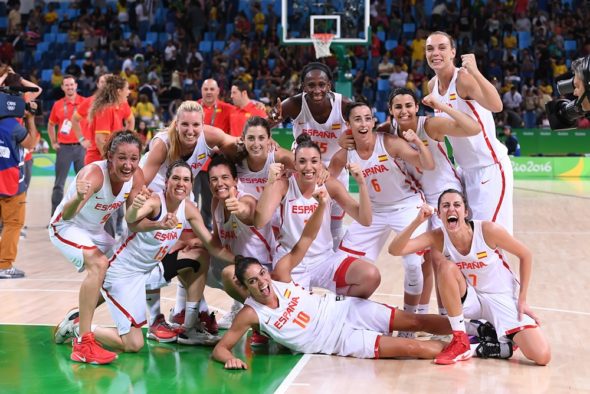 RIO DE JANEIRO – With a 68-54 win over Serbia in the semifinals of the Rio Games, Spain is set to play for an Olympic medal for the first time ever. A great deal has changed since what some may regard as Spain's women's basketball heyday, not that FIBA's No. 3-ranked women's team in the world is doing too badly right now.
Indeed, Spain was Europe's top women's team as recently as 2013's Eurobasket Women. They finished second, behind only the United States, at the 2014 FIBA Women's World Championship in Turkey. But playing without defensive anchor and power forward Astou Ndour, they settled for bronze at last year's EuroBasket, the European Olympic Qualifying event, finishing behind both France, the defending Olympic silver medalists, and the Serbian champs, whom they faced again today in the Olympic semifinals in their quest for Rio 2016's medal podium.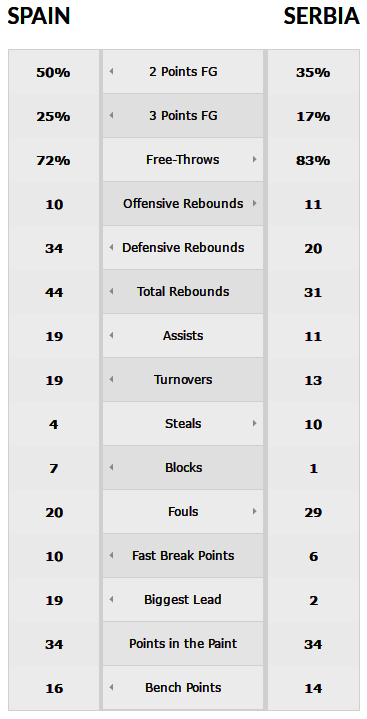 Gone though, are the days when the extraordinary Amaya Valdemoro, Spain's all-time top-scorer, with 2,743 points to her credit, ruled the court, bringing with her a style of play unique to her national team. Valdemoro first took the floor for Spain in 1995, retiring in 2013. Her jump shot was a thing of beauty, a side-winding, high-arcing floater that will never find its place in a textbook of fundamental mechanics but one that in her prime found its mark just as often as not.
Valdemoro has three WNBA championships to her credit from her time with the Houston Comets, who are now gone as well. But playing alongside fellow greats Anna Montañana, Betty Cebrían, Elisa Aguilar, and María Pilar Alonso, Valdemoro brought a unique, lyrical style to Spain's play. Just as Spain's national anthem sounds like it came out of an opera, watching Spain's women move the ball in the front-court was a lot like watching ballet. Together, they danced their way to Eurobasket gold in 1993, and from there, they were never found far from the European medal stand, taking silver in 2007, and bronze in 2001, 2003, 2005, and again in 2009.
Only Laia Palau and Alba Torrens remain on the team from that era, and for the most part, Spain's players, and style of play, are almost indistinguishable from the crème de la crème you might find almost anywhere else. Still, though they may no longer be dancing their way to glory, whatever this new generation of Spanish stars is doing still works.
When 6-4 center Sancho Lyttle broke the fifth metatarsal in her right foot in mid-July and was ruled out for the rest of the WNBA season, many thought the injury spelled disaster for Spain's Olympic medal hopes. There's no question Spain misses its defensive lynchpin, and in particular, her rebounding, here in Rio; they will feel the pain all the more on Saturday if things work out today true to form and they face Team USA for the gold.
But Spain has competed well in these Games, finishing group play at 4-1, the sole loss coming at the hands of world No. 1 USA. They endured a roller coaster of a quarterfinal game against upstart Turkey to get to the semifinal, pulling out the win as Anna Cruz (a former Minnesota Lynx guard), playing here in her first Olympic Games, came off the bench to launch an "Ave Maria," just as time was expiring. It was the kind of clutch shot Valdemoro was known for, and would have been proud to have knocked down herself.
Others in Spain's national team new generation have also helped to fill the void left by Lyttle's absence: Marta Xargay (Phoenix Mercury) has become Spain's third double-digit scorer, logging 11.4 points per match in her Olympic debut, and giving Spain its only real threat from downtown in these Games. Astou Ndour (San Antonio Stars), another Olympic team newcomer, has been hot on Torrens' heels with 13.5 points per outing, also taking up some of the defensive slack with more than nine boards and nearly two blocks per game.
The veterans, too, have done their part for Spain. Now the team captain, Palau has proven to be a pass-first playmaker, averaging better than four dishes per game. Though somewhat turnover prone, Torrens has been brilliant here in Rio, averaging 16.5 points and nearly six boards per game.
Together, they have shown that while Spain's style might have changed, their legacy of basketball greatness has remained in place. In the preliminary round, Spain edged past the Serbs, 65-59, in their low-scoring opening match. Today, however, Spain made a statement. Despite a second period scoring slump, they schooled the Olympic newcomers to move on to Saturday's Olympic championship game.
With the exception of the second quarter, the Spaniards dominated for most of the game. They jumped out to a 20-9 first quarter lead that Serbia was not able to overcome. At the break, Spain held a 33-28 advantage after getting outscored by Serbia 19-13 in the second period. Spain came out in the third quarter determined to keep their lead, finishing the third 10 minutes with a 53-38 advantage.
The victory was one earned by newcomers and veterans alike, with Torrens and Ndour notching 14 points each, and hauling down seven and six rebounds respectively. Ndour also batted away three blocked shots.
Laura Nicholls, as well, rose to the occasion. Nicholls, who made her first Olympic appearance for Spain in Beijing (2008), but missed the London Games, had her biggest game of the tournament today, posting a 13-point, 12-rebound double-double, and swatting down another three blocks. Point guard Silvia Dominguez added 10 points.
Geno Auriemma has said that one of the reasons the U.S. team has demonstrated such dominance in international play since 1996 is its "tradition of excellence." Basketball was, at its inception, America's game, and ruling the sport is what Team USA is expected to do.
That expectation might take away some of the fun for the individual athletes. Unlike Spain, you're not likely to find Team USA dancing with joy at center court if they win today's match-up with France. They're not likely to be leading the crowd in a samba, as Australia's women did upon taking the gold in São Paulo at the 2006 Worlds. Like a Chinese athlete taking the top step on the podium after a victory in gymnastics or diving, they'll be happy, for sure, and perhaps a bit relieved to have the pressure off, but they will near-certainly be both calm and dignified, having made history but still having done no more than what was expected of them all along.
But for Spain what comes next can only get better. Today they guaranteed themselves no less than their nation's first Olympic silver (indeed, their first Olympic medal of any color) for women's basketball. That was something they hoped for and dreamed of, but no kind of expectation for them. Whether what lies ahead is another smack-down by the Americans (who routed them 103-63 in last week's Group play) or whether they prove themselves to be giant-killers, Spain will be dancing on center court once again.
The only difference from Valdemoro's era: The dancing will come not during the game, but only once it is over.