2016 WNBA Finals quotes from practice: Minnesota and Los Angeles talk about Game 4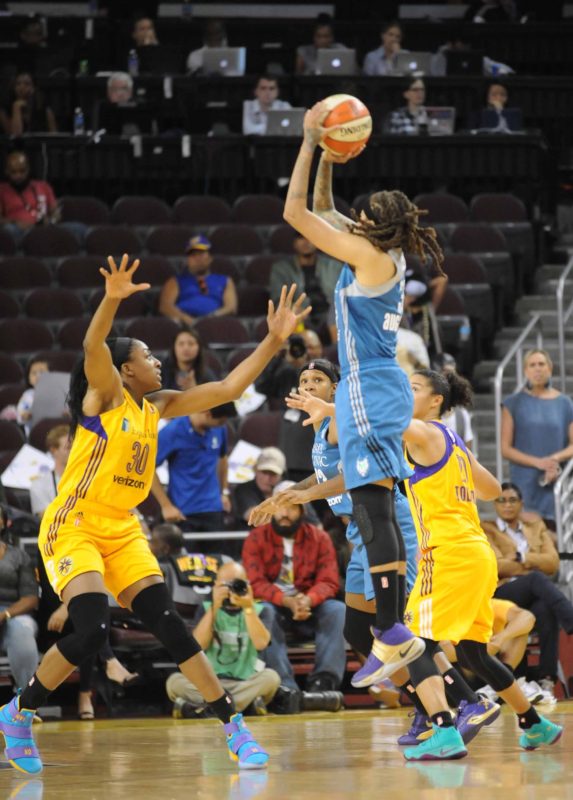 LOS ANGELES – After a surprising 92-75 rout of Minnesota on Friday, Los Angeles is on the brink of its first WNBA title since 2002. Two-time Most Valuable Player Candace Parker and this season's MVP Nneka Ogwumike led the Sparks, scoring over 20 points each. Essence Carson and Alana Beard also finished in double digits.
The tenacious defense of Los Angeles limited Lynx star forward Maya Moore to just nine points, far below her postseason average of 23.2 points per game. The Lynx are seeking a fourth title in six years.
The teams met the media in between practices this afternoon. The following quotes are from the practices.
Minnesota Lynx
Cheryl Reeve
Q: How many times did you watch the game film last night?
Reeve: Just a couple. Just the usual thing. Obviously, it's the same way they felt after Game 2. It was kind of hard to watch, hard to understand maybe a little bit. You've got to keep going. We showed them a number of things that were available that we got. We had an offensive rating of 104 on the game. When we took care of the ball, the 13 turnovers isn't a crazy amount of turnovers. It's just it's a crazy amount of points off of them. It was where we turned it over, around the three-point line where it's hard to build your transition defense. I think the bigger concern was LA's offensive rating of 131. We really talked a lot about the way we must defend. We're not in the middle of the regular season. If we were in the middle of the regular season, then maybe that was good enough to win a game. But that's not where we're at. We need to get a better understanding of what it's going to take to be successful in the WNBA Finals.
Q: What are the hallmarks of a team that Brian Agler has coached?
Reeve: Defense. Tenacity. In Seattle, they moved liked crazy. They moved the ball side-to-side. They'd run you through the full 24 seconds. You knew you'd have to defend all the way through the shot clock. They're a little bit different offensively than the Seattle teams – different personnel, whatever. But I think what they're trying to get done defensively is to have a couple players like a Tanisha Wright and a Camille Little. You're looking at Alana Beard and Nneka Ogwumike, so we kind of see him use them similarly. It's got Brian Agler all over it.
Lindsay Whalen
Q: What is the mentality going into tomorrow's game?
Whalen: It's Game 4. We're down 2-1. If you don't bring it tomorrow, then you know what's going to happen. We don't want that by any stretch. Everyone will come out and be focused and be ready and give what they have. That's the mentality. It has to be better. Like coach said, she hit it on the head and we've got to be able to do that.
Q: How do you stop them defensively?
Whalen: It's a big difference on points. We gave up 60 in Game 2 and I think 92 last night. We've got some work to do for sure. It comes down to a lot of pride and what people have mustered up. As a group we have to do it, but everybody has to bring it. They played well last night. They played great. They've had some great nights, but there is still a lot of series left and we still have time.
Maya Moore
Q: What happened at the start of Game 3?
Moore: You can't win a WNBA Finals back on our heels like that. We never want to do that again. We don't want to take that long to respond. It's something that has been on the forefront of our minds. The start of Game 4 will be intense. It's as it should be in The Finals.
Q: Do you know why that happened?
Moore: You can spend a lot of time figuring out the whys, but we just want to try to be better. Individually and collectively, we just want to continue to do whatever we need to do to be the best. No matter what we're feeling that day, we have to do our best to lock in defensively despite offensive struggles. Sometimes, you have offensive struggles, but you have to be able to stop the bleeding with your defense.
Q: What was Coach Reeve's message to your team?
Moore: It was remembering that we don't win without being the core of who we are. That is being a really good defensive team. We need to get more locked in and remember who we are. No second-guessing or doubt about who we are. When we win, we're a great defensive team. Sometimes you have to be reminded of the little things it takes to be able to defend in a WNBA Finals.
Rebekkah Brunson
Q: What are your takeaways from Game 3?
Brunson: Defensively, we have to step it up. That's really it. If we move the ball on offense and do what we have to do to do, we'll have a shot, but we have to pride ourselves on getting defensive stops. We have to make it a little bit tougher for them.
Q: What adjustments are you making?
Brunson: We have to take care of the ball. I think we did a better job from the second quarter to the end of the game. I think we have to come out and be prepared. We didn't seem we were ready for them and the energy they had.
Q: What is the mindset going into Game 4?
Brunson: Play our game. We need to play the way we've been playing. All of the small things we've done to get here, we just need to continue to do those.
Sylvia Fowles
Q: Your heading into Game 4 down in this series. You've already been down. What are the Lynx doing to prepare to take The Finals back to Minnesota?
Fowles: We went over some film and seeing the opportunities that we missed and the opportunities that we didn't capitalize on, but for sure make sure we match LA's energy. They're at home. They're up one in the series and be ready for whatever they throw at us, and make sure we bounce back when things are going low for us. Through the highs and lows, we need to make sure we stay focused on the bigger picture and that is getting back to Minneapolis.
Q: What are you specifically working on for Game 4?
Fowles: Just being involved more and attacking more around the rim. LA is trying to make it crowded in there for me, but just making sure I'm seeing the open players. For me, just being physical and taking it to the rim more.
Q: Minnesota has trailed in previous Finals. Does that influence the team or do you take a fresh look at this series?
Fowles: We definitely have a lot of things at the top of our mind. We don't want to over think it. We just want to go out there and play the way we're capable of playing. If we can play better than what we did like in the second half, I think we'll be fine.
Seimone Augustus
Q: How hard is it to keep staying on top?
Augustus: It's very hard. Every year for us the last six years regardless of whatever the preseason rankings and ratings were on our team, no matter whether we were playing the first place team or the last place team, we've had a bullseye on our back. Whenever a team was able to pull off a victory against us, it was like they had won a WNBA title. So that in itself makes it hard because every team is looking for something that is going to change their season. Some players play better. Use Chelsea Gray for an example. We played the in September and she averaged 20 points from that point on in the season. Any time teams and players play Minnesota, it makes their season if they're able to have success against us.
Q: Your two teams know each other so well at this point. What kind of adjustments can you make going into Game 4?
Augustus: To be honest, it's the same thing we did in Game 2. We just looked at footage and it looks exactly like Game 1 as far as the approach that we had dealing with some of the aggression that they brought on the defensive end. Being able to get the ball out of trap situations and execute, move the ball around, swing the ball. We can see how stagnate we got at times on the offensive end, which led to a lot of bad transition offense. They were able to get deflects and turnovers, get easy baskets. Obviously, I don't think it's the teams that coach put in. It's a matter of I have got to stop you from getting where you want to go, and have a determination about it. There's great players on the floor all the way around, but if you make it hard for them, maybe they don't have as much success with whatever shot they're trying to take, as opposed to a clear lane to the basket, offensive rebound or something like that. Those things you can clean up based on your will and your want to.
Los Angeles Sparks
Brian Agler
Q: How did it feel to win Game 3, and how would it feel to win Game 4 in front of the home crowd?
Agler: It was good to come back home and play. We're sort of used to playing at different venue, so going to USC or Long Beach is not as big of an issue for us. We had a really energetic crowd and they really support us. It felt great. In regards to Game 4, I really haven't thought about anything other than just what we need to do to have success. I don't have an answer for you on that.
Q: Would you consider Game 4 a must-win to avoid going back to Minnesota?
Agler: It's obviously a huge game for us. We know it's a must-win for Minnesota, so I don't think there's a whole lot of difference in our approach to it as it will be for theirs. We really respect them as a team. We really respect the environment they play in front of. This is a huge game for us.
Q: How do you anticipate Minnesota will try to stop Candace Parker?
Agler: Minnesota, they're a great team. They're a great defensive team. I would have to imagine they're going to give her a lot of attention. So it's going to be one of those things where we're going to find ways to manufacture ways to get her opportunities, and I think she will give it her best. I don't question that at all.
Kristi Toliver
Q: How did it feel to win Game 3 in front of your home crowd?
Toliver: It felt good. It felt good to play well. It felt good to play at the kind of level we know we're capable of playing. I think that's the biggest thing, whether it's here or on the road. When we play like that and we play aggressive, and we're competing at a very high level, it just feels good. It's more enjoyable, and we have control of that. We know we're going to need that for Game 4.
Q: Is Game 4 a must-win to avoid going back to Minnesota?
Toliver: Certainly. For us, every game in the series is a must-win game. Game 4 is extremely important. We want to win, and we want to win now. We want to win at home. We don't want to go back on the road and have to play Game 5. I think that's common sense. We're going to bring the same energy, the same competitiveness, the same drive and will that we did in Game 3, and hopefully we'll have no regrets for whatever the outcome is.
Candace Parker
Q: Is Game 4 a must-win for your team?
Parker: Our backs are against the wall. We have to play as such. I don't think it's a secret that we don't want to go to back to Minnesota. They're a great team and have come from behind in series in the past. There is no way they are going to fall apart. They have great leadership from top to bottom. We can't expect them to lay down and just give it to us. That's not going to happen.
Q: How are you approaching Game 4?
Parker: Our motto has been that we're going to do what we do and live with the results. We're not going to try to reinvent the game of basketball tomorrow. That's not what the Sparks are about. On the offensive end, we know we have to make things difficult for them and let them get easy looks. We cannot turn the ball over. Tomorrow is special, but so is this playoff run. Every game has been crucial.
Alana Beard
Q: What do the Sparks have to do to bring home a championship Sunday night?
Beard: It's what coach has been talking about all season. The things that we can control are our focus, our intensity and our will to win. If those three things come into play consistently, we're in good shape.
Q: How have the Sparks changed and evolved since May?
Beard: Obviously as the season goes on you start to understand each other a lot better. We came out on the block extremely hot. We had a moment where we were low and didn't do the things that we knew that were capable of, but coach had to make it a point to let us know that we're not the best team in the league. Teams started catching up with us and once we started understanding that reality, we started to change our mindset and approach the game a lot differently. I thought that was the best thing he could have said to us all season because you get to a point to where you're extremely frustrated with the way that you're playing and you can't figure it out. What we had to understand is that we're not the best anymore. I think that was the turning point when he said that to us. I think after the Seattle game when we got beat. To answer your question a little bit more, I just think it's a matter of understanding each other and learning each other, and knowing what each other are on the court.
Q: What have you all learned about each other this year that maybe you didn't know before?
Beard: It's not a matter of what we didn't know because we knew everything. It was a matter of how much we wanted to sacrifice for each other, so that's what we learned – what the other person was willing to sacrifice for the good of the team. I can say that's the one thing we've learned this season with the course still being the same and the fact that we have decided to sacrifice for each other, it makes the implementation of the newer players extremely easy.
Nneka Ogwumike
Q: What are the Sparks plans going into the game tomorrow?
Ogwumike: Just focus and a lot of introspection when it comes to individuals on the team and as a group, but we know what we have to do.
Q: Can you explain your mindset?
Ogwumike: I think that right now we have a mindset that is focused on playing well, playing together and getting wins. It's not over until it's over obviously, but I'm not sure if it will really hit me until after it's done. We have put ourselves in a great position and we want to be able to take advantage of the opportunity.
Q: How did it feel to win in front of the home crowd?
Ogwumike: It's great being at home. Our fans are wonderful and I'm just very happy that they were able to come out and support us just down the road. It's still at home and we've played at USC before, but for us to come out and close things out at Staples Center would be really amazing as well. I think everyone is in high spirits, but also leveled and focused to take care of our duties tomorrow.