WNBA Finals Game 3: Sparks beat Lynx 92-75, come within one game of the championship
Photo Gallery ||  Quotes || Social Media || Box Score || Around the Web
LOS ANGELES – Friday was not a good day for the Minnesota Lynx. The defending WNBA champions found themselves at the losing end of a lopsided contest in game three of the 2016 Finals best-of-five series. The Los Angeles Sparks downed the Lynx 92-75 in front of a crowd that featured celebrities courtside including rap legend Snoop Dogg at the Galen Center on the campus of the University of Southern California.
With just a game away from the first WNBA championship since 2002, the Sparks have homecourt advantage again when the teams resume play in the series on Sunday at the Staples Center in downtown L.A.
"Physically there wasn't a whole lot of difference between the two teams, but I'm glad that we responded the way that we did after our showing in Game 2," said Sparks head coach Brian Agler. "I have a lot of respect for Minnesota. We know that they are going to come really at us on Sunday, so we'll have to be at our best to be competitive."
From the outset, the Sparks dominated the Lynx, rattling off seven points before the Lynx could score. The offensive woes continued throughout the first quarter for the Lynx as the Sparks were relentless on both ends of the court.
While the Lynx shot 46.2 percent from the floor, shots were few and far between as the Sparks defense swarmed their opponent preventing easy opportunities and making Lynx players work hard on every possession. Maya Moore and Sylvia Fowles only scored two points each in the first 10 minutes.
Led by MVP Nneka Ogwumike who had 10 points in the 1st quarter, the Sparks headed into the second period with a commanding 32-17 lead.
While the Lynx worked hard to try and turn the tables, getting within single digits and outscoring Los Angeles 23-16 in the second quarter, it was not enough to overcome the deficit. Agler was not surprised with the second period outcome commenting that scoring over 30 points a quarter was not sustainable.
"But I also think a lot of that had to do with Minnesota," said Agler. "They adjusted their lineup. They just experimented there for a while, and they finally got a group that was working, and they stayed with that. They're a deep team. They're a good team, and I think a lot of that had to do with how they played."
The Sparks led 48-40 heading into halftime. No Lynx player was in double digits at the half. Ogwumike had 15 points and seven rebounds while Candace Parker scored 14 points and pulled down five rebounds in the first 20 minutes.
After the break, the Sparks continued with the defensive pressure, making it hard for the Lynx stars to help their team gain any momentum. Los Angeles guard Alana Beard was integral to the Sparks' defensive efforts, deflecting passes and making steals, all over the court.
"I'm very happy with the way we started," said Beard about the game. "After Game 2, we came back home very disappointed in how we played and defended. We pride ourselves on our defense. We know how we're capable of playing. We made those adjustments and it showed tonight."
The Lynx suffered a blow late in the third quarter when reserve center Janel McCarville went down hard after getting fouled by Jantel Lavender. McCarville was on the floor for several minutes in pain before getting help walking to the locker room. She did not return to the game.
The Sparks outscored the Lynx 22-18 in the third quarter to earn a 70-58 lead heading into the last quarter.
With fans on their feet for much of the last ten minutes, the Sparks fed off the frenzy to close out the contest.
They roared in the last seconds for their team when Los Angeles guard Essence Carson nailed a three-point shot with 2.2 seconds left to put a bow on the 17-point victory.
Parker led all scorers with 24 points and nine rebounds. She was the only star on the court missing from the All-WNBA First and Second teams announced earlier in the day. Ogwumike added 21 points plus nine rebounds. Carson contributed 16 points. Alana Beard scored 15 points and dished out seven assists.
Rebekkah Brunson and Sylvia Fowles had 14 points and four rebounds each for the Lynx. Lindsay Whalen added 11 points. The Sparks limited Maya Moore to just nine points in the contest but she did have seven rebounds and five assists.
Lynx head coach Cheryl Reeve was frank in her assessment of the game.
"I didn't see it coming. I'll be honest with you," said Reeve. "Give all the credit to LA because I don't know, at any point in time did we think it was going to be different than what they did in terms of their aggression, and their persistency. We talked a lot about that; they're going to be persistent in what they were trying to get. They won the persistency battle. We didn't rise to the occasion. You know, we were soft. We were feeble, and didn't rise to the occasion. Did I see that coming? No, absolutely not. It was disappointing to say the least."
The series continues Sunday at the Staples Center at 8:30 p.m. ET and will be broadcast on ESPN.
Gallery
This slideshow requires JavaScript.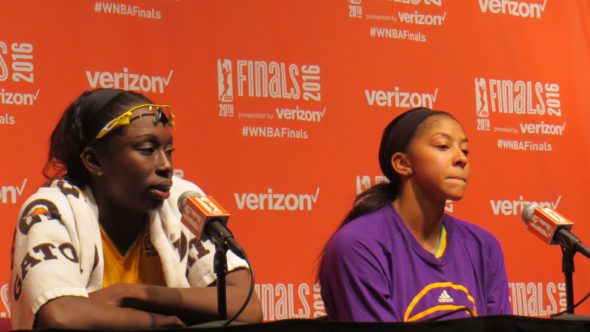 Los Angeles
Head coach Brian Agler
Q. Brian, last series Pokey Chatman said she thought Candace had played with a chip on her shoulder the whole season. Have you sensed that during this run, and is that maybe what we saw tonight?
BRIAN AGLER: I think you'll have to ask Candace that. I don't want to speak for Candace. She's had a heck of a year, not only as statistically but as a leader, and the thing that I'm shocked that some basketball people don't understand this, is that how she makes other people better on our team. You can ask her specifically about the chip on her shoulder.
Q. You said that you wanted Nneka and Candace to just be more aggressive in this game and to play on their front foot, not their back foot. How would you judge how they came out?
BRIAN AGLER: I thought they responded well. We've seen that all year long. On a couple occasions, maybe not so much, but they've been really consistent that way and really proud of how they went at it. So that's one game, and we'll get ready for the next one.
Q. Brian, in the first eight minutes when your team built a 22-point lead, what did you see in Minnesota's defense that you could exploit, or to what degree was that 22-point lead built on just emotional intensity?
BRIAN AGLER: I think that we were aggressive, and I also think that it's one of those things sort of like what happened to us up in Minnesota. We missed shots, so they missed shots and we got out in transition. The game of basketball, you know, your offense a lot of times is complemented by the defense and vice versa, and you're going to — obviously be better offensively when you get defensive stops. You're going to be better defensively when you score because you're going to make them take it out of bounds and you're going to get your defense set. That sort of is how the game started, but they worked their way back in it. They got it to eight or six, which is expected.
Q. Brian, piggy-backing off of that, the maturity of this team that's been all season long, you guys weathered the storm and everything. Can you tell me how much that was important for you guys to finish off the second half, the maturity of your team?
BRIAN AGLER: Yeah, Minnesota worked hard to get back in, and they were within striking distance. They really finished off the first half very well, and I felt like second half we came out, we addressed a few things at halftime, and we came out and played very consistently I would say. Hit some shots, got some stops.
Q. Brian, after Game 2 you talked about how the Sparks needed to get better at rebounding, the guards needed to get in there, and especially for those first 15 minutes or so, it seemed like everyone was getting in there for offensive rebounds. How did you step up that element of your game?
BRIAN AGLER: You know, we addressed it, and they performed. That's about the extent of it. These people are professionals. They're mature. They've played a lot of basketball. You can talk to them. You can watch film, and you can make improvements that way. Minnesota is the same way. Tomorrow's practices either team won't do a whole lot; we'll watch film, address some issues. Same thing will happen Sunday morning, and then we'll go play on Sunday. There will just be a lot of communication by both teams here between now and Sunday.
Q. As close as the two teams have been this entire season, is there such a thing as a swing game in this series, or is every game just a different chapter?
BRIAN AGLER: I think it's a different chapter. I think people, these teams, because of their maturity, they're going to regroup and come out and make changes, make improvements, watch film, and it'll be another dogfight on Sunday. That's about the extent of it.
Q. Nneka and Candace again doing what they do, producing big-time. Speak about the importance in the roles that essence Carson played tonight with the three-pointers and Alana Beard continuing strong defense and also gave you some extra offense, as well.
BRIAN AGLER: Yeah, they both had great games. You know, Minnesota has just got great wing players, and you just — I'm impressed with how Essence and Alana are working hard to just stay in plays with their good players. It's not easy. They run good offense. They get good shots. They're Olympians, you know? It's a challenge, and then for them to really give it all defensively and still find ways to help us at the offensive end is huge.
Candace Parker and Essence Carson
Q. Candace, you seemed to be looking to score most every time you touched the ball early on. Was that just what — was that a product of your Game 2 or the way you wanted to approach the game?
CANDACE PARKER: That was a product of me being nonexistent in every game we played Minnesota this year. I went back and watched film, and my presence wasn't there. We had a game plan of just going to the basket and trying to be aggressive. I mean, I myself, my teammates played well in Game 1 and Game 2, and we were aggressive defensively, but I was just there. We've worked too hard to get to this point to just be there.
I appreciate my coaches and my teammates challenging me, and now we're sitting here and going to Game 4.
Q. Candace, you're a game away from completing what you've always been dreaming about. Can you tell me how tonight, this game, the way you guys played, how you think it will carry over to Game 4, and then talk about your team's defense as far as maturity, how you guys buckled but didn't bend?
CANDACE PARKER: I think the biggest question is going to be are we satisfied in terms of you have that — after you win a game, you have that high a little bit where you're confident, you're this, you're that. We had it a little after Game 1. They had it on the other end against us in Game 2, and I think they had it a little bit coming into Game 3, so how will we battle that as a team. Game 3, we did a good job, but now it's Game 4, and there's going to be things that we have to do differently. There's going to be — we have to be aggressive, and we have to attack on the defensive end and offensively.
I mean, defensively I think our team defense was pretty good, and it's been pretty solid for this whole series, it's just been our rebounding that has been terrible, and I think we kind of cleaned that up a little bit tonight.
Q. Essence, you hit all four of your triples tonight, and the Sparks' offense as a whole really flowed in a way we haven't seen in this series. How do you think the play of Candace and Nneka helped out with that, and what did you sense on your end to chip in 16 points tonight?
ESSENCE CARSON: Well, when you're playing with two great players that happen to be post players, they're going to draw a lot of attention, a lot of attention inside the paint, so that kick-out was going to be open. It's bound to be. They're just that great offensively that if you do play them one-on-one, they will make you pay for that. So I just have to be ready and make them pay on the other end.
Q. Essence, collectively what did you all talk about as being the one thing you either had to improve or take away from them for this game?
ESSENCE CARSON: Wow. Rebounding, if you want to talk kind of — I guess you want to classify that as X's and O's, but also, on the other side, intangibles, handling ourselves, how do we come out in games, how aggressive are we, what kind of mindset and mentality do we have to establish throughout the game. But definitely we had to take care of rebounding, keep them off the boards. They're a great rebounding team.
Q. How bad do you and this team want this championship?
ESSENCE CARSON: We want it very badly. I think both teams want it very badly. But at the same time, we just have to worry about taking care of ourselves. We definitely are prepared going into each and every game, but it's about transferring that preparation into the game. When it's game time, when the lights come on, when it's show time, about making things happen, making plays, making defensive stops, putting it all together for an entire 40 minutes, and if it happens to go to overtime, 45. But we definitely do want it very badly.
Q. Candace, you've been the face of the franchise here for a long time; how did it feel to finally get out there for a home game in the Finals?
CANDACE PARKER: It's been a long time coming. We've said that this whole year, and it felt great to get out and to play. You know, I'm proud of our team and our mentality. Like E was talking about, just our mentality of we're going to play hard, we're going to play our game, and then we're going to live with the results. You know, I love the support that LA had for us tonight.
Alana Beard
Q: What are your thoughts on tonight's performance?
Beard: I'm very happy with the way we started. After Game 2, we came back home very disappointed in how we played and defended. We pride ourselves on our defense. We know how we're capable of playing. We made those adjustments and it showed tonight.
Q: How important was it to get going early?
Beard: Huge. It's always important to get started well against this team. The Lynx are so comfortable at this level. You have to do everything you possibly can to make them uncomfortable. I think we did that. Getting off to that start was huge.
Q: What's your mindset going into Sunday?
Beard: Finish strong. That's our mindset. We have to go back and make more adjustments. We have to come out and play the way we're capable of playing. If we do the little things, everything will take care of itself.
Minnesota Lynx
Head coach Cheryl Reeve
Q. Coach, just wanted to ask, did you think after the first half when you got it back down to eight points that maybe you can take their best shot?
CHERYL REEVE: No, not at any point in time. We felt fortunate to have a chance to cut it to eight, and I'm disappointed from there that we didn't do some things that we were trying to get done. Credit, obviously, LA for backing up their words.
Q. When they built that 22-point lead, what are the biggest challenges that you and your players had to face either emotionally or tactically?
CHERYL REEVE: You know, I think it was, more than anything, LA's sense of urgency, taking the ball out of our hands. You know, just the idea of when someone is being pressured, how to handle pressure.
I don't know that there was much emotional. It was really tactical in that when we watched the video, we're going to be really disappointed with our spacing. Really disappointed with the passes that we didn't see. Really disappointed that we don't pivot and fake, and that's how you handle pressure.
These are things that we talked about that we knew that LA would do. That's what their defense is predicated on. So that was disappointing. They cashed — it felt like we had 30 turnovers for 60 points is what it felt like, with just 13 for 24 they cashed it on every one of them. When we needed good offense, we couldn't get it done.
It's absolutely all on the want-to of Nneka Ogwumike and Candace Parker to start the game, and then Carson and Beard throughout the game. Their want-to was on 10, which is exactly where you would expect it to be. I'm not sure what we were expecting when we started the game, but it wasn't that.
Q. Those first 15 minutes or so, LA's offensive rebounding was really wreaking havoc on you guys. How do you compensate for that in Game 4?
CHERYL REEVE: So I mean, it's a want to thing just like when we do it. It's stupid. It's a want-to thing. There's nothing tactical. It's just they want the ball, and whoever does it in Game 4 is going to win.
Q. How do you explain this? I don't think anybody would have expected this game to turn out this way, and certainly not to start the way it did. Did you have any inkling that your team was going to be so flatfooted at the beginning, and how do you get them back on track in a very short period of time?
Maya Moore and Sylvia Fowles
Q. Maya, how do you explain the first 10 minutes of this game? You guys were 22 down just almost before the game got rolling. They were all over you defensively and it was a very flatfooted effort for you guys in the first quarter. How do you explain the way you guys came out?
MAYA MOORE: I don't think there's much to explain other than what you saw. You know, when you have such a long, aggressive, athletic team as LA, we have to be able to respond and anticipate ways to get out of their pressure because they converted those turnovers into fast break points, transition, easy points, where we can't even give our defense a chance to stop them. Obviously we can't respond the way we did in the first quarter for any more time in this series because they're extremely good at converting those turnovers into points.
Q. Sylvia, what did you notice down low? You were held to four rebounds tonight after a couple of strong efforts in Minnesota, kind of a huge contrast in Game 3.
SYLVIA FOWLES: Just a lot of bodies. I won't say it was a big difference, but a lot of good effort from LA posting guards, just crashing the boards more often and frequent, and that was something different from last night into tonight.
Q. Once they built that 22-point lead, what were the biggest challenges for the both of you and for your teammates, either emotionally or tactically?
MAYA MOORE: Well, it's a great team, so you know they're going to continue to find a way to go on runs. One of the things that we increased was our defense intensity and getting some deflections, some steals to give ourselves some fast break points and more possessions that way. But at the end of the day, if we continue to turn the ball over, it robs us opportunities to score and gives them opportunities to score. The second half we still have to be able to clean up our turnovers, otherwise I thought there were times where we were really aggressive and on the same page and locked in and had a bounce in our step, but again, if you give that much of a lead to a great team, it's going to be really hard to come back. But I thought for the most part we had some really good moments where we responded.
Q. As well as both teams know each other, did they do anything tonight that surprised you?
SYLVIA FOWLES: No, not really. It was the same thing that we seen in Game 1 and 2, besides the fact that we had a lot of turnovers and they converted.
Q. I asked Coach Reeve at practice the other day, of all the teams that you guys have played in the Finals, is this team about as close as an example of your team playing itself, the talent level?
MAYA MOORE: I think both teams throughout the course of the season proved that we care a lot about defense and offense. We were the two most consistent teams holding other teams to lower field goal percentages, putting points on the board, and sharing the ball. I think as far as our desire to get those things done, yeah, and the ability to get it done, yeah, we're pretty even that way. But I think we do go about getting our goals done a little bit differently, but like you said, this is a very appropriately-matched Finals with the top two teams defensively and offensively meeting up.
Q. Despite the early lead that they established, you guys really came back in the second half and gnawed into it quite nicely. What were you doing that succeeded for you as you closed the gap in that second quarter?
MAYA MOORE: Our defense, I think, intensity picked up. We were able to get to some loose balls, try to mix it up a little bit, and just create some momentum in our direction, and we were able to do that. We were able to get some ball movement, tried to get in the paint and share the ball. That second quarter we were really able to fight, cut it to eight, and the second half was pretty much even. That third quarter we were pretty much even. I think we lost that quarter by two. I don't have the stats. But yeah, the fourth we just didn't have enough consecutive possessions on both sides of the ball to create a big enough run to cut it back within that eight points or less that we did in the second quarter.
Seimone Augustus
Q: What are your thoughts on tonight?
Augustus: We were on our heels for most of the first quarter. We came out fighting in the second half. It was back and forth. Finally, they just got a stretch of a run that they had. They just pulled away. Defensively, we have to clean some things up. Offensively, we have to clean some things up because that led to a lot of turnovers. I think we had 13 turnovers. They made 24 points off of our 13 turnovers. If we clean that up, we should be fine in Game 4.
Q: Why couldn't you get back in the game?
Augustus: We had a few bad possessions, but they made some great plays. We saw Candace [Parker] make some great moves at the post. Essence [Carson] was hitting some key shots down the stretch. When we made our run, she hit a clutch three-pointer to send them a little further. People made plays down the stretch. If we take care of the ball and execute on offense, we'll be ok.
Q: What's the mindset going into Game 4?
Augustus: It's a must-win game for us. We have to force a Game 5 back home in Minnesota where we know we're confident of what we can do there. The fans are going to come out and support us in Minnesota.
Lindsay Whalen
Q: How do your experience in 2012 being down 2-1 help you prepare for the rest of this series?
Whalen: With whatever happened in the past, we're focused on what we can do now in this series in 2016. They beat us here tonight in Game 3. We have to get ready for Game 4.
Q: Any adjustments?
Whalen: We'll take a look at the tape and we have great coaches and we'll see what we can do. We will be working hard to do a lot better next game.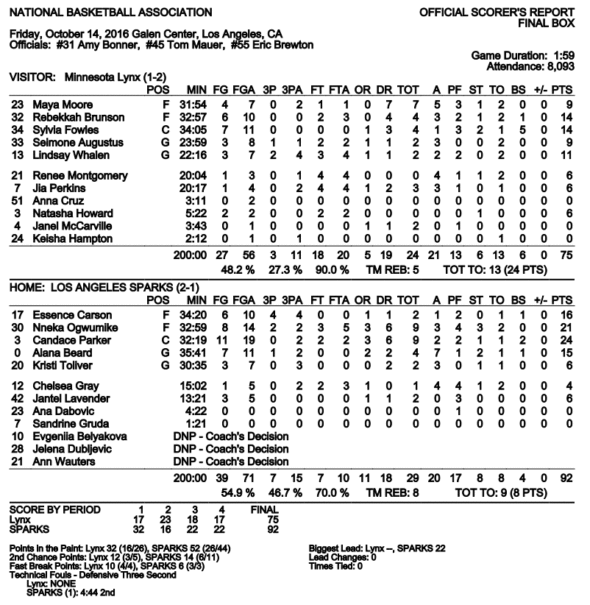 Around the Web