As the WNBA Finals come to a close, Pac-12 commissioner Larry Scott praises MVP Nneka Ogwumike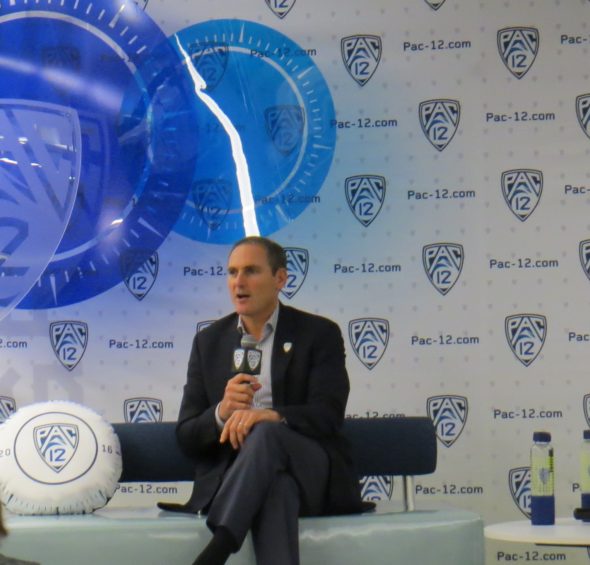 SAN FRANCISCO – The Pac-12 held its annual women's basketball media day Thursday, the same day as Game 5 of the best-of-five WNBA Finals. With former Stanford player Nneka Ogwumike, this years WNBA MVP, leading Los Angeles versus the defending champion Minnesota Lynx, the game has special significance for the conference.
Ogwumike is the first Stanford women's basketball alumna to win the honor. Previous Pac-12 alumnae who earned the award include USC head coach Cynthia Cooper-Dyke (1997, 1998) and USC legend Lisa Leslie (2001, 2004, 2006).
Pac-12 commissioner Larry Scott was effusive in his praise of Ogwumike and what she has meant to the conference.
"Well, it's awesome to see," he replied to a question about this thoughts on her earning the MVP award. "Those of us that have followed Pac-12 Women's Basketball and got to see Nneka perform regularly and know what a dominant player she was in our conference, the fact that she's gone on to WNBA and had such a prolific beginning of her career there, I haven't talked to Tara or other coaches about it specifically, but I just know from a recruiting standpoint, a lot of the student-athletes that come to our league come with the hope and expectation that it's going to provide a great pathway to the WNBA. I think that's one of the motivators for prospective student-athletes at the elite level is where do they think they're going to be well coached, groomed, have the type of competition, have the type of exposure where they can then go on and fully develop their games and go on and have successful, professional careers.
So, when you have young graduates and other student-athletes go on to early success in the pro leagues, it absolutely helps. Exposure helps recruiting, helps the credibility. I think, again, a lot of the media following women's basketball are East Coast based, I think it is another proof point, another reason for them to look at our conference differently than they might have previously."
Stanford Tara VanDerveer also talked about her former player at media day.
"I just loved coaching Nneka. I love coaching Chiney. They're really special. Nneka had a fantastic year this year, and I hope that she plays really well, and I hope their whole team plays really well against Minnesota. I'd love to see her have a championship.
Whether she wins a championship or not, she is just an outstanding person. She'll play overseas. I think someday, as long as she's healthy, she'll be an Olympian. All good things will come to her. I'm really proud to have been her coach."