Cal: Lindsay Gottlieb gets contract extension through 2020-21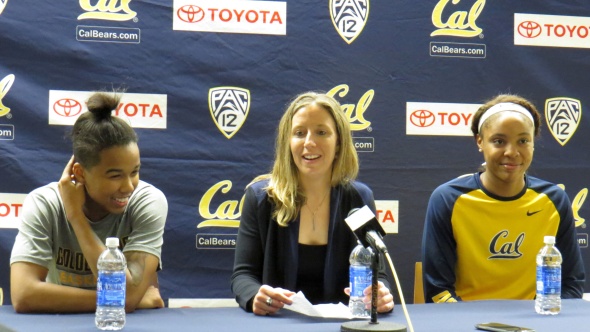 On the morning of the 2016-17 Pac-12 women's basketball media day, Cal announced that head coach  agreed to a contract extension through the 2020-21 season.
Hired in April 2011, Gottlieb is entering her sixth season as the Golden Bears' head coach and has led Cal to four NCAA Tournament appearances in five seasons, including the program's first Final Four in 2013.
"Lindsay has done an exemplary job leading our women's basketball program," Williams said. "From taking the Bears to their first Final Four to becoming a constant presence in the community, Lindsay is completely invested in the success of our student-athletes, both on and off the court. We are thrilled for her to continue as an integral member of the Cal family and look forward to much continued success."
The only Cal coach to win 20 games in her first season with the Bears, Gottlieb has an overall record of 118-51 at Cal, including a 60-30 mark in conference play. The 2012-13 Pac-12 Coach of the Year, Gottlieb was a finalist for the prestigious Naismith National Coach of the Year award that same season after guiding the Bears to a program-record 32 wins and the team's first regular-season conference title.
"It's an honor and privilege every single day that I get to be the head women's basketball coach at the University of California," Gottlieb said. "I'm surrounded by world-class excellence all over this campus – from faculty, to my colleagues, to the students I bump into daily. Mostly, however, I am so grateful to have the opportunity to coach the young women in our locker room. They enrich my life more than they could ever realize, and I truly love the challenge of making them better basketball players and influencing their lives in a positive way."
During her tenure in Berkeley, Gottlieb has produced four WNBA draft picks and coached five players to seven All-America seasons, including 2015-16 Pac-12 Freshman of the Year Kristine Anigwe, a WBCA honorable mention selection last season.
A graduate of Brown University, Gottlieb initially joined the Cal staff in 2005 as an assistant coach under Joanne Boyle. Gottlieb spent three seasons in Berkeley and was elevated to associate head coach for the 2007-08 campaign before taking her first head coaching position at UC Santa Barbara. In three seasons with UCSB, Gottlieb led the Gauchos to two postseason berths and a pair of Big West Conference championships. She returned to Berkeley in April 2011 when she was hired as the program's ninth head coach. Gottlieb's career win percentage of .698 is the highest by any coach in Cal women's basketball history.
"With the support of our administration and this amazing community we are a part of, Cal has become one of the premier spots in the country for women's basketball," Gottlieb said. "Yet I feel that we are still at the front end of a very special journey, and I can't wait for what the next five years will bring. I want to thank Athletic Director Mike Williams and Senior Associate AD Jenny Simon-O'Neill for not only their commitment to me, but for their mentorship and friendship, and for their unwavering support of the young women in our program. Go Bears."