Cal Classic features Duquesne, Western Carolina and San Francisco, Bears look to go 5-0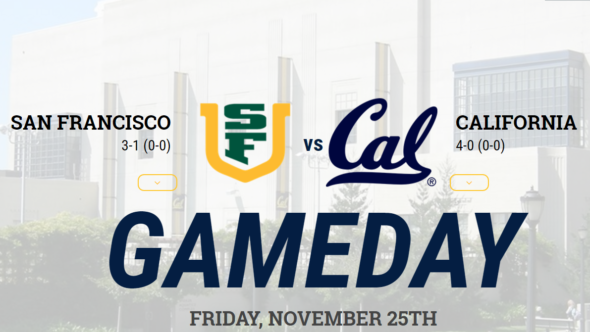 Cal Classic
Friday and Saturday, Nov. 25 and 26
Haas Pavilion, Berkeley, CA
Live stream
BERKELEY, Calif. – While many teams are on the road over Thanksgiving week, Cal is hosting its 38th annual Classic tournament at Haas Pavilion. In addition to the undefeated Golden Bears, the Cal Classic will feature Duquesne, Western Carolina and San Francisco.
Cal and San Francisco tip off the tournament at 1 p.m. PT while Western Carolina and Duquesne are set for a 3:15 p.m. PT start. The consolation and championship games will be at 1 p.m. and 3:15 p.m. PT on Saturday.
A quick look at each team's first matchup in the tourney:
San Francisco (3-1) vs. Cal (4-0)
The Dons and the Bears have met 35 times but this will be their first matchup since 2001-02. Cal leads all-time series 25-9.
San Francisco is under a new head coach, Molly Goodenbour. She comes to USF with 12 years of head coaching experience. The Stanford graduate played on two national championship teams for the Cardinal.
The Dons (3-1) come into Berkeley after a 73-71 home win over Long Beach State, the team picked to win the Big West title this season. Junior guard Anna Seilund led the Dons with 13 points and five assists as USF compiled its most efficient shooting performance so far this season, connecting at 49 percent (24-49) from the field
Seilund is a returning starter along with senior guard Rachel Howard (15.3 ppg/4.0rpg) and junior forward Michaela Rakova (11.8ppg/6.3rpg).
Cal is off to a 4-0 start for the third consecutive season. The Bears earned a 86-63 win over CSU Bakersfield on Sunday. Five different players finished in double-figures led by the team's leading scorer, sophomore center Kristine Anigwe who had 23 points and 11 rebounds. Junior guard/forward Mikayla Cowling is second on the team in both scoring (14.5 ppg) and rebounding (6.8 rpg ) and has dished out five or more assists in every game this year.
Cal freshman Mi'Cole Cayton had a breakout game vs. CSU Bakersfield, going 3-3 from three-point range to finish with a career-best 13 points in 25 minutes off the bench.
Cal received one vote in the inaugural Hoopfeed Top 25 poll this week.
Western Carolina (2-3) vs. Duquesne (3-2)
Western Carolina and Duquesne will meet for the first time in the second game of the Cal Classic.
Western Carolina is coming off its second win of the season, a 72-61 victory on the road vs. Eastern Kentucky. In the contest, junior forward Sherae Bonner earned her third double-double of the season with 15 points and 12 rebounds. She also connected on a career-high seven throws.
Western Carolina has three players averaging in double figures in scoring, paced by Bonner averaging 12.6 points per game, followed by: sophomore guard Raziyah Farrington (12.4 ppg) and junior guard JonTay Mitchem (10.4 ppg).
Duquesne enters the tournament after its second loss of the season, a 71-69 defeat at the hands of Buffalo even though senior forward Amadea Szamosi led all players with 26 points, 10 rebounds and eight assists. Sophomore guard/forward Kadri-Ann Lass added 22 points in the loss.
Sophomore guard Chassidy Omogross leads the Dukes in scoring with 16.0 points per game, followed by Szamosi (15.6 ppg) and Lass (12.2 ppg). Szamosi paces the team in rebounds with 11.8 per contest followed by Lass (4.6 rpg) and freshman guard Nina Aho (3.6 rpg).
The Dukes have an international squad with 9-of-15 players from foreign countries including five from Eastern Europe.