Cal dominates San Francisco, 75-52, moves to 5-0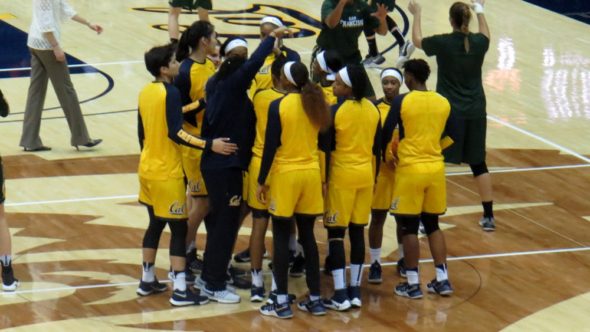 BERKELEY, Calif.  – California (5-0) made sure to not repeat last year's first-game performance in its annual tournament this season after losing in the first round in 2015. The Bears dominated San Francisco (3-2) Friday afternoon for a 75-52 win on the first day of the Cal Classic.
With a balanced attack from starters and reserves, Cal had too many weapons for the overmatched Dons to handle. Even though the Bears' leading scorer, sophomore center Kristine Anigwe finished below her scoring average (20.5 points per game) as she handled double- and triple-team defensive efforts, she still came away with a near double-double of 10 points and nine rebounds.
"I thought we got good production all the way around," Cal head coach Lindsay Gottlieb said, "dealt with some foul trouble, dealt with some different doubling schemes, so pleased with our balanced production to get ready for a championship game tomorrow which is what the goal was."
Cal is now used to teams building a game plan around stopping Anigwe.
"The difference this year is that (Anigwe is) not sneaking up on anybody," Gottlieb said. "Teams are coming in with a Kristine game plan. It really hasn't worked, because she's still putting up numbers, we've won and other people are making shots."
San Francisco had a promising start in the first quarter, scoring first on a layup from forward Michaela Rakova. After two early ties, Cal took the lead but the Dons stayed within 10 in the remainder of the period. San Francisco was hampered by poor shooting, 4-of-16 from the field, while the Bears were 7-of-19.
After one quarter, Cal had a 16-8 lead.
In the second quarter, the Bears pulled away by double-digits on the strength of their field goal percentage, 60 percent (9-of-15). Their lead ballooned to 20 at 6:11 after a jumper from freshman Jaelyn Brown. Overall, Cal outscored San Francisco 23-13 in the second period. Heading into halftime, the Bears had a 39-21 advantage.
Senior forward Courtney Range led all scorers at the half with 14 points plus six rebounds. No USF players were in double figures.
Early in the third quarter, Anigwe committed back-to-back personal fouls, increasing her overall total to four. She went to the bench at 8:45 and sat until 2:27. While Cal continued to hold the lead in the third, San Francisco outscored the Bears 19-15 in the third quarter.
With Anigwe in the starting lineup to begin the fourth quarter, the Bears dominated in the last ten minutes even as San Francisco fought hard to gain some traction and build momentum. However, the Dons were overmatched on both ends of the court.
Two other Bears joined Anigwe in double figures. Range led all scorers with 25 points plus 11 rebounds. Junior forward Penina Davidson scored 10 points, pulled down five rebounds and blocked three shots.
Range was prolific as USF hounded Anigwe and when the sophomore headed to the bench.
"Courtney has so many different pieces to her game and I think we saw them all today," Gottlieb said. "So to give us 25 and 11 especially on a day when Kristine had some foul trouble and they were trying to take her way, it speaks to where we're trying to get to as a team which is not be one dimensional by any means." Senior guard Rachel Howard paced USF with 10 points. Twelve other USF players scored but none in double figures.
The tournament continues Saturday with the consolation game at 1:00 p.m. PT and the championship matchup at 3 p.m. PT. The other teams participating in the event are Duquesne and Western Carolina. The games will be streamed for free here: pac-12.com/live/university-california.