Fever officially announce Pokey Chatman as new head coach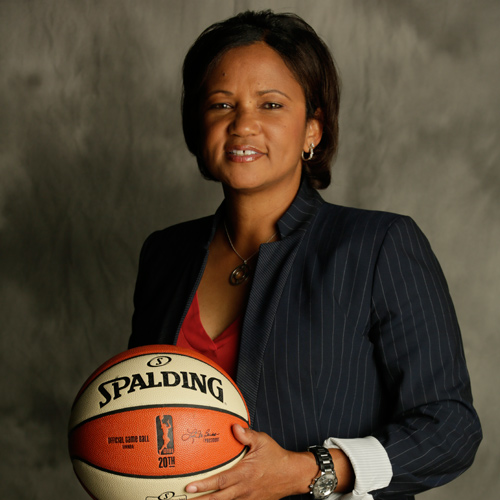 Yesterday the news broke that the Indiana Fever hired former Chicago Sky coach and general manager to head the team. The official announcement from the Fever is below:
Pokey Chatman has been named as head coach of the Indiana Fever, it has been announced by President and General Manager Kelly Krauskopf. The sixth head coach in franchise history, Chatman succeeds Stephanie White who resigned her position after the 2016 season.
Chatman, 47, boasts an accomplished record with success at every level of women's basketball. After six seasons as head coach and general manager of the Chicago Sky, Chatman assumes her post with the Fever after leading the Sky to four straight WNBA playoff berths.
Moving three hours south along I-65, she joins a rival Fever franchise that owns a WNBA-record 12-year streak in the playoffs. The Fever and Sky, in fact, met head-to-head in three straight playoff seasons from 2013-15. Indiana swept the top-seeded Sky in a first-round series in 2013. The Sky got past the Fever to reach the WNBA Finals in 2014. One year later, Indiana slipped past Chicago in another first-round battle on its way to the Finals.
Chatman engineered Chicago's ascent in the WNBA's Eastern Conference, guiding the Sky to their first playoff appearance in 2013 and leading the franchise to the Finals a year later. She finished her assignment in the Windy City with a 106-98 regular season record and an 8-12 mark in the postseason.
"I am pleased to announce the hiring of Pokey Chatman as we begin a new era of Indiana Fever basketball," said Krauskopf. "My goal was to identify and hire someone who has extensive head coaching experience in the pro women's game and we are fortunate to bring Pokey to Indiana. Her years of coaching elite level players, both in the WNBA and in Europe, bring us great experience and leadership. Her up-tempo philosophy on offense combined with her affinity for toughness on the defensive end fits our organization. I have watched her teams and admired how her players continuously improve from year to year."
Krauskopf continued, "Pokey was a great player herself, and has coached and played at the highest levels. Her success in building Chicago's franchise shows that she knows what it takes to succeed in this league. I look forward to working with Pokey as we continue to build on a winning foundation here in Indiana."
"I am extremely excited for the opportunity given to me by the leadership of the Indiana Fever," said Chatman. "Kelly has done a tremendous job of creating a championship culture in every sense of the word. Coupled with an educated and passionate fan base which helps create one of the best home environments in the WNBA, it's easy to understand my enthusiasm."
Prior to coaching in the WNBA, Chatman enjoyed a 20-year career at Louisiana State that included four seasons as a starting point guard, followed by assignments as assistant coach, associate coach and, for three seasons from 2004-07, head coach. During her lengthy tenure at LSU, she attended three Final Fours and was a part of 15 NCAA Tournament teams. As acting head coach and head coach, she led the Tigers to three consecutive Final Fours including a 2005 loss in the national semifinals at the RCA Dome in Indianapolis. She earned national coach of the year accolades in her first full season in 2005.
Her diverse resume also includes a pair of EuroLeague titles with Spartak Moscow, first as an assistant in 2009, and another while serving as head coach of the Russian powerhouse for four seasons from 2009-13.
Internationally, Chatman was a part of two gold-medal teams with USA Basketball. As a player, she won gold with the USA's U18 squad that won the FIBA Americas championship in Brazil in 1988. She was an assistant coach with the U.S. team at the World University Games in 2005 in Turkey. She also coached the national team of Slovakia for two seasons.