Gonzaga topples No. 11 Stanford in back-and-forth battle, first-ever win for Zags vs. Cardinal
This slideshow requires JavaScript.
STANFORD, Calif. – The Gonzaga Bulldogs earned their first-ever win over Stanford Friday night at Maples Pavilion, stunning the 11th-ranked Cardinal 68-63.
"I am so proud of our team, we played tough mentally and physically," said Gonzaga head coach Lisa Fortier. "Stanford is as well-coached and talented as any team in the country. Everyone on our team made huge contributions tonight. Our team followed the game plan and this is a huge team win."
Stanford (2-1) started the week with a bang, taking down No. 8 Texas Monday night. However, against Gonzaga (3-0), the Cardinal faced an uphill battle from the outset.
The Zags hit the ground running to earn a 4-0 lead with layups from junior guard Emma Stach and redshirt senior guard Elle Tinkle, the younger sister of former Stanford player Joslyn Tinkle. Gonzaga led 16-15 after one period.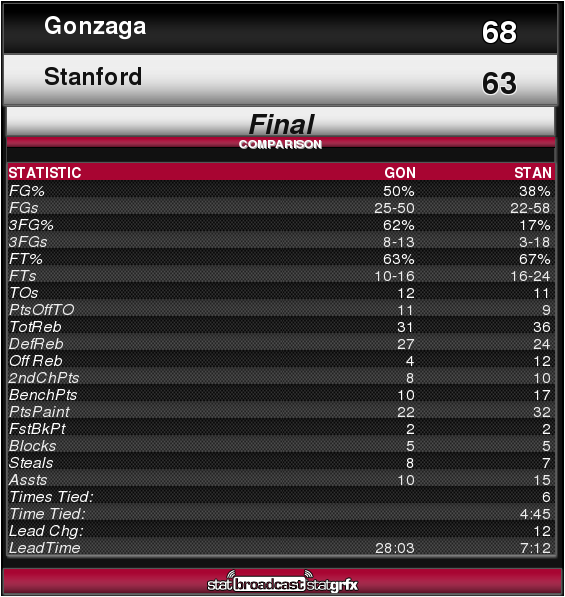 The Cardinal started the second quarter with tough defense leading to a shot-clock violation by Gonzaga. However, Stanford failed to capitalize on several offensive opportunities, shooting abysmally for much of the period, 33 percent (5-of-15) from the field. On the other hand, Gonzaga shot 55.6 percent in the second period. The Cardinal did manage to close the gap in the last few minutes of the period. However, the Zags went into the break leading 28-27.
The early part of the third quarter was a three-point shot festival as the teams swapped treys. Redshirt sophomore forward Jill Barta made two of those three-pointers. The next shot for Gonzaga was a jumper by Tinkle that gave the Zags their largest lead of the game, 43-33 at 6:24.
Stanford erased the double-digit lead with an 18-3 run over the last five minutes and 23 seconds of the quarter. The effort gave the Cardinal a 51-46 lead heading into the last quarter.
"We thought we had a really good comeback in the third quarter, I was really proud of our team," said Stanford head coach Tara VanDerveer. "We battled. Gonzaga played really well….They shot the ball really well, they passed the ball well. We didn't disrupt them enough, forcing turnovers."
VanDerveer also cited Stanford's poor shooting: "We struggled offensively."
Gonzaga did not back down and traded baskets with Stanford for much of the last quarter. Tinkle made a layup at 3:30 to tie the game at 61 all. Sophomore guard Laura Stockton followed up with a trey that gave her team the lead for good.
Fortier summed up her team's knack for making big plays in crucial moments.
"At the right times we made big shots, and at the right time we got the shots we needed," said Fortier.
For Tinkle, the victory was sweet because she has played against Stanford several times.
"This is my fourth or fifth time playing this team and you know it's tough. You love going against teams like this because it just shows you where you're at and you love to play against the best. So I love playing them but was tired of the same result….I prefer this outcome better."
Barta led all scorers with 26 points. Tinkle added 18 points plus five rebounds. Stockton was also in double figures with 12 points plus four rebounds.
McPhee paced Stanford with 22 points and eight rebounds. Senior forward Erica McCall tallied a double-double of 17 points and 11 rebounds. Karlie Samuelson added 10 points.
Stanford returns to action on Sunday in a matinee game against Cal State-Northridge.
Gonzaga heads home to rest before making a trek to St. Thomas in the U.S. Virgin Islands to face Florida State on Thursday, November 25 as part of the Paradise Jam.
Notes
The Zags entered the evening 0-7 all-time against the Cardinal, with the closest game being a 78-84 loss in Spokane in 2010.
This is the second consecutive season that Stanford has followed up a win over a ranked team with a home loss to a West Coast Conference opponent. Last November, Santa Clara beat the Cardinal 61-58 two days after Stanford beat No. 22 George Washington by 21.
Stanford outrebounded Gonzaga 36 to 31 and tallied more points in the paint, 32 to 22.
Gonzaga shot 50 percent from the field to Stanford's 37.9 percent.
Social Media