Media select UCLA to win Pac-12 title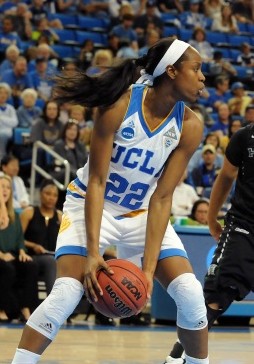 In a polling of media members who cover Pac-12 women's basketball, UCLA was voted to win the 2016-17 Pac-12 regular-season title, the Conference office announced today. The Bruins received 233 points and 13 first-place votes to grab the top spot. Stanford, with four first-place votes and 219 points was picked to finish second, followed by Washington, which had one first place vote and 194 points. Media members also selected a five-member preseason All-Pac-12 team which is comprised of four seniors and one sophomore.
Five different teams are represented on the preseason All-Pac-12 squad, including Washington's Kelsey Plum (Poway, Calif.) and Oregons State's Sydney Wiese (Phoenix, Ariz.). Both are repeat honorees, making the team for the first time last year. Both are coming off historic season where they helped their respective programs advanced to the NCAA Women's Final Four for the first time. Joining them are fellow seniors UCLA's Jordin Canada (Los Angeles, Calif.) and Stanford's Erica McCall (Bakersfield, Calif.). Also voted on the team was 2015 USBWA National Freshman of the Year Kristine Anigwe (Phoenix, Ariz.) of California, who is now a sophomore. Canada and Plum were unanimous picks.
The media agreed with the Pac-12 women's basketball coaches which voted UCLA the favorite to win the Pac-12 crown, an announcement made in October at Pac-12 Women's Basketball Media Day. Led by Canada and head coach Cori Close, UCLA has nine letter winners and three starters back from a team that advanced to the NCAA Sweet 16 for the first time since 1999.
Stanford advanced to the NCAA Elite Eight where it fell to the Huskies. McCall is one of four starters back from that squad, while the Huskies have three starters back, including Plum. Plum is one of the most prolific scorers in NCAA history and looks to break the Conference's all-time scoring record this season.
Arizona State was fourth in the poll, also receiving a first-place vote and 175 points. The Sun Devils have their top scorer and rebounder from last season back again in senior forward Sophie Brunner. Oregon State was voted fifth (164 points). Wiese helped lead the Beavers to their first-ever NCAA Final Four appearance last year. Rounding out the top half of the poll are the Golden Bears who collected 145 points. Cal had an uncharacteristic down season under head coach Lindsay Gottlieb last year and are looking for a better showing with Angiwe leading the way.
Oregon received 117 points for seventh place. The Ducks have the third-best recruiting class in the nation joining the squad this season and look to build on a their first 20-win campaign last year since 2004-05. Utah was picked eighth with 90 points. The Utes have four starters back, including redshirt junior Emily Potter, who averaged a double-double last year.
USC is just behind the Utes in ninth place with 87 points. The Trojans are just four years removed from having won the program's first-ever Pac-12 Tournament. Washington State came in 10th place in the poll, receiving 69 points. The Cougars' top scorer Borislava Hristova took on a big scoring load as a freshman and looks to make an even bigger impact this season with one year under her belt.
Colorado (40) and Arizona (26) were picked 11th and 12th, respectively. Both teams are under the direction of new head coaches with JR Payne taking over the helm in Boulder, while Tucson welcomes back a beloved former Wildcat in Adia Barnes.
The Pac-12 is coming off a historic season where two teams advanced to the NCAA Final Four for the first time in the history of the Conference. Five teams earned NCAA Tournament bids for the second-straight year, going 5-0 in the first round, winning a Conference-record 13 tournament games.
The 2016-17 regular season is nearing, tipping off on Friday, Nov. 11. The Pac-12 Women's Basketball Tournament takes place March 2-5, 2017 in Seattle at KeyArena.
2016-17 PAC-12 Women's Basketball Media Poll
| | |
| --- | --- |
| Team (First Place) | Points |
| UCLA (13) | 233 |
| Stanford (4) | 219 |
| Washington (1) | 194 |
| Arizona State (1) | 175 |
| Oregon State | 164 |
| California | 145 |
| Oregon | 117 |
| Utah | 90 |
| USC | 87 |
| Washington State | 69 |
| Colorado | 40 |
| Arizona | 26 |
2016-17 Preseason All-Pac-12 (Media)
| | | | | |
| --- | --- | --- | --- | --- |
| Name | School | Pos. | Yr. | Hometown |
| Kristine Anigwe | California | F | So. | Phoenix, Ariz. |
| Jordin Canada* | UCLA | G | Sr. | Los Angeles, Calif. |
| Erica McCall | Stanford | F | Sr. | Bakersfield, Calif. |
| Kelsey Plum* | Washington | G | Sr. | Poway, Calif. |
| Sydney Wiese | Oregon State | F | Sr. | Phoenix, Ariz. |