UConn remains No. 1 in Hoopfeed poll, Duke and South Florida enter rankings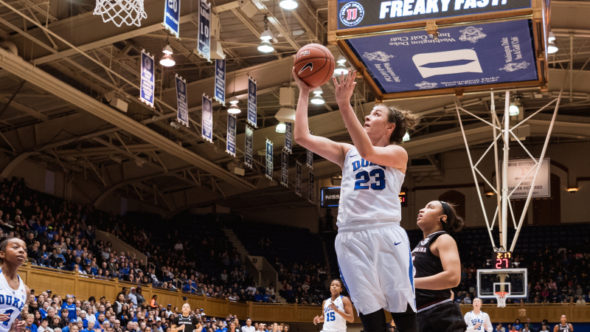 While Connecticut and Notre Dame are neck and neck for the top spot in the third week of the Hoopfeed rankings, the Huskies remain No. 1 this week. Wednesday, the two undefeated teams will go head-to-head at Notre Dame at 7 p.m. ET. The game will be televised on ESPN2.
UConn's week included defeating two top 25 teams, DePaul and Texas.  Notre Dame defeated Iowa and Valparaiso since the last poll.
The teams that round out the top five include Baylor, Maryland and Mississippi. All three teams moved up a spot. South Carolina fell three spots to No. 6 while Florida State moved up four spots to no. 7. UCLA also climbed a place to land at No. 8. Louisville landed at No. 10 after falling two places.
South Carolina's drop can be attributed to the Gamecocks' loss on Sunday to previously unranked Duke, 74-63. The Blue Devils entered the Hoopfeed poll for the first time this season at No. 21. Duke is 9-1 and on five-game win streak. Rebecca Greenwell led Duke with 29 points in the win over South Carolina.
Other upsets during the week include Southern California's 66-62 takedown of Texas A&M on Nov. 30. The Aggies also lost to Southern Methodist, 54-53 on Monday night and subsequently fell out of the poll.
Oklahoma suffered a stunning loss on their home court to Oral Roberts on Dec. 4. Vionise Pierre-Louis, the top interior scorer for the Sooners, only played four minutes with a pinched nerve. She averages 9.3 points and 5.2 rebounds per game.
Other teams that received votes include: Kansas State, Oregon, Oklahoma State, California, Texas A&M, Arizona State, Michigan State, Green Bay, Tennessee
Teams that dropped out of the top 25: Oregon, Texas A&M, Tennessee.
| | | | | | |
| --- | --- | --- | --- | --- | --- |
| Rank | School | Record | Points | 1st Place Votes | Previous |
| 1 | Connecticut | 7-0 | 319 | 7 | 1 |
| 2 | Notre Dame | 8-0 | 317 | 6 | 2 |
| 3 | Baylor | 10-1 | 298 | | 4 |
| 4 | Maryland | 9-0 | 288 | | 5 |
| 5 | Mississippi State | 8-0 | 271 | | 6 |
| 6 | South Carolina | 6-1 | 250 | | 3 |
| 7 | Florida State | 8-1 | 249 | | 10 |
| 8 | UCLA | 6-1 | 230 | | 9 |
| 9 | Louisville | 7-2 | 207 | | 7 |
| 10 | Stanford | 8-1 | 198 | | 11 |
| 11 | Washington | 8-1 | 196 | | 13 |
| 12 | Miami | 8-1 | 177 | | 17 |
| 13 | Ohio State | 6-3 | 175 | | 8 |
| 14 | West Virginia | 9-0 | 162 | | 15 |
| 15 | Kentucky | 6-2 | 129 | | 16 |
| 16 | DePaul | 5-2 | 108 | | 20 |
| 17 | Colorado | 8-0 | 108 | | 19 |
| 18 | Oklahoma | 5-2 | 84 | | 12 |
| 19 | Texas | 2-4 | 78 | | 14 |
| 20 | Syracuse | 6-3 | 76 | | 22 |
| 21 | Duke | 9-1 | 75 | | NR |
| 22 | Florida | 6-2 | 42 | | 18 |
| 23 | South Florida | 6-0 | 38 | | NR |
| 24 | Oregon State | 5-1 | 37 | | NR |
| 25 | Virginia Tech | 7-0 | 31 | | 24 |
Voting Panel
Yvonne Sanchez
Viet Nguyen
Joan Bonvicini
Lisa Bodine
Kevin Danna
Kristopher Gardner
Brenda VanLengen
Cindy Brunson
Michael Roberson
Mel Greenberg
Bobbie Kelsey Grayson
Ben Parker
Cheryl Coward