Washington sweeps Pac-12 Player of the Week Awards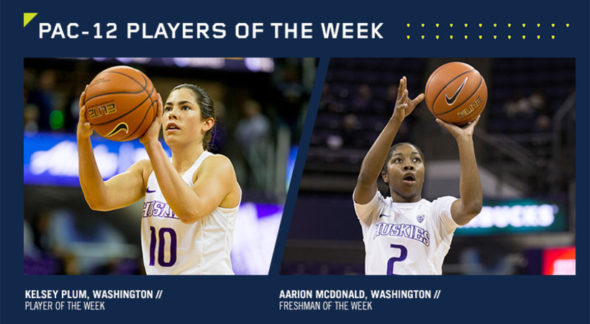 A day after becoming the all-time leading scorer in Pac-12 history, Washington senior Kelsey Plum was named Pac-12 Player of the Week. Her teammate, first-year guard Aarion McDonald earned Pac-12 Freshman of the Week.
Highlights
Kelsey Plum
• 2 GP, 37.0 ppg, 6 rpg, .610 (25-41), .938 FT (15-16), 7 asst, 7 stl, 1 blk
• Scored 44 points in the Huskies' 92-66 win over Boise State to break the all-time Pac-12 scoring record, surpassing former Stanford Cardinal and 2014 WNBA Rookie of the Year Chiney Ogwumike (2011-14, 2737 points) with 2,759 career points and counting.
• Scored 22 points in the first half alone to tie the Conference record before breaking it with a free throw at the 8:38 mark of the third quarter.
• The Poway, Calif. native matched her season-high with 44 points. She also matched her career-high with nine rebounds to go along with four assists and five steals, and perfect 9-of-9 from the foul line.
• Also knocked down five three-pointers in the game to tie the career UW record. She now has 265 triples, tying Jazmine Davis' (2011-15) record.
• Against CSUN, led all scorers with 30 points on 10-of-15 shooting and 4-of-7 from three-point range.
Aarion McDonald
• 2 GP, 22.0 ppg, 4.5 rpg, .708(17-24), .800 FT (4-5), 4 asst, 6 stl, 0 blk
• Made her first collegiate start in the Huskies' 101-44 vicotry over CSUN and went on to score a career-high 23 points on 9-of-11 shooting and 3-of-4 from behind the arc.
• The rookie also contributed three rebounds with a pair of assists and steals.
• Later in the week against Boise State, finished with 21 points, six rebounds and four steals.
ALSO NOMINATED:
Player of the Week: Jalea Bennett, ARIZ; Sophie Brunner, ASU; Kristine Anigwe, CAL; Kennedy Leonard, COLO; Sydney Wiese, OSU; Monique Billings, UCLA; Emily Potter, UTAH
Freshman of the Week: Lucia Alonso, ARIZ; Reili Richardson, ASU; Mi'Cole Cayton, CAL; Monica Burich, COLO; Ruthy Hebard, ORE; Kat Tudor, OSU; Chanelle Molina, WSU
2016-17 PAC-12 Players of the Week
 Player of the Week
Freshman of the Week

Dec. 12

Kelsey Plum, WASH
Aarion McDonald, WASH

Dec. 5

Kristen Simon, USC
Minyon Moore, USC

Nov. 28

Chantel Osahor, WASH
Sabrina Ionescu, ORE

Nov. 21

Jordin Canada, UCLA
Sabrina Ionescu, ORE

Nov. 14

Kelsey Plum, WASH
Reili Richardson, ASU