Washington's Kelsey Plum breaks All-time Pac-12 scoring record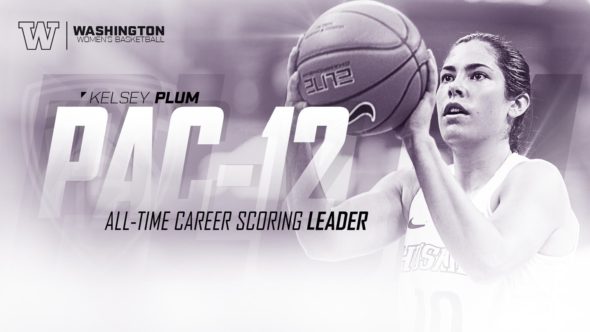 With over half the season left, Washington (10-1) senior guard Kelsey Plum broke the all-time Pac-12 career scoring record on Sunday, Dec. 11 in a 92-66 win against Boise State (8-1). The game was the first loss of the season for the visiting Broncos.
Entering the game, Plum needed just 22 points to tie the record set by Chiney Ogwumike (Stanford, 2011-2014) at 2,759. She scored 22 in the first half and earned the record-breaking point with a free throw at the 8:38 mark of the third quarter. She finished with 44 points overall, matching a season-high she first achieved in late November in a win vs. Seattle University.
Plum is averaging 31.0 points per game, leading the nation. She also led the country last season in total points scored (960) and was fourth in points per game (25.95). She also owns the Washington record for points scored in a game at 45, set in Nov. 2014 during her sophomore year.
During the game, the Poway, Calif. native also matched her career-high of nine rebounds. She dished out four assists and collected five steals. She was a perfect 9-of-9 from the foul line.
To add to her stat line, Plum knocked down five three-pointers to tie the career record at Washington. She now has 265 triples, tying Jazmine Davis' (2011-15) record.
Pac-12 Career Scoring Leaders
Kelsey Plum, Washington (2014-present) 2759
Chiney Ogwumike, Stanford (2011-14) 2737
Candice Wiggins, Stanford (2005-08) 2629
Nnemkadi Ogwumike, Stanford (2009-12) 2491
Lisa Leslie, Southern California (1991-94) 2414
Other Notables
Plum was the fastest in league history to reach 2,000-career points and is only the third player in conference history to score at least 2,500.
She has scored over 700 points in each of her three seasons and has already scored 341 points just 11 games into her final year.
She leads the nation in scoring and has had six 30-plus and two 40-plus games this season.
She already owns the record for career free throws made and will shatter the mark previously held by former Oregon State standout Tanja Kostic (1993-96, 608).
Plum is the only player in league history to make over 700 free throws in a career.