Passing the torch with net: Carolyn Peck and Dawn Staley build a tradition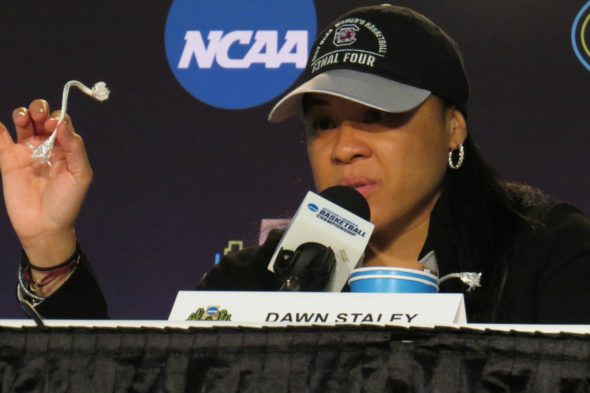 When Dawn Staley succeeds at something in the public eye, you can expect the following. She will always thank God followed by her staff, past and present players, family and supporters of women's basketball. Plus, one more group. She will give credit to those who paved the way for her.
Sunday night when she took the mic on the dais after coaching South Carolina to its first-ever national title, she wasted no time in honoring Carolyn Peck (Purdue 1999), the first African-American head coach to win the championship. As she spoke, she held up a piece of net.
"I do have to give a shout out, the other African-American woman that won a national championship is Carolyn Peck. Carolyn Peck, a few years ago, when she was commentating, she gave me a piece of her net, her national championship net. She told me to keep it. I've had it in my wallet for years. She said, "when you win your national championship, just return it.'"
"I'm going to have to pass a piece of my net on to somebody else so they can share and hopefully accomplish something as big as this. I do have to give a shout out to Carolyn Peck, and I will return her net, thankfully."
Both Peck and Staley, also give credit to pioneer C. Vivian Stringer when discussing their careers. The current coach of Rutgers is not just a heroine in the black community for her accomplishments in the sport, she is also admired for being the first person to coach three different teams in the Final Four (Cheyney 1982; Iowa 1993; Rutgers 2000 and 2007). Staley, like Peck, realizes that her accomplishments are due to her position standing on the shoulders of Stringers and others.
Last season, Syracuse coach Quentin Hillsman became only the second African-American male to coach in the Final Four following former Cheyney coach Winthrop "Windy" McGriff who coached in the 1984 national semifinals. McGriff took over the Cheyney program in September 1983, a few months after Stringer left to take the head coach position at Iowa.
Hillsman cited Stringer and Staley as black coaches who helped carve a path for him.
"When you look back, you think of C. Vivian Stringer, coach [John] Chaney. For me, I think of Ed Baldwin, who was the coach at Charlotte. He was a great mentor. You look at Carolyn Peck, who won a championship, Dawn Staley, even. There are a lot of coaches who are doing great things at a high level. I think it is only going to continue."
Staley is also dedicated to community service with a foundation that supports an after-school program in Philadelphia plus other efforts. These initiatives coupled with her coaching prowess make her players and countless others the recipients of the legacy that Stringer's generation started.
Gamecock junior guard Kaela Davis gave a clue as to how much South Carolina players look up to their coach and why they worked so hard to win a championship for her, as a way of giving thanks.
"What she does for the community, the school and of course the team is everything. It's hard to put into one sentence everything that she does. For us and the team it means a ton to be able to do this for her."
.@DawnStaley gives shoutout to 1st black female coach to win a title: @CarolynPeck Tells story of how Peck gave her a piece of Purdue net pic.twitter.com/CLs7bV8XKk

— Hoopfeed.com ? (@hoopfeed) April 3, 2017