South Carolina: Dawn Staley receives contract extension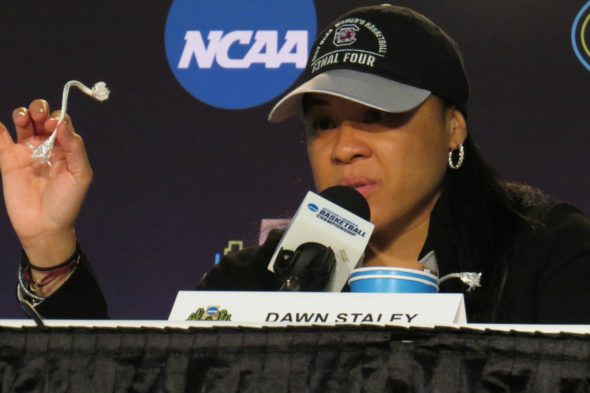 After coaching South Carolina to its first national championship, Dawn Staley received a four-year contract extension through 2024-25. This is the second extension for the heralded coach in the last two years.
In 2015, the USC Board of Trustees increased her base compensation by $200,000, from $350,000 to $550,000, giving Staley a $1.1 million salary for 2015-16. The 2015 raise came after Staley led the team to back-to-back SEC regular-season titles and earned two SEC Coach of the Year awards.
This past season, with  four straight SEC regular-season titles and three straight SEC Tournament trophies plus a national championship, USC wasted no time in renewing Staley's contract.
"This contract renewal is demonstrative of Dawn's role in building our women's basketball program as one of the best in the nation, one that is built for sustained success," said athletics director Ray Tanner. "Dawn's leadership role in athletics, as a national championship coach and the USA Basketball coach, continues to bring a welcomed spotlight to our university. I look forward to having Dawn serve as our women's basketball head coach for years to come."
Under the new contract Staley will earn $1.45 million next season, making her the highest paid women's basketball coach in the SEC. Connecticut head coach Geno Auriemma leads the pack in women's college basketball with $2.4 million in basic compensation and a five-year contract worth at least #13 million.
"I want to thank president Pastides, Ray Tanner and the Board of Trustees for their continued support of our coaches, our support staff and, most of all, our players," said Staley. "When I first came to Columbia, it was with one goal in mind – to build a program that everyone involved could be proud of, both on and off the court. If measured by our record in the gym and the quality of character displayed by the young women who have worn the Gamecock jersey these last nine years, I believe we've done that. And it wouldn't have happened without the commitment from the leadership of this great university, our incredible coaching staff and the support of our amazing fans. I'm proud of what we've built, proud of the women I've coached, proud to be part of the University of South Carolina – and proud that I will be for many years to come."
South Carolina has played in five of the last six NCAA Sweet Sixteens, including two Final Four seasons, and has won 90.1 percent of its games (128-14) over the last four seasons. In addition to those duties, Staley is the USA Basketball national team coach heading into the 2020 Summer Olympics in Tokyo. During the 2016 Olympics in Brazil, she served as an assistant coach under Auriemma.