Mystics' Ivory Latta's childrens book teaches kids lessons in lifelong morality and values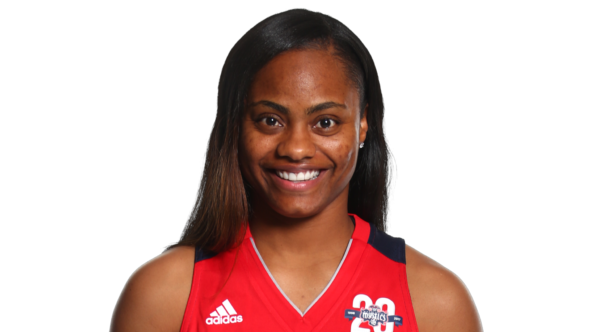 Whether her team the Washington Mystics fell or rose against their opponents, 11-year veteran guard Ivory Latta has always showed her passion for the game of basketball in her grit and determination. Her children's book Despite The Height
, illustrated by D.J. Coffman, gives her young fanbase a chance to see Latta's first steps into the competitor she is, recounting her childhood adversity.
Latta, standing at 5'6, never let her height hinder her amazing journey to the WNBA.
"Every team and organization that I've played for, I've always been the smallest person," said Latta about her diminutive stature. "When I look back on my life and my career in high school, college and the WNBA, despite being only 5'6, I've accomplished so much."
In her high school career, Latta became the leading scorer in her native state of South Carolina. She tallied 4,319 points in four years on the varsity squad. She went north of her hometown border, attending University of North Carolina, where she received ACC Rookie of the Year and 2006 Player of the Year under head coach Sylvia Hatchell. She was the 11th overall pick in the 2007 WNBA Draft heading to the Detroit Shock, making her one of the smallest women to play in the league. Since then, she's played for three teams, selected twice for the WNBA All-Star games (2013, 2014), and does community service, hosting basketball camps for children where she found her inspiration for the book.
"I've always wanted to do a children's book," commented Latta. "Having my own camps and being able to talk and relate to [the kids] means so much to me."
She refers to her protagonist in the book as "Baby Latta", a character who showcases grit and undying determination to overcome her obstacle – winning against her six siblings and father in basketball pickup games. Her biggest opponent is her brother Suron, who Baby Latta battles day in and day out on the court. In the end, she but always succumbs to his game.
Throughout the story, Baby Latta strengthens her talent through arduous work, committing to her goal to beat Suron. She trains day and night with her father, learning how to dribble and following his advice of "practice how you play." She also learns the technique of squaring her shoulders to the basket, the key that makes her a great long-range shooter.
Confident Baby Latta demands a rematch against her brother Suron who challenges her shooting skills. She takes from her practices and pointers, shoots the jump shot and wins.
Baby Latta's tireless work ethic molded her into the confident contender who stands before the WNBA today. The story gives children a look at what it means to believe in themselves and soar similar above circumstances.
"For me it's called Despite the Height but when I talk to the kids it's despite anything," Latta said on the overall theme. "Despite color, weight, whatever you have going on, you can accomplish anything. You never let anybody tell you that you can't."
The book is available via Amazon.com in hardcover or paperback.