2018 Naismith Girls' High School Watch List announced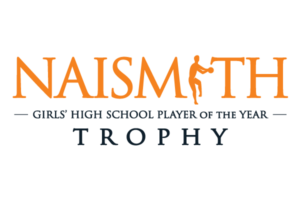 The Naismith Girls High School Player of the Year Trophy is presented annually to the high school basketball player who achieves great success on the court. The award is determined by a select group of basketball journalists from around the country who form the Naismith Trophy national high school voting academy. It was first presented in 1987.
A mid-season list will be released in January and a semifinal list in early February. Five finalists for the award will be revealed in late February. The Naismith Girls All-America Teams will be announced in early March and the winner of the trophy will be revealed a few days later.
Last
First
Class
Position
School
Hometown
State
College
Choice
Aquino
Andrea
SR
Post
Ribet Academy
Los Angeles
CA
Oregon State
Austin
Shakira
SR
Forward
Riverdale Baptist
Upper Marlboro
MD
Maryland
Balogun
Elizabeth
SR
Forward
Hamilton Heights Christian Academy
Chattanooga
TN
Georgia Tech
Benjamin
Da'Sha
SR
Guard
Lucy C. Laney
Augusta
GA
Alabama
Benton
Robyn
SR
Guard
Greater Atlanta Christian School
Conyers
GA
Auburn
Brown
Jenna
SR
Guard
The Lovett School
Marietta
GA
Stanford
Caldwell
Desiree
SR
Guard
Byron P. Steele II
San Antonio
TX
USC
Carr
Christianna
SR
Guard
Manhattan
Manhattan
KS
Kansas State
Chavez
Taylor
SR
Guard
Valley Vista
Surprise
AZ
Oregon
Collier
Charli
SR
Forward
Barbers Hill
Crosby
TX
Texas
Collins
Amira
SR
Post
Paul VI
Laplata
MD
Tennessee
Crooms
Janai
SR
Guard
St. Andrew's School
Barrington
RI
Ohio State
Cunane
Elissa
SR
Post
Northern Guilford
Summerfield
NC
NC State
DeCosta
Aquira
SR
Forward
St. Mary's
Sacramento
CA
Baylor
Dixon
Elizabeth
SR
Forward
Ridgeway
Germantown
TN
Georgia Tech
Edwards
Dre'una
SR
Forward
Liberty
Las Vegas
NV
Utah
Egbo
Queen
SR
Post
Travis
Houston
TX
Baylor
Forbes
McKenzie
SR
Wing
Folsom
Folsom
CA
California
Gilbert
Katlyn
SR
Guard
Heritage Christian School
Indianapolis
IN
Notre Dame
Green
Zarielle
SR
Guard
Duncanville
Dallas
TX
Tennessee
Green
Blair
SR
Wing
Harlan
Middlesboro
KY
Kentucky
Henderson
Destanni
SR
Guard
Fort Myers
Lehigh Acres
FL
South Carolina
Howard
Rhyne
SR
Guard
Bradley Central
Cleveland
TN
Kentucky
Hubbard
Kaila
SR
Wing
Holy Innocents' Episcopal School
Atlanta
GA
Georgia
Jefferson
Kiara
SR
Guard
West Campus
Sacramento
CA
UCLA
Joens
Ashley
SR
Guard
Iowa City
Iowa City
IA
Iowa State
Johnson
Donnetta
SR
Guard
Baldwin Senior
New York
NY
Georgia
Jones
Morgan
SR
Guard
Our Lacy of Mercy
Jonesboro
GA
Florida State
Jones
Shaniya
SR
Guard
Wesleyan Christian Academy
High Point
NC
Viriginia Tech
Lewis
Imani
SR
Forward
Life Center Academy
Burlington
NJ
Wisconsin
Mabrey
Dara
SR
Guard
Manasquan
Belmar
NJ
Virginia Tech
Massengill
Jazmine
SR
Guard
Hamilton Heights Christian Academy
Harrison
TN
Tennessee
Mikesell
Taylor
SR
Guard
Jackson
Massillon
OH
Maryland
Mitchell
Brooklyn
SR
Guard
Ursuline Academy
New Orleans
LA
Kansas
Myers
Valencia
SR
Post
Solon
Solon
OH
Florida State
Nelson-Ododa
Olivia
SR
Post
Winder-Barrow
Winder
GA
Undeclared
Niblack
Kari
SR
Forward
Wildwood
Wildwood
FL
West Virginia
Nicoletti
Izabela
SR
Guard
Neuse Baptist Christian School
Raleigh
NC
Florida State
Nixon
Jordan
SR
Guard
Mary Louis Academy
Bronx
NY
Notre Dame
Prince
Sedona
SR
Center
Liberty Hill
Liberty Hill
TX
Texas
Reese
Catherine
SR
Forward
Cypress Woods
Cypress
TX
Arizona
Robinson
Mykasa
SR
Guard
Paul G. Blazer
Ashland
KY
Louisville
Saxton
Victaria
SR
Forward
Model
Rome
GA
South Carolina
Scott-Grayson
Honesty
SR
Guard
Riverdale Baptist
Upper Marlboro
MD
Baylor
Smith
NaLyssa
SR
Forward
East Central
Converse
TX
Baylor
Smith
Ahlana
SR
Guard
Mallard Creek
Charlotte
NC
UCLA
Smith
Shalyse
SR
Wing
Bellarmine Prep
Tacoma
WA
Arizona
Veitenheimer
Tatum
SR
Guard
Windthorst
Windthorst
TX
Oklahoma
Williams
Christyn
SR
Guard
Central Arkansas Christian School
Little Rock
AR
UConn
Williams
Madison
SR
Wing
Trinity Valley School
Fort Worth
TX
Oklahoma