Led by DiJonai Carrington, Stanford bounces back from 0-2 start with 53-43 win over UC Riverside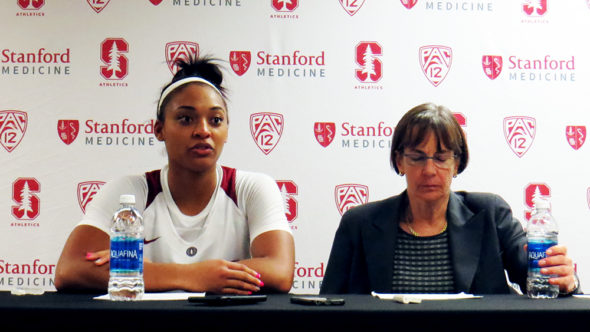 STANFORD, Calif. – After a hard road trip to start the season, Stanford (1-2) returned home and bounced back with a 53-43 win over UC Riverside (0-3). After losses against Ohio State and Connecticut on the road, the Cardinal were glad to be back home at Maples Pavilion.
While Stanford led for most of the game, the Highlanders had a promising start, hitting the first shot of the game with a jumper from senior guard Clemence Lefebvre. UC Riverside went back and forth with the Cardinal for several minutes before the home team began to take over with key contributions from junior guard Marta Sniezek and sophomore guard DiJonai Carrington. The duo led the Cardinal on a 14-2 run that gave their team a double-digit lead.
Stanford had a 20-6 lead after the first quarter and never looked back, leading by no less than 10 points for the rest of the game.
Carrington led the Cardinal with 13 points and a whopping 22 rebounds. It was her first career double-double. She is now tied for third in school history for most rebounds per game with teammate Kaylee Johnson (twice) and Mikaela Ruef. Chiney Ogwumike (24) and Nneka Ogwumike (23) are the only Cardinal players with more rebounds in a game.
"What a great job Di did on the glass," said head coach Tara VanDerveer postgame about Carrington's accomplishment.
Junior forward Alanna Smith added 11 points plus four rebounds. Senior forward Johnson contributed 8 points plus 10 rebounds.
Senior guard Michelle Curry paced UC Riverside with 15 points. She was the only Highlander in double figures.
The work continues for Stanford to bounce back from two losses.
"We're a really young group, we did some really nice things, obviously, we have a lot of work to do," said VanDerveer postgame.
Stanford stays home to host CSU Bakersfield on Sunday. UC Riverside remain on the road with a game at Fresno State the same day.