Naismith Memorial Basketball Hall of Fame and WBCA announce watch list candidates for inaugural 2018 Katrina McClain Award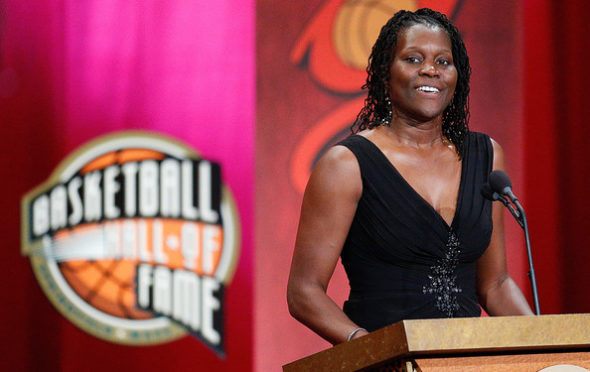 The Naismith Memorial Basketball Hall of Fame and the Women's Basketball Coaches Association 20 watch list candidates for the inaugural 2018 Katrina McClain Award. The honor recognizes the top power forwards in women's NCAA Division I college basketball and named after three-time Olympian, two-time All-American and 1987 National Player of the Year.
"Katrina McClain was the ultimate power forward, bringing extraordinary effort and a double-double nearly every time she set foot on the court," said John L. Doleva, President and CEO of the Basketball Hall of Fame. "From the University of Georgia to Team USA, Katrina made her mark on the game through heart and determination. The power forwards on this watch list display many of the characteristics that made Katrina such an outstanding player."
The selection committee includes media members, head coaches, sports information directors and Hall of Famers. The list will be narrowed to 10 by mid-February. In March, five finalists will be presented to McClain-Pittman and the Hall of Fame's selection committee. Fans will also have the opportunity to vote for their favorite finalist at www.hoophallawards.com. The winner of the award will be announced during ESPN2's telecast of the national semifinal games in the 2018 NCAA Women's Final Four in Columbus, Ohio on Friday, March 30.
"It is a great honor to be a part of the new women's positional awards," said Katrina McClain-Pittman, a 2012 inductee of the Naismith Memorial Basketball Hall of Fame. "The Basketball Hall of Fame honors both the men's and women's game at all levels and I'm proud to see the introduction of these awards recognizing the hard work of these deserving young women."
2018 Katrina McClain Award Candidates
| | |
| --- | --- |
| Lauren Cox | Baylor |
| Kristine Anigwe | California |
| Camille Zimmerman | Columbia |
| Napheesa Collier | Connecticut |
| Leaonna Odom | Duke |
| Haley Lorenzen | Florida |
| G'mrice Davis | Fordham |
| Caliya Robinson | Georgia |
| Ashunae Durant | Hofstra |
| Megan Gustafson | Iowa |
| Myisha Hines-Allen | Lousiville |
| Erykah Davenport | Miami |
| Alex Johnson | Middle Tennessee |
| Jordan Frericks | Missouri |
| Ruthy Hebard | Oregon |
| Michelle Nwokedi | Penn |
| Bella Alarie | Princeton |
| Mael Gilles | Rutgers |
| Maria Jesperson | South Florida |
| Jatarie White | Texas |