Oregon sweeps Player of the Week awards, Sabrina Ionescu and Satou Sabally earn honors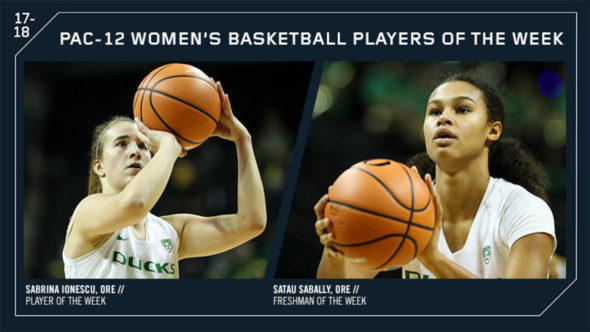 PLAYER OF THE WEEK: Sabrina Ionescu, SO, G, Oregon (Walnut Creek, Calif.)
2 GP, 22.0 ppg, 8.0 rpg, 15-26 (.577), 5-8 FT (.625), 18 ast, 3 stl, 0 blk
Tallied her fifth career triple-double in a dominating performance on Sunday against Drake, which is receiving votes in both top-25 polls.
Posted a career-high 29 points plus 10 rebounds and 11 assists while shooting 10-of-15 from the field and 6-of-8 from three.
With five career triple-doubles, Ionescu is just one away from the Pac-12 record (6) and two from the NCAA record (7).
In Friday's season-opener, Ionescu went 3-of-6 from three-point range and scored 15 points to go with six rebounds and seven assists.
46th weekly honor for Oregon all-time and second for Ionescu.
FRESHMAN OF THE WEEK: Satou Sabally, FR, F, Oregon (Berlin, Germany)
2 GP, 15.5 ppg, 3.0 rpg, 13-21 (.619), 2-3 FT (.667), 5 ast, 4 stl, 2 blk
5-of-10 from the field for 11 points in her debut against CSUN on Friday.
Followed up with 20 points on 8-of-11 shooting in Oregon's win over Drake on Sunday.
Also snagged four steals on vs, CSUN.
21st all-time weekly freshman honor for Oregon and first for Sabally.
ALSO NOMINATED:
Player of the Week: Marlee Kyles, ARIZ; Kianna Ibis, ASU; Kristine Anigwe, CAL; Mikayla Pivec, OSU; Jordin Canada, UCLA; Sadie Edwards, USC; Emily Potter, UTAH; Alexys Swedlund, WSU.
Freshman of the Week: Marlee Kyles, ARIZ; Alaysia Styles, CAL; Annika Jank, COLO; Taya Corosdale, OSU; Michaela Onyenwere, UCLA; Tori Williams, UTAH; Kierra Collier, WASH.