A dominating fast start helps Cal top Santa Clara, 79-41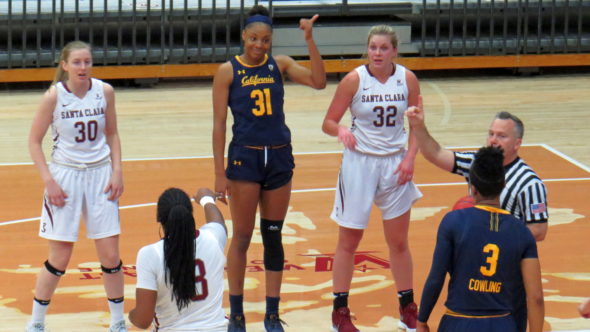 SANTA CLARA, Calif. – California (5-2) earned its second straight victory with a 79-41 rout of South Bay foe Santa Clara (2-5) Saturday afternoon. The Golden Bears came into the contest fresh from a high-octane offensive performance against Seattle on Thursday in which Cal shot a season-high 55.6 percent (35-63) from the field.
Against the West Coast Conference's Santa Clara, the Bears shot 52.7 percent (29-55). In the 34th meeting between the two teams, the Broncos were overmatched from the outset as Cal dominated offensively and stifled the Broncos with tenacious defense. Santa Clara's 41 points was a season-low for opponents of the Bears.
"I really challenged our players to do better defensively," said Cal head coach Lindsay Gottlieb, "and I think they owned that challenge. They were super competitive the whole game. The starters came out and took care of business and everyone else who came in fed off of it."
The Bears raced out to a 16-0 lead propelled by the three-point prowess of freshman guard Kianna Smith. She started the game scoring the first six points from back-to-back treys. Her teammate, senior forward Mikayla Cowling, followed up with a three-pointer of her own.
The fast start pleased Gottlieb: "It was so in flow and in rhythm today, when we needed to make shots, we made shots."
Santa Clara did not score until 3:31 in the first quarter with a layup from sophomore forward Tamia Braggs. Her basket was one-fourth of her team's scoring output in the first quarter. At the end of the first ten minutes, the Bears led the Broncos 26-8.
The offense of both teams suffered in the second quarter as Cal had only 12 and Santa Clara nine. The Bears went into the break with a 38-17 lead. Junior forward Kristin Anigwe led all scorers at the half with 10 points plus three rebounds.
Cal resumed the double-digit output per quarter in the third period with 26 points, the result of stellar shooting from outside and in the paint. Anigwe had seven points in the third quarter and the team was 73.3 percent (11-15) from the field.
While Anigwe led Cal offensively, the team's scoring was a balanced affair. After missing a few games this season due to injury, transfer Sara Anastasieska was in the mix heavily today, playing 16 minutes, scoring six points and pulling down four rebounds.
"We want her to be able to play her way back into a rhythm a little bit," said Gottlieb. "She gives us a different dynamic, she shoots the ball well, she's tough….I think she is someone that can give us valuable minutes."
Anigwe finished with 17 points and three rebounds. Sophomore forward Jaelyn Brown was also in double digits with 11 points.
Freshman forward Ashlyn Herlihy paced Santa Clara with 10 plus four rebounds. She was the only Bronco in double digits.
Cal plays another WCC team, San Diego, Dec. 7 in Berkeley. The Toreros fell to Seattle earlier today, 80-73. Their record now stands at 5-3.
Santa Clara remains home to host Menlo on Dec. 10.
By the Numbers