Oklahoma State gives Mississippi State their hardest battle yet, Bulldogs fight for 79-76 win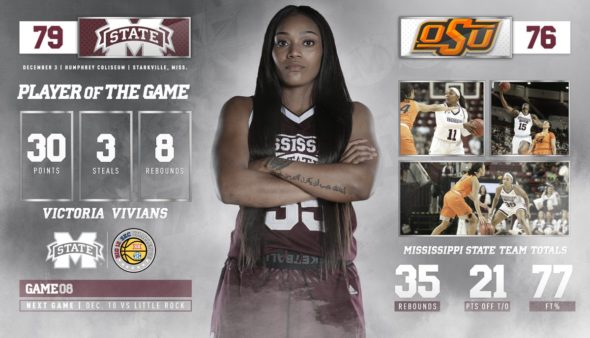 STARKVILLE, Miss. – In this week's SEC/Big 12 Challenge, the Mississippi State Bulldogs (8-0) etched out a 79-76 win against the Oklahoma State Cowgirls (6-2).
"A heck of a game," head coach Vic Schaefer said on the win, "Obviously they caused us a lot of problems. I knew going in they would be ready, and that's the way that program is. I was proud of our resilience today. They got our attention and I'm proud of our toughness."
With Oklahoma State being the statistical doppelgangers to Mississippi State, the Cowgirls easily became the toughest challenge for the Bulldogs yet. Mississippi State's fast paced game performance usually startles opponents, but Oklahoma State stayed in range and battled with the Bulldogs. Both teams demonstrated chemistry on both sides of the ball to begin the game.
"We just went into it going aggressive and being in attack mode," Oklahoma State head coach Jim Littell said. "When we get the advantage of the press break, we have to take advantage of that. We were fine offensively."
Mississippi State's fruitful four-guard lineup works if the guards get clean looks, move the ball well and open windows for the team. Oklahoma State hindered it, with a crowded man-to-man defense prevented it early on.
Oklahoma State started the game with center Kaylee Jensen giving the Cowgirls a chance early with great spacing, working against Bulldog center Teaira McCowan. Jensen showed diverse technique to get the Cowgirls on the board. Mississippi State still had no trouble converting points in the paint with 32 on the day.
"Our ability to drive the ball and get to the rim paid off for us tonight," Schaefer said. "Especially on a night where we're having trouble getting [McCowan] the ball."
McCowan finished the night with five turnovers, four personal fouls and 11 rebounds against Jensen. Reality set in for her, noting her performance against the Cowgirls a warning light for the upcoming SEC conference games in a few weeks.
"My free throws were bad. Five turnovers, bad," McCowan said, scrutinizing her final stat line. "When they double team me, I have to post harder. I [usually] kick it to the open person, but tonight I couldn't find them. I'll find them next game."
With an off night in the four position, Schaefer said he has to produce depth and control amongst the entire roster. Usual spot holders Chloe Bibby and Zion Campbell both came up scoreless. The bench contributed a mere four points on the night.
"I know we get worried about rotations and all, but at the end of the day, it takes five." Schaefer said.
Mississippi State's usual plague of team fouls began to affect them early on. Guard Jazzmun Holmes' aggressive approach on the ball spited her in the long run; she accumulated four fouls. Morgan William sat in the third quarter with four fouls. Mistakes on defense and turnovers, like traveling and three-second violations, stunted the Bulldogs on offense. The Bulldogs finished with their three-point percentage at 25 percent, going 3-of-12 beyond the arc.
The Cowgirls outrebounded the Bulldogs 39-35 in the game and only 11 of those were offensive and ball movement without turnovers. Coach Littell said his team needs some work on the turnover margins as Mississippi State scored 21 of their points from them.
"We have to get better handling the ball," Littell said. "This is definitely a game we can build from."
Vivians led the Bulldogs to victory with 30 points and going perfect at the line with seven free throws. The win against Oklahoma State marks her fourth 30-point game in her career and her season-high so far. Roshunda Johnson was in range, finishing with 18 points and five rebounds on her first matchup against her former team. Morgan William scored season high 15 points.
"The one that hurt us was Morgan William," Littell said. "She stepped up and hit open shots. We played the percentage a little bit, and you can get beat doing that."
Oklahoma State's Loryn Goodwin finished with a double-double, collecting 35 points and ten rebounds in her golden 40-minute performance. Goodwin hit urgent shots to keep the Cowgirls in range, scoring 15 of their 19 points in the final quarter.
"I took it off the bounce a couple of times and [Mississippi State] was either fouling or I was getting a layup," Goodwin said. "Overall, I think we proved a lot to ourselves today. We fought back every time. I'm proud of our team."
In the close win, Mississippi State improves to 8-0 in the season. They tack on another win for the SEC in the SEC/BIG 12 Challenge taking place this week. The Bulldogs look to December 10 at 2 p.m. CT, when they will face Little Rock at home with a broadcast on SECN+. Five games remain before conference play.