John R. Wooden Award 2017-18 Late Season Top 20 announced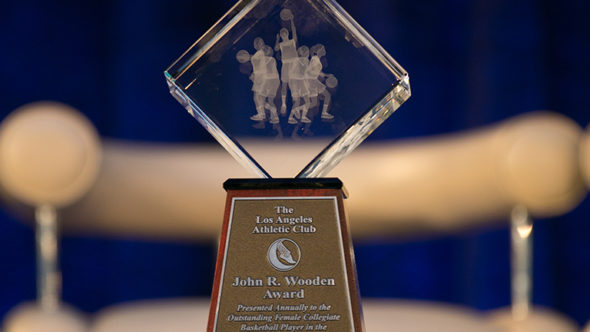 The Los Angeles Athletic Club announced the John R. Wooden Award late season top 20 list Monday. The list includes 20 student-athletes who are currently the front-runners for the award and the John R. Wooden Award All America Team.
Athletes that do not appear on the list are still eligible for the national ballot, which will be announced in early March and consist of 15 top players. Candidates must be full-time students and have a cumulative 2.00 grade point average since enrolling in their school.
John R. Wooden Award 2017-18 Late Season Top 20
| | | | | | |
| --- | --- | --- | --- | --- | --- |
| Name | School | Conference | Height | Class | Position |
| Kristine Anigwe | California | Pac-12 | 6-4 | Jr. | C/F |
| Ariel Atkins | Texas | Big 12 | 5-11 | Sr. | G |
| Kalani Brown | Baylor | Big 12 | 6-7 | Jr. | C |
| Lexie Brown | Duke | ACC | 5-9 | Sr. | G |
| Jordin Canada | UCLA | Pac-12 | 5-6 | Sr. | G |
| Napheesa Collier# | Connecticut | The American | 6-1 | Jr. | F |
| Sophie Cunningham | Missouri | SEC | 6-1 | Jr. | G |
| Asia Durr | Louisville | ACC | 5-10 | Jr. | G |
| Katelynn Flaherty | Michigan | Big Ten | 5-7 | Sr. | G |
| Megan Gustafson | Iowa | Big Ten | 6-3 | Jr. | F |
| Sabrina Ionescu | Oregon | Pac-12 | 5-10 | Soph. | G |
| Teaira McCowan | Mississippi State | SEC | 6-7 | Jr. | C |
| Kelsey Mitchell# | Ohio State | Big Ten | 5-8 | Sr. | G |
| Kia Nurse | Connecticut | The American | 6-0 | Sr. | G |
| Arike Ogunbowale | Notre Dame | ACC | 5-8 | Jr. | G |
| Katie Lou Samuelson# | Connecticut | The American | 6-3 | Jr. | G/F |
| Shakayla Thomas | Florida State | ACC | 5-11 | Sr. | F |
| Victoria Vivians | Mississippi State | SEC | 6-1 | Sr. | G |
| Gabby Williams | Connecticut | The American | 5-11 | Sr. | F |
| A'ja Wilson# | South Carolina | SEC | 6-5 | Sr. | F |
# indicates player selected as a 2016-17 Wooden Award All American