365 days and 23,273 miles later: Amanda Butler shares her amazing journey since getting fired from Florida
By Amanda Butler with Janna Magette, Ph.D.
I was fired.  One year ago today. From my alma mater.  On my birthday.  This means today is also my birthday.  I am thankful for another year, especially one so unpredictable and extraordinary.  This year, I have been learning how to be a parent while also filling legal pads with new offensive strategies.  I have relied on the beauty of time-tested relationships and delighted in new ones discovered along the way.  I find it impossible to be grateful and disappointed at the same time, so I choose gratitude through daily practice and prayer.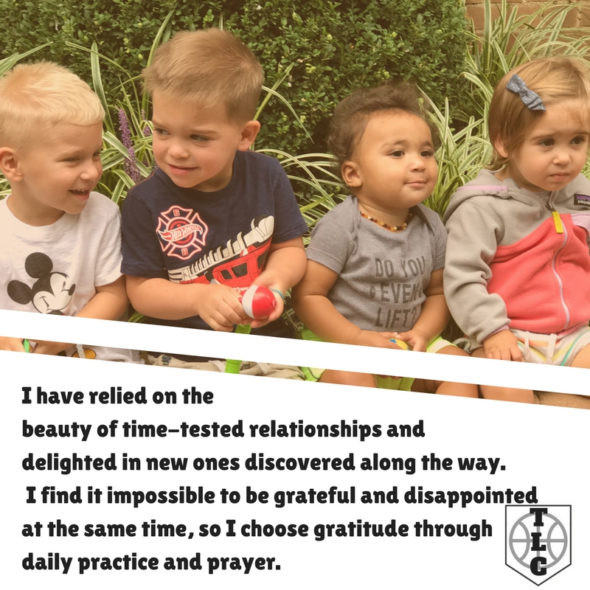 My release from Florida presented a unique circumstance for myself and my family. With two years left on my contract at Florida, I was given enormous flexibility on how and what I wanted to pursue next.  What a glorious opportunity.  What you are reading is the result of dozens of conversations, people opening their doors, and offering abundant advice.  My mentors, friends, and respected colleagues showed up for me and my family.
So here's the BIG IDEA … I wanted to seek growth and development in a different way. I wanted to see basketball through a different lens and I wanted to be in a learning environment that would push my limits of comfort and familiarity.  I love college basketball, but it is all I've ever known professionally.  I needed to branch out and the NBA offered a space where very talented and intelligent groups of people (not just coaches) devote a majority of their time to just basketball.  That's basically it. That was the BIG IDEA.  Here are a few notes from my NBA stops this year. Enjoy!
One essential truth continuously emerged this year:  relationships are the most powerful resource we have.  Nothing great was ever accomplished alone, right?  One relationship that opened my eyes to another level of player development is with Jay Hernandez, an assistant coach of the Orlando Magic.  Watching his offseason workouts, Jay's style of teaching was a great reminder of how important it is to be creative and to sweat with your athletes when possible.  I always came away with new drills and ideas to research from my "Magic" conversations.  Jay also made it possible for me to experience the NBA Summer League in Orlando.  It was fun and humbling to sit behind the benches of the teams and listen to their team terminology.  It was different for each team and consistent within each team. You learn very quickly that speaking "Thunder" is very different than speaking "Knick."  It really is like learning a new language for these new, young guys who had less than a week to prepare for the league.  I observed that simplicity and conciseness with language is crucial for a successful learning environment and that each coach was very efficient with his words.
I'm blessed to call Billy Donovan a friend after sharing a practice facility for many years.  My first visit to Oklahoma City was in August to attend the Thunder Immersion, a program hosted and run by the Thunder organization. General Manager Sam Presti set the tone for the event.  The insight he shared included the concept of embracing circumstances. Create a culture where you can win versus creating a culture of winning.  A culture of winning evolves because of results. A culture where you can win is an environment that is sustainable, durable, and trending upwards.  The process beats the result because culture lies in the action rather than the outcome.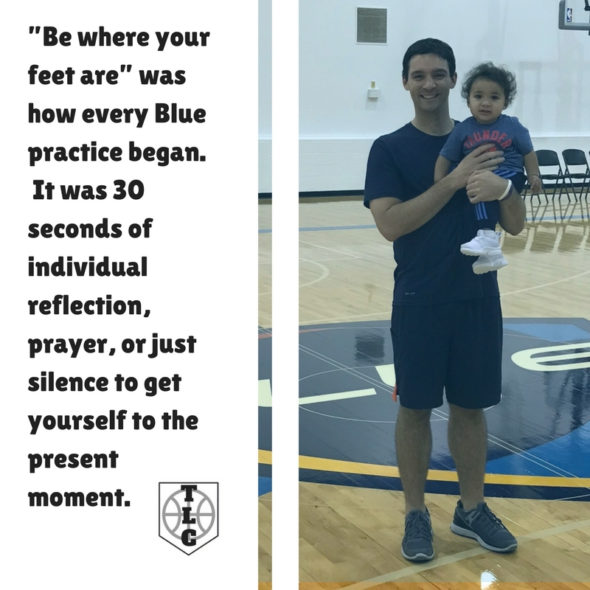 I never tire of listening to Billy. He spoke at length about three things his championship teams had in common: love, care and acceptance. The other timeless lesson that he emphasized was "adversity is the best thing to make you get better."  Amen!  Of all the messages that Billy could have shared with this diverse group of coaches, he chose to focus on concepts like compassion, empathy and combating the fear that is tied to expectations.
My next stop was later that month in Boston for the Celtics Coaches Retreat. Brad Stevens and I met several years earlier at an annual clinic held at Florida run by Billy's assistant coach, Larry Shyatt. Brad had presented at the clinic and, like everyone else there, I was taken by his grasp of situational basketball and the ways he poured into his Butler teams.  Brad and I remained in contact from time to time. So, once the BIG IDEA started to take shape, I emailed Brad to explain what I was hoping to do and see if he was willing to help or had any advice. True to form, he quickly responded and invited me to their August retreat AND extended an invitation to be at their preseason.  For as long as I wanted to be there!  Are you kidding me? I immediately committed before he changed his mind!  Preseason was a four-week experience which included voluntary workouts, training camp and a couple of preseason games. I was allowed to watch every practice, every workout, be in every planning meeting.  I was interested in his process, their teaching methods and the subtleties that made Brad such a unique coach at this level. I'm very grateful to Brad, Danny Ainge, and the entire organization for fully embracing my presence.
The retreat was two days of tremendous sharing and then it was back home to pack and prepare the family for the trip to Boston.  We went full Griswold and bought a luggage carrier to attach to the top of the car.  Definitely didn't see that one coming. We made a basketball stop in New Jersey to visit Princeton's winningest coach and a great friend, Courtney Banghart, and her precious family.  Courtney connected me with Craig Robinson, a father of one of her players, who happens to be in the front office of the New York Knicks.  That brief meeting led to an enlightening conversation from someone who had already tread part of the path that I was currently pursuing. Craig was in the college game, then spent time doing TV, and now is making a difference in the way that one NBA franchise approaches player development by addressing the whole person and not just his skills.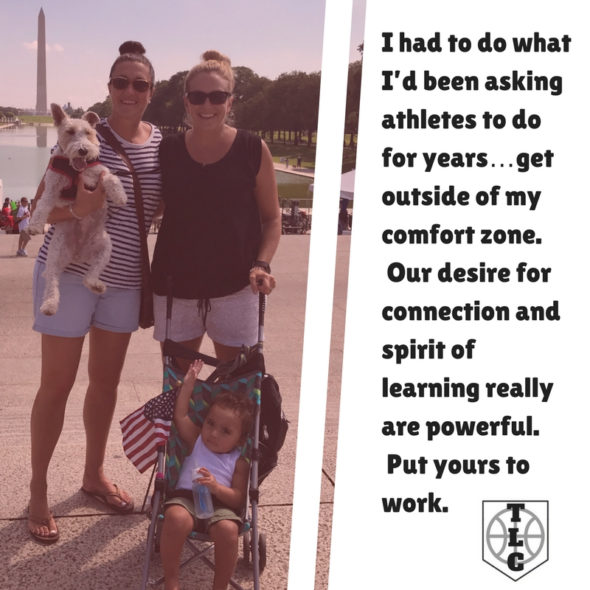 My time in Boston for training camp was somewhat documented in an earlier article run by the Boston Globe. (Thank you, Adam Himmelsbach.) The most concise way to explain the Celtics' success is authentic leadership.  Brad leads by being exactly who he is.  He doesn't change based on who is on the floor.  He knows himself well and operates through his strengths. He is kind, sincere and smart in the way that he communicates with staff and players yet never compromises the edge he needs to be an effective head coach.  Brad is an engaging teacher.  He embodies a partnership dynamic by valuing collaboration with his staff, relying on other departments to be experts in their areas, and emphasizing a shared vision between coaches and players. He acknowledges everyone's ideas in the room during staff meetings as well as makes everyone comfortable with speaking up to share their ideas.  It is not a new concept to consider the company you keep.  As a head coach, your decisions in choosing your staff is the most critical. Personally, Brad's staff served as a catalyst for even more self-reflection on how to build a complete staff.  Like the other organizations in this article, the Celtics staff are great people and elevate their head coach's chances of being the best in the NBA.
Brad spent time with so many visitors while I was there.  Their entire staff was always thanking the visiting coaches who came to their practices and making time for those that were seeking specific insight. Everyone was engaging and willing to entertain my questions. Brad deserves a lot of that credit for their vibe as does Danny Ainge, who leads with a self-confidence that is present yet never the main thing. I spent nearly four weeks in Boston.  The generosity of their time and ideas was nothing short of inspiring. It made me realize that as much as I think that I share with others, it isn't enough.
Our time in Boston came to a close and we hit the road to Oklahoma City with a pit stop in Nashville.  Family time in my home state is sacred and restorative. Oklahoma City was a BOGO (buy one, get one) experience.  The NBA season was already underway so I missed Billy's training camp; however, I did get to connect with him and his coaches at different times. The majority of my time in OKC was spent with Mark Daigneault, the head coach of the OKC Blue (Thunder's G League affiliate) and his staff.  Similar to Brad, Mark allowed me into staff meetings, film sessions, and practices.  I got to peek behind the curtain of what the G League is all about … player development!  Most G League teams emphasize getting guys ready for the NBA and teaching them what it means to be a pro rather than actual wins and losses.  Mark and his staff's servant-coach approach to the Blue's players was a great reminder about what coaching should be about.  It's about being part of something bigger than yourself.  I admire Mark for his innovative ways of seeing the game and the best in his guys.  The most powerful takeaway was the way they focused at the beginning of each day.  "Be where your feet are" was how every Blue practice began. It was 30 seconds of individual reflection, prayer or just silence to get yourself to the present moment.  I loved that!  Mark, too, was very intentional with his messaging.  He is a master communicator. Not only with words, but also videos and the analytics that are generated daily.  His innovation was an extension of his authenticity as well.  OKC was a jam-packed, note-taking ride.
Our next extended destination was a three-game home stretch with the Detroit Pistons. My connection to Detroit was through the Pistons' head video coordinator, TJ Saint.  I had met TJ at the Boston Coaches Retreat back in August.  TJ extended an invitation to visit with Coach Stan Van Gundy's approval. Coach Van Gundy's thoroughness was overwhelming.  The sheer amount of information in his brain was incredible.  It was like a database.  For as much as he knew, he was extremely trusting of his entire staff regardless of position or title and sought their opinions.  The bottom line was creating the best plan for his team and he didn't care where suggestions came from.  Detroit was a real-life example of a leader setting the necessary cultural and behavioral norms for team success.  It was neat to see someone with so much basketball experience under his belt do such a good job of listening.  His style of communication was very true to who he is. I really liked the Motor City and the special characteristics that a player has to possess to be a Piston.
The rest of my time has been spent a variety of places including the unique opportunity to work for SEC Network and ESPN.  My time as an analyst granted yet another angle from which to view the game and it's been a privilege to be a voice for women's basketball.  Thank you ESPN and Pat Lowery!
Our travel has slowed down a bit.  The main reason being our one-year-old started preschool and I want to make as many drop-offs and pick-ups as possible.  Even as I write this, I'm not sure what my next opportunity will be. It's March.  That means conference tournaments.  That means teams are in and teams are out.  That means firings and hirings.  Hopefully, my experience serves as encouragement to continue your pursuit regardless of your circumstances.  The future is unpredictable.
It's our responsibility to prepare our response. This year was a great teacher for me. It offered a collection of new strategies and relationships, affirmed some established elements of my craft, and left me confident that I'm ready for whatever is next.
In closing, here are my favorite big ideas from the BIG IDEA:
Fundamentals are fundamentals.  With all of the advanced analytics and money spent on sports science teams, spending deliberate time cultivating the basic skills of the game was emphasized everywhere.  The best of the best in the NBA talk daily about being better passers, movement without the ball, and purposeful help-side defense. So, keep doing that y'all!
Team issues and adversity exist everywhere. There are continuing efforts at all levels to build skills to promote better life choices, communication, chemistry and consistency.  So (and I'll remind myself of this when I find myself coaching again) stop whining about what's wrong with your team. Instead, improve your ability to teach and promote the skills your team needs to be a better unit.  Teach unselfishness, teach compassion.  Model empathy.  You will be better if you do.
After 12 years as a head coach, it was so beneficial to attend practices and meetings just to observe, just to listen, take notes and ask impactful questions.  We are often so busy generating solutions, finding the right motivational words, getting the top 25 recruits on campus, or honing perfect strategy for our teams that we don't take enough time to be still and listen.  I know I will be a better listener moving forward. It's a skill that requires deliberate attention. I also hope to be better at choosing the right questions to ask which is the perfect complimentary action to fine-tuned listening.
There is no other form of influence more powerful than authentic leadership.  I witnessed this at every stop in my journey.  Coaches exhibiting high levels of self-awareness get the most out of themselves and those who surround them.  Knowing yourself is about knowing your story so spend some time with yourself: self-evaluate (measure your methods) and self-reflect (measure your motivations).
Choose a group of people that you openly trust as collaborators and workers. I loved the spirit of partnership in the NBA.   Monocratic leadership is outdated.  Engaging players without compromising discipline is the model of the future.
You may think that you don't have the connections to do what I've just described. I felt exactly the same way until I started sending emails to strangers and asking friends for help. I had to do what I'd been asking athletes to do for years … get outside of my comfort zone.  Our desire for connection and spirit of learning really are powerful.  Put yours to work.
Throughout the year, I constantly found myself in a room previously inhabited by only men.  It was something I didn't really think about until I began writing this article and my reflection is this:  as women, we cannot be afraid to make the ask and we must fully believe we deserve to be in the room.  Do not let yourself off the hook by assuming the answer will be no. This past year, my presence was welcomed and respected as both a coach and a woman.
Thank you for reading.  I had fun sharing my journey with you. I am better personally and professionally because of it.  If you ever find yourself on a path less travelled, I hope you will share your notes with me too.
A Mount Juliet, Tennessee, native, Butler has spent her life in the south.  After the point guard graduated from the University of Florida (1995), she coached at her alma (1995-96), became an assistant under Susie Gardner at Austin Peay State University (1996-2001), an assistant and associate head coach under Katie Meier at UNC-Charlotte (2001-2005), then head coach at UNC Charlotte (2005-07), and head coach at the University of Florida (2007-2017).  Twitter and Instagram:  @CoachAB34
Janna Magette, Ph.D,. is founder and CEO of GoFollowLead LLC and an adjunct professor at the University of Florida. A former Davidson College student-athlete, her work includes leadership development, team building, and personality assessments. To learn more, visit www.gofollowlead.com.  Twitter and Instagram: @JannaMagette
TIMELINE

March 17th & 18th
NCAA First Round Games:  Quinnipiac vs. Marquette, FGCU vs. Miami

April 20th
Coaching U in Fort Worth

May 3rd
Orlando Magic Workouts

June 6th
Spoke with UNC-Asheville's Assistant Coaches

First week of July
NBA Summer League in Orlando

August 18th
The Thunder Immersion Clinic (Guest Speaker)

August 31st
Boston Celtics Coaches Retreat

September 14th
Road Trip #1 (Tampa to Boston)

September 20th to October 15th
Boston Celtics Training Camp and Games

September 25th
Northeastern's Men Practice

October 5th
Bentley Women's Practice

October 12th
UCONN Women's Practice

October 16th
Road Trip #2 (Boston to Nashville to Oklahoma City)

October 18th
Vanderbilt Women's Practice

October 20th
Belmont Men's Practice and Lunch with Coach Byrd

October 22nd to November 6th
Oklahoma City Blue and Thunder

November 6th
Road Trip #3 (Oklahoma City to Huntsville to Tampa)

November 8th & 9th
University of Alabama Huntsville Men's Basketball

The Week of November 20th
Nehemiah's 1st Birthday, Family Thanksgiving

November 27th
Charlotte Hornets and Davidson Men's Practices

November 28th
Charlotte Hornets Practice

December 2nd
Iowa State at Vanderbilt Women's Game (TV)

December 6th
Xavier at Bowling Green Women's Game

December 7th
Marquette at Michigan Women's Game

December 8th to 12th
Detroit Pistons
Christmas at Home with Family

December 28th
Davidson at UCF Women's Game
Detroit Pistons at Orlando Magic

December 29th
Orlando Magic Practice

January 2nd to 7th
Texas Tech Men's and Women's Basketball

January 18th and 25th
SEC Network Studio

January 23rd
Sacramento Kings at Orlando Magic

January 27th
Dayton at Davidson Women's Game

January 28th
Alabama at Auburn Women's Game (TV)

February 1st
SEC Network Studio

February 19th
Auburn at Alabama Women's Game (TV)

March 2nd, 3rd, & 4th
SEC Women's Conference Tournament (TV)