Final Four matchups set; No. 1 seeds ready to battle for the championship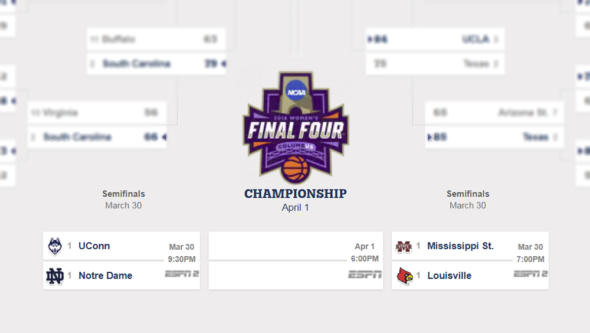 7 p.m., Semifinal #1: Louisville vs. Mississippi State, ESPN2/ESPN App
9:30 p.m., Semifinal #2: Notre Dame vs. Connecticut, ESPN2/ESPN App
The 2018 Final Four features all No. 1 seeds. The last time all top seeds made it to the semifinals was in 2015 (UConn, Notre Dame, Maryland and South Carolina). Play begins Friday, March 30 in Columbus, Ohio at Nationwide Arena.
Louisville (36-2)
No. 1 seed Louisville was the first team to punch a ticket to the Final Four as the Cardinals soundly defeated No. 6 seed Oregon State 76-43 Sunday afternoon in the Lexington Regional.
With four players in double figures led by the region's Most Outstanding Player Asia Durr (18 points, five rebounds) and Myisha Hines-Allen (16 points), Louisville coasted to the Final Four in front of 6,268 fans. Many of those fans drove to Lexington from Louisville, a fact not lost on Cardinals head coach Jeff Walz.
"Our fans are wonderful," Walz said. To get close to 6,200 to come down and be a part of this is amazing. Our players — I've said it all along, I mean, we're forever grateful to our fan base. We don't ever take them for granted. That's why we sign autographs at every home game win or lose. As I always say, it's easy after you win, it's not much fun after you lose. But it was an awesome venue tonight, today. I mean, they were loud, they were excited, and it was just — it's a tribute to the fan base that we have, not just for women's basketball but the University of Louisville in general."
The last time the Cardinals reached the Final Four was in 2013 when the program was in the old Big East.
Louisville will face Mississippi State at 7 p.m. ET on Friday in the first game of the semifinals.
Mississippi State (36-1)
The Mississippi State Bulldogs, the No. 1 seed in the Kansas City Region, return to the Final Four for the second consecutive season after taking down a talented Pac-12 team, No. 3 seed UCLA, 89-73. The Bulldogs earned the win with a strong second quarter performance outscoring the Bruins 19-9 to head into halftime with a 16-point lead.
Victoria Vivians paced Mississippi State with 24 points while center Teaira McCowan finished with her 27th double-double adding 23 points and 21 rebounds. Morgan William contributed 17 points, while Roshunda Johnson scored 12 points. Vivians and McCowan were named Co-Most Outstanding Players of the regional.
"These kids have worked their hearts out, and they deserve it," MSU head coach Vic Shaefer said postgame. "I think they will be on a mission. We talked about UCLA being on a mission today, and I was proud of what Victoria said the other day, our vision, our focus, our intensity hasn't changed since last year. We're even more intent on trying to do what we didn't get done a year ago."
UConn (36-0)
Undefeated UConn, the overall No. 1 seed in the bracket, had no trouble eliminating No. 2 seed South Carolina 94-65 Monday night in the Albany Region. After knocking off last year's national champions, the Huskies head to their 11th straight Final Four.
Gabby Williams, the region's Most Outstanding Player, led UConn with 23 points plus five rebounds and five assists.
UConn is eager to rebound from last year's defeat in the semifinals to Mississippi State when MSU senior Morgan William made an overtime buzzer-beater that gave her team the win.
"For us, it's an opportunity to go back to where we felt like we didn't really give our best effort, UConn head coach Geno Auriemma said after beating South Carolina. "You know, we lost to a really good team, but it happened in a way that was really, really disappointing, and I know that we were really anxious to go back and put ourselves in that same situation and see how much we've changed since last year."
The Huskies will face Notre Dame Friday in the second semifinal of the day at 9:30 p.m. ET. UConn is 35-11 all-time vs. Notre Dame. The Huskies are 3-3 vs. the Fighting Irish in the NCAA Tournament.
Notre Dame (33-3)
After a two-year hiatus, the No. 1-seeded Fighting Irish are back in the Final Four after defeating No. 2 Oregon 84-74 in the last Elite Eight game before the semifinals. Led by Kathryn Westbeld, who played on an injured ankle yet scored 20 points, the Irish held off the Ducks who tried to mount a comeback in the second half.
Notre Dame endured a few hard losses and overcame injuries to key players this season to reach the Final Four.
"This one's just so rewarding because I think even though we're a No. 1 seed, a little unexpected," Notre Dame head coach Muffet McGraw said. "I think at the beginning of the year, we got blown out at Louisville. We were down 23 to Tennessee. We had a stretch in the middle there that determined our season. We battled back from it. That's where you saw their character."
Fighting Irish guard Arike Ogunbowale earned the region's Most Outstanding Player honor. She had 19 points plus six rebounds against Oregon.