From Letdowns to Lexington: Stanford's Trajectory to the Sweet 16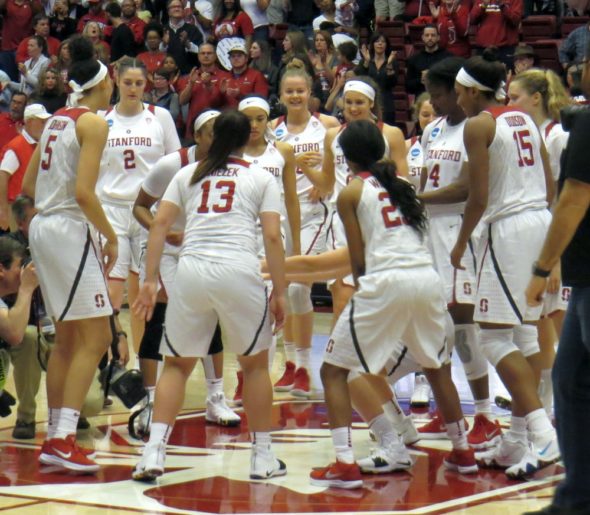 Social media recap || Postgame Video: FGCU, Stanford
STANFORD, Calif. – Even if No. 4 seed Stanford does not advance any further in the NCAA tournament after defeating No. 12 seed FGCU Monday night in the round of 32 at Maples Pavilion, the Cardinal can end their season with a sense of accomplishment.
Given their rocky start to the season, the players and coaches can revel in the fact that they overcame some difficult times before righting the ship and earning a trip to the program's eleventh consecutive Sweet 16.
"If you look at our record from the beginning, I don't think anyone expected us to get this far," Stanford senior forward Kaylee Johnson said. "But I've always expected it. This is the standard that Stanford sets. Something that we always reminded each other at the beginning of the season is, yeah, our record isn't good, but it's a long season. We want to have what we need in March and that's finally come together for us."
After starting the season with two straight losses, first to then top-ten ranked Ohio State and then to No. 1 UConn, Stanford managed to get through the rest of November with only one more defeat, a loss to Ohio State again as the teams met in the Play4Kay Showcase in Las Vegas.
In a coincidence, three of the teams in that Vegas tournament were in this past weekend's subregional at Maples Pavilion (FGCU, Gonzaga and Stanford). That very first contest against Ohio State happened due to a scheduling change as the Cardinal were initially set to face the Louisville Cardinals, the team Stanford will play in the Sweet Sixteen in Lexington, KY.
"We were supposed to play them [Louisville] in the Columbus tournament," Stanford head coach Tara VanDerveer said. "But the game that they scheduled was at 6 p.m. on a Sunday and we said we wouldn't play at 6 p.m. because we wouldn't get home in time for school the next day."
Tough times struck again in December when the Cardinal began the month with a road loss at top-five squad Baylor. Western Illinois, who had never defeated a ranked opponent, came to Maples Pavilion later that month. The unranked Leathernecks, who did not make the NCAA tournament, stunned Stanford, 71-64, on a Monday night in winter.
Things did not get any easier after that stinging loss. Tennessee came to town three days later and handed Stanford, still holding on in the national polls, yet another home loss, an 83-71 setback that had fans questioning whether the Cardinal deserved to be in the top 25. In fact, Stanford dropped out of the national polls the following week and did not make a steady re-appearance in the rankings until after the New Year.
VanDerveer referenced these losses Monday night when reviewing her team's improvement over the past several months.
"We didn't start out trying to play Connecticut and trying to play Baylor. It just happened that way. It really was — I think almost any other team would be throwing each other under the bus, and I'm so proud of the leadership from Britt [McPhee] and Kaylee [Johnson] and the upperclassmen to just keep playing hard."
"You know, there were games that I think we had opportunities to win," VanDerveer continued. "We went into overtime with Ohio State the second time. It was a very close game with Western Illinois. We didn't have a chance against Baylor. They really took it to us. Connecticut really took it to us. I think there were some other opportunities that we had. Tennessee, we had an opportunity against them. And look where we are now, and Tennessee is not in the Sweet 16. Ohio State is not in the Sweet 16. I think that that is a real cohesiveness with this group and just improvement, people really working hard every day, so I'm really proud of everyone."
With the onset of Pac-12 play, things began to look brighter for Stanford. Leading scorer, senior guard Brittany McPhee, was back full-time after sitting out much of the first part of the season due to a right foot injury. The Cardinal finished conference play with just three losses, all on the road, before heading to the Pac-12 tournament and advancing to the championship game before falling to Oregon.
Entering the NCAA tournament, Stanford had a 22-10 record, the worst since the Cardinal was 18-10 in 2001. The star of the team's win over Gonzaga to start the tournament late Saturday afternoon was freshman guard Kiana Williams who finished with 21 points.
However, it was the upperclassmen who took over and led their team to victory over FGCU. Junior forward Alanna Smith had a double-double of 28 points and 12 rebounds while McPhee had 17 points and nine rebounds. The youngsters were still in the mix though against the Eagles. Sophomore guard DiJonai Carrington added 14 points plus five rebounds and Williams scored 12.
"Early on we had injuries and tough losses, but we really never let those get to us or our record get to us," said Carrington about her team. "We just focused on what we could take from those games and what the positives were and tried to find the blessings in disguise. I think we were able to transform those things into positives and to help propel us into the rest of the season."
Stanford managed to stop the nation's leading three-point shooting team in their tracks with stellar defense, strong inside play as well as a plethora of shots from three-point land themselves. And while FGCU broke the NCAA record for made treys during their matchup against Stanford, it was bittersweet since they were eliminated from the tourney.
"I thought Stanford was excellent today," FGCU head coach Karl Smesko said in the postgame presser. "Their offensive ball movement and efficiency and execution was outstanding. It was better than our defense today."
Stanford never trailed against the Eagles and the game was only tied once, at 6:32 in the first quarter. The Cardinal led the Eagles in several crucial statistical categories: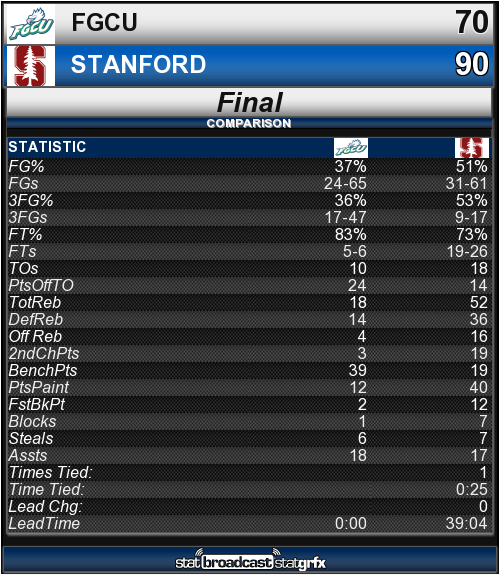 "They have got a lot of really talented players in there playing really well right now," Smesko said about the game. "You know, we needed a day where instead of 9-of-17 from three, they were 4-of-17 from three, and we didn't get it. When we gave up an open shot or gave up something from three, they shot an amazing percentage for the second game in a row. So, they really got things rolling right now."
Stanford players have midterms, travel and practice before facing Louisville on Friday, March 23. Louisville is the top-seed in the Lexington region and will not have to travel far from their home base to the Sweet 16. They made it to Lexington by defeating No. 16 Boise State and No. 8 Marquette.
Stanford joins three other Pac-12 teams in the Sweet 16: Oregon, Oregon State and UCLA. At least four of the conference's teams have made it this far in the tourney for the third consecutive year. The Pac-12 owns the most wins (38) and the best winning percentage (.731) in the NCAA tournament over the last three years. That span includes three different Final Four teams, 13 Sweet 16 appearances (including the four this week) and five Elite Eight teams.
FGCU Postgame
Live from Maples! Lehhhhgo! @FGCU_WBB vs. @StanfordWBB #ncaaw pic.twitter.com/nSAtA4G1o0

— Hoopfeed.com ? (@hoopfeed) March 20, 2018
The stars are out tonight.#GoStanford pic.twitter.com/Xo2uzhVKfF

— Stanford Women's Basketball (@StanfordWBB) March 20, 2018
Stanford starters:

Marta Sniezek
Kiana Williams
Brittany McPhee
Alanna Smith
Kaylee Johnson

Nothing out of the ordinary here.

— Kevin Danna (@kevo408) March 20, 2018
FGCU starters:

Erica Nelson
Taylor Gradinjan
Nasrin Ulel
Rosemarie Julien
Tytionia Adderly

1st-team all-ASUNer China Dow will come off the bench, as is customary for the Eagles.

— Kevin Danna (@kevo408) March 20, 2018
Stanford off to a quick start vs. FGCU, 7-0, 2 jumpers from Alanna Smith, a layup and a FT from Kaylee Johnson. #ncaaw 8:23 in 1Q

— Hoopfeed.com ? (@hoopfeed) March 20, 2018
6:56 Q1 | Back-to-back triples for FGCU precede an Alanna jumper.

Stanford 9 – FGCU 6#GoStanford

— Stanford Women's Basketball (@StanfordWBB) March 20, 2018
BANG BANG BANG! Three straight 3-pointers from @FGCU_WBB has knotted this game at 9 apiece with 6:16 left in the opening quarter. #WingsUp #RainingThrees ???3??'s

— FGCU Women's Basketball (@FGCU_WBB) March 20, 2018
FGCU comes out of the timeout and makes 3 treys, game is tied 9 all. FGCU 3pt shots all from different players. 6:16 in 1Q. Stanford's Marta Sniezek at the line for 2. #ncaaw

— Hoopfeed.com ? (@hoopfeed) March 20, 2018
Halfway thru 1Q and Stanford leads 17-12, all of FGCU's made shots have come from treys. #ncaaw

— Hoopfeed.com ? (@hoopfeed) March 20, 2018
Stanford getting in a few treys of their own vs. FGCU, plus some inside work, now leading by double digits, 29-17, 1:35 left in 1Q.

— Hoopfeed.com ? (@hoopfeed) March 20, 2018
End of 1Q: @StanfordWBB 33, FGCU 17 #ncaaw Stanford ends the quarter on an 8-0 run.

— Hoopfeed.com ? (@hoopfeed) March 20, 2018
Stanford's 33 points the most in any quarter this season. Previous high was 32 in the third at San Francisco on Nov. 29.#GoStanford

— Stanford Women's Basketball (@StanfordWBB) March 20, 2018
Alanna came in needing 32 points for 1,000 in her career and is well on her way. 13 points on 6-of-6 shooting in the first.#GoStanford pic.twitter.com/tzcZUhKleB

— Stanford Women's Basketball (@StanfordWBB) March 20, 2018
FGCU is 5-for-14 from 3-point range in the opening quarter, but Stanford is shooting 12-for-17 from the field. Eagles trail by 16 after Stanford closed the quarter on a 24-8 run. #WingsUp #RainingThrees ???3??'s

— FGCU Women's Basketball (@FGCU_WBB) March 20, 2018
A trey from Lisa Zderadicka ends the FGCU drought, they hadn't scored since 2:33 in 1Q. Zderadicka's trey came at 7:10 in 2Q, she followed up with another before Brittany McPhee answers with a layup for Stanford. 37-23 Cardinal at 5:15 in 2Q #ncaaw

— Hoopfeed.com ? (@hoopfeed) March 20, 2018
Stanford leads 37-23 w/ 4:52 to go 2nd qtr. Cardinal has cool off a bit- down to 58%fg from 71%. Lisa Zderadicka (pronounced Stare-uh-ditch-kuh) is 3-3 3fg for 9 pts to lead FGCU. Alanna Smith has 15

— Kevin Danna (@kevo408) March 20, 2018
We've reached the second quarter media timeout. @FGCU_WBB has trimmed the deficit to 14 and held Stanford to just 4 points through 5 + minutes in the 2nd quarter. #WingsUp #RainingThrees ???3??'s

— FGCU Women's Basketball (@FGCU_WBB) March 20, 2018
4:52 Q2 | Cardinal has cooled off, but still up double-digits. Stanford shot 70.6% in the opening quarter and is 2-of-7 this period (.286).

Stanford 37 – FGCU 23#GoStanford

— Stanford Women's Basketball (@StanfordWBB) March 20, 2018
FGCU's China Dow is hobbling on the court, not putting pressure on her left foot. She goes out at 2:33 in 2Q while Stanford leads 40-30 #ncaaw

— Hoopfeed.com ? (@hoopfeed) March 20, 2018
FGCU on an 8-0 run to get within 5, 40-35 Stanford at 1:12 in 2Q. FGCU: Two treys and 2 free throws from Nasrin Ulel. #ncaaw

— Hoopfeed.com ? (@hoopfeed) March 20, 2018
FGCU's China Dow back in the game as 2Q winds down. Whew! Glad she's OK! #ncaaw

— Hoopfeed.com ? (@hoopfeed) March 20, 2018
Halftime: @StanfordWBB 43, FGCU 35 #ncaaw pic.twitter.com/sqNVlj5f6v

— Hoopfeed.com ? (@hoopfeed) March 20, 2018
Stanford begins 3Q on a 9-3 run vs. FGCU, leads 52-38 at 7:01 #ncaaw

— Hoopfeed.com ? (@hoopfeed) March 20, 2018
RECORD BREAKERS! With that last 3 from @ThaTdOwKiD_24, @FGCU_WBB now holds the @ncaawbb single-season record for most three-pointers with 425! Congrats, Eagles!#ASUNWBB #RainingThrees #WingsUp pic.twitter.com/fpc8M8G3Bb

— #ASUNWBB ? (@ASUNWBB) March 20, 2018
China Dow looks like she might begin to heat up for the Eagles vs. the Cardinal. She has back-to-back treys but Stanford guard Marta Sniezek is like "I can do that too!" Stanford 55, FGCU 43, 4:55 left in 3Q. #ncaaw

— Hoopfeed.com ? (@hoopfeed) March 20, 2018
Stanford leading FGCU 66-48 as secs wind down in 3Q, looking to go in to 4Q like… pic.twitter.com/ghrNKeCoRl

— Hoopfeed.com ? (@hoopfeed) March 20, 2018
End of 3Q: Stanford 66, FGCU 48 #ncaaw pic.twitter.com/8mnevf9JjV

— Hoopfeed.com ? (@hoopfeed) March 20, 2018
China Dow on fire for FGCU in 4Q, 4 treys so far for her in the quarter plus another from teammate Taylor Gradinjan, Stanford still knocking down treys as well though. 4:09 left in the game. Stanford 82, FGCU 65 #ncaaw

— Hoopfeed.com ? (@hoopfeed) March 20, 2018
Kaylee Johnson with a block for Stanford, doing a good job helping to keep FGCU from scoring in the paint. Points in the paint: Stanford 36, FGCU 12. Stanford leading 86-70 with 1:49 left in 4Q. #ncaaw

— Hoopfeed.com ? (@hoopfeed) March 20, 2018
Stanford's DiJonai Carrington @DijonaiVictoria showing out late in the game with a beautiful reverse layup. 1:01 and the subs come in for the starters! #ncaaw

— Hoopfeed.com ? (@hoopfeed) March 20, 2018
UC San Diego head coach Heidi VanDerveer sitting behind her big sis, clapping as time winds down in Maples #ncaaw

— Hoopfeed.com ? (@hoopfeed) March 20, 2018
Final: @StanfordWBB 90, FGCU 70 #ncaaw Stanford heads to Lexington for the Sweet 16 for the 11th season in a row! The Cardinal had a really rough start to the season but improved so much as time went by. Lesson: Never, ever underestimate Tara VanDerveer, lol. pic.twitter.com/qyzZieIMGm

— Hoopfeed.com ? (@hoopfeed) March 20, 2018
China Dow led FGCU with 23 points. She was scoreless in the first half but turned it up in the 2nd half. She said Stanford's height "was a problem." Added: "I wish I could have grown overnight." She's a special player (and funny). #ncaaw pic.twitter.com/gsJcFx42QL

— Hoopfeed.com ? (@hoopfeed) March 20, 2018
,@StanfordWBB coach Tara VanDerveer on going to Lexington for the 3rd year in a row for her team's 11th consecutive Sweet 16. "We're excited. We loooove Lexington." She leads coaches in NCAA tournament appearances with 33. (Pat Summitt and Andy Landers have 31 each) #ncaaw pic.twitter.com/RaS5jnHsUp

— Hoopfeed.com ? (@hoopfeed) March 20, 2018