Mississippi State: Teaira McCowan's growth crucial for a deep NCAA run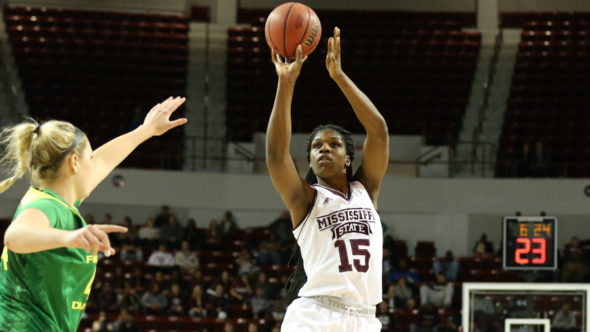 STARKVILLE, Miss. – The Mississippi State Bulldogs hosted a Selection Day watch party Monday night as they awaited their fate in the NCAA Tournament. The 14 Bulldogs that make up the team's roster were welcomed by 100-something boisterous fans with maroon and white pom poms, anticipating their fanbase cameo on ESPN.
MSU garnered the number one seed in the final revealed bracket in the Kansas City region, their first in program history. While discussing the other fifteen teams in the bracket, ESPN analyst and former Georgia women's basketball coach Andy Landers shed light on a superstar who changed the team's starting five.
"Teaira McCowan has become one of the best post players in the country," Landers lauded as he supported the claim through season highlight videos that recapped McCowan's growth.
The crowd roared, agreeing in the admiration while McCowan smiled and took pictures of the screen. Her transformation has helped Mississippi State become more dominant than ever before.
"I wasn't expecting them to say anything about me," she said. "It is a high honor for them to speak on me on the selection show where everyone could see."
It was that moment when the nation recognized the critical piece that Teaira McCowan is at Mississippi State and will stop at nothing to get to Columbus.
She left her hometown Brenham, Texas and began her collegiate career at Mississippi State in 2015. Under center Chinwe Okorie, she began to experience the importance of chemistry between the post player and guards.
In small strides, she made small progress throughout the season. In her sophomore season, McCowan averaged eight points per game and claimed seven rebounds. She was named SEC's Sixth Woman of the Year in the season. Her 26 points and 12 rebound double-double against Washington in the Sweet Sixteen foreshadowed a new beginning for Mississippi State.
Though McCowan did an outstanding job throughout the 2017 tournament, the title game against the South Carolina Gamecocks stuck out. She only played 25 minutes. She sat out with three fouls, finishing with seven points and ten rebounds.
Okorie graduated after the title appearance, leaving McCowan as the next woman up for MSU. One of the biggest components in McCowan's growth was liability and dependency as the program's continuing success was at stake.
McCowan worked with her head down during the offseason. She was invited to U23 National Team Training in Colorado Spring. Afterwards, she focused on her footwork and maneuvering around the court without committing fouls. Her unnerving work ethic separated her from mistakes she committed, easing her growing pains. McCowan took responsibility of her title game absence, and knew the next season she had to bring a new outlook. She began to implement a new edge to the game, an edge that changed Mississippi State's forever.
Her offseason work unfolded in front of the world while dominating from the start of the season. Faster, stronger and smarter, she finished the season with regular-season record of 22 double doubles, averaging 17.7 points and 13.2 rebounds. In result of her fiery season, she was named SEC's Co-Defensive Player of the Year.
"I am pretty proud of what I have done and what I have achieved," McCowan said. "I am getting bigger honors than what I did last year on just Sixth Woman."
This helped Mississippi State go undefeated in the regular season for the first time in program history. They became the third school in the SEC to complete the task since Tennessee in the '98-'99 season. McCowan has risen to occasion for Mississippi State until a roadblock hindered her in the SEC tournament title game.
A case of deja vu, McCowan's two early fouls ripped the SEC tournament trophy out of Mississippi State's hands. She only played 24 minutes compared to her usual 30 minutes, coming up with six rebounds and six points. South Carolina established their prominence in the SEC in the 62-51 loss. Games where she is absent show how much importance her performance affects team success.
"I learned from my mistakes in that game," McCowan said. "There's still things that need to get done."
Refreshed and recharged, McCowan and MSU look forward to making sure their postseason ends in Columbus with confetti falling and a net cutting ceremony. They begin their journey against Nicholls State in the opening round of the NCAA Tournament. Tipoff is set for 6:00 p.m CT on Saturday. McCowan will be ready for tip in the court's centerpiece.
"We've got to execute the game plans that coaches give us," McCowan said on the team outlook. "No matter who it is and who's against us."