No. 12 seed FGCU knocks out No. 5 Missouri in first round of NCAAs, 80-70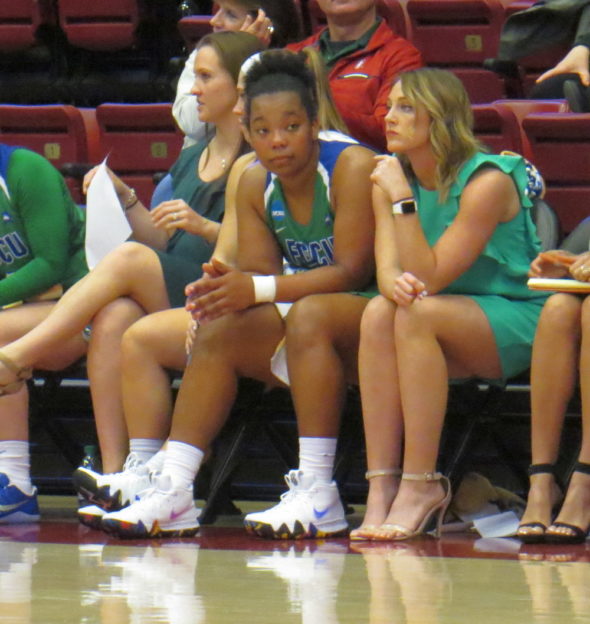 Postgame video || Social media recap
Update: FGCU will play Stanford, Monday at 6 p.m. PT. The game will be broadcast on ESPN2/ESPN3.
STANFORD, Calif. – No. 12-seed Florida Gulf Coast (31-4) lived up to the three-point hype as the nation's leader in treys and knocked off the higher seed No. 5 Missouri Tigers (24-8) in the first round of the NCAA tournament Saturday afternoon at the Stanford subregional, 80-70. The double-digit win at Maples Pavilion was a statement victory for the Atlantic Sun power from sunny south Florida. It was only the second win for FGCU during the NCAA tournament.
"Obviously a great win for our program and a great effort by every kid we had that got on the floor," FGCU head coach Karl Smesko said postgame. "They all contributed in a big way to this success at different points during the game and I'm proud of them."
Led by redshirt senior guard China Dow, FGCU led for all but eight minutes of the contest. Dow put up a team-high 21 points off the bench. Senior forward Rosemarie Julien added 12 points, while senior guard Erica Nelson contributed 11. Redshirt senior guard Jessica Cattani was also in double figures with 10. The Eagles shot 49 percent from the floor (25-51) while limiting Missouri to 40 percent (21-52).
"It's an upset in terms of seeding, but we definitely came in with the mindset that this was a game we can win if we executed at a high level," Smesko said. "A big thing that we emphasized was the last four times we've been here, we performed well. But at the beginning of each game, there was a sense of a little bit of nervousness or tension, and we never got off to good starts. So, we made a real emphasis this time to let our team know, hey, you belong here; you're just as good."
Junior guard Sophie Cunningham was the only Missouri player in double figures. She scored 35 points.
With the victory, FGCU becomes the lowest seeded team to advance to the second round. Missouri was the third ranked team that FGCU beat this season.
"We belong in this tournament. We're hoping that now everyone knows what FGCU is about. The challenge out there against Missouri was really good and it made for an exciting environment. We went in knowing that we'd have to get them off their feet with shot fakes, and it worked. It took a good offensive move for us to get around them and score over top of them. As tall as they were, we had to stick to that."
Before the game, the Eagles only needed 18 treys to break the NCAA single-season record for made 3-pointers. Sacramento State holds the current record (424 in 2014-15). FGCU connected on 7.
FGCU will face the winner of the Stanford-Gonzaga game Monday in the same subregional.